MLB is looking to add some creative flair to the game and this might be a good way to do it.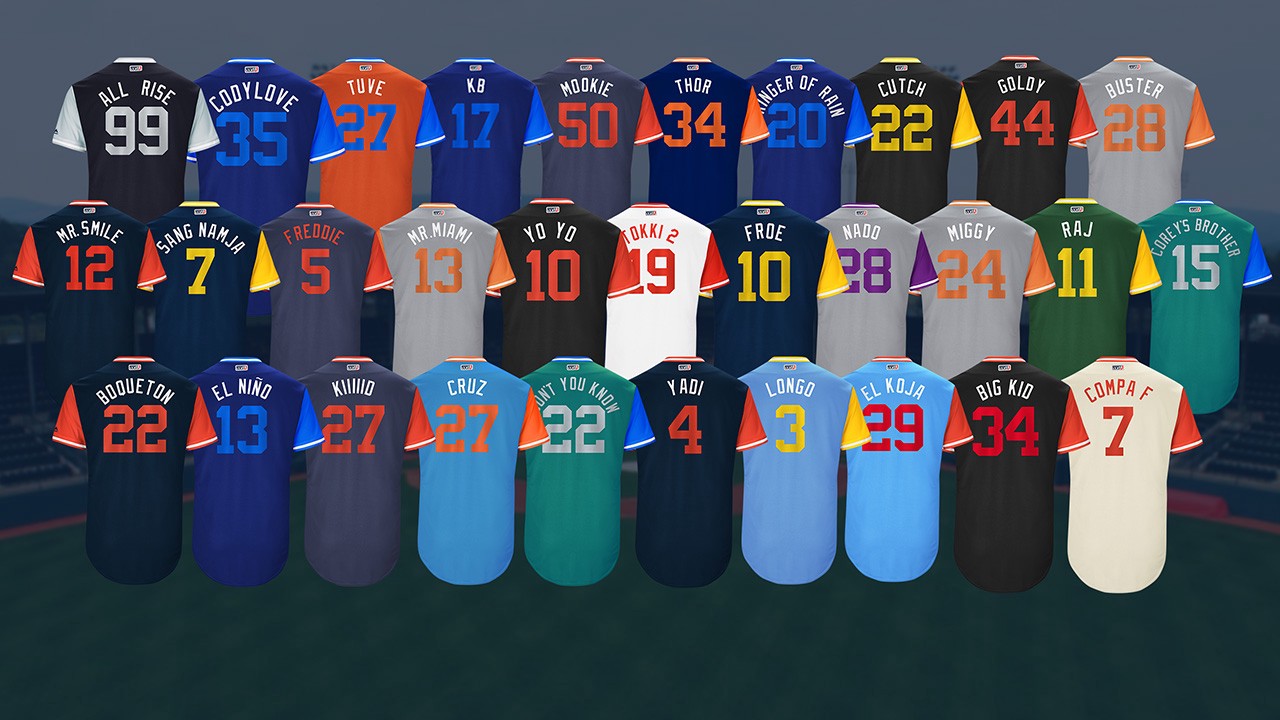 Today, Major League Baseball and the Players Association announced an initiative to celebrate the league's talent. From August 25-27, all 30 MLB teams (yes, including the Yankees) will take the field in custom jerseys to showcase the unique personalities in the game. The backs of these colorful, non-traditional uniforms will feature player nicknames, such as All Rise, Cutch, Thor, Mookie, and Mr. Smile.
"Players are increasingly interested in finding unique ways to connect with their fans by allowing them to see more of their personalities and interests," MLBPA executive director Tony Clark said. "The collective desire to express their diverse interests and backgrounds is what motivated players to lobby for the creation of Players Weekend. This will be an exciting and unique opportunity for the players to literally wear their passions on their sleeves, and equipment, too, as they embrace this chance to let their true identities shine." (MLB.com)
It's important to note, however, that nicknames attempting to include brand names or offensive terms will not be allowed. They will be screened ahead of time, in hopes of avoiding any commercialization of the weekend by outside companies.
There will be one exception, however:
The weekend will be dedicated to connecting the past, present, and future of the sport, in hopes of growing interest amongst younger and older fans alike.
Expect to see your favorite athletes accessorized to the nines, with uniquely colored and designed options including:
Batting gloves
Spikes
Wrist bands
Compression sleeves
Masks
Bats
Pre & post-game t-shirts highlighting a charity or cause
Caps (New Era)
Socks (Stance)
The league and Players Association will leverage its partnerships with Majestic, New Era, and Stance for the custom gear. Merchandise will be available for sale in the MLB.com shop, and is expected to be a huge draw for fans.
It's a smart move for the game, as it allows baseball to show that it can be "fun" while allowing players and fans to connect with their roots.
"The journey from youth leagues to Major League Baseball is one that players don't take alone," Commissioner Rob Manfred said. "Major League players have been supported by family members, coaches and organizations that helped them develop their unique skills and overcome challenges to reach the highest level of the sport. These games will allow the players to thank those who were important in their lives while showcasing their personality in a fun way that fits baseball's community-driven focus." (MLB.com)
With this in mind, the right sleeve has been specially designed with a blank patch, where players can honor a person, family, or organization that has allowed them to reach this point in their career. Additionally, the new 'Evolution' logo design features 5 players, increasing in size, to show the growth from Little League to the pros.
On social, expect to see strong, player-centric feature content throughout the weekend. It will be interesting to see what creative ideas teams will come up with, but look forward to seeing biography videos, personal stories, family connections, and more. The league and its teams will use the #PlayersWeekend as well.
This is a great first step by Major League Baseball and the MLB Players Association to show its appreciation for its players, as well as giving them them the opportunity to do the same and to express their individualities. With the game looking to maintain its popularity and interest, this is a strong effort to develop lasting, emotional connections and increase positive sentiment across the sport.
---
Front Office Sports is a leading multi-platform publication and industry resource that covers the intersection of business and sports.
Want to learn more, or have a story featured about you or your organization? Contact us today.