These ladies are crushing it on and off the track.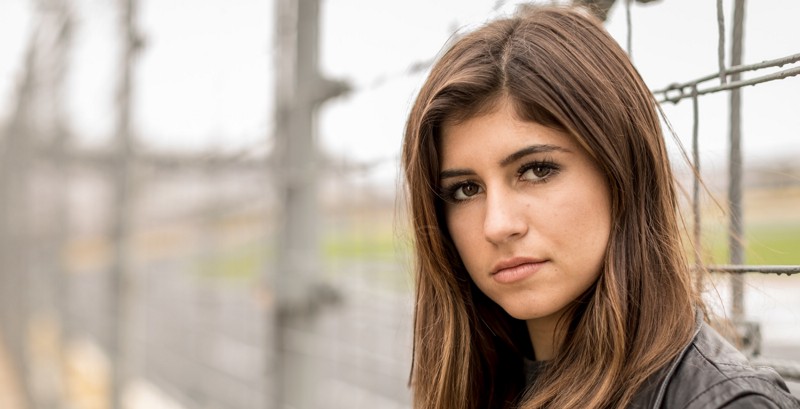 When you're job searching — whether you're a young professional entering the workforce for the first time or a veteran seeking a new position — one thing remains the same — you have to market yourself and show hiring managers why you are the best candidate for the position. It's important to not only tell them why, but also show the hiring committee the results you've achieved in previous positions.
The same can be said for a race car driver — both young guns and veterans — who are searching for a ride or looking to take the next step in their career. Consider the case of Hailie Deegan and Julia Landauer, who are both up-and-comers in the world of motorsports.
Deegan is only 15 years old, but comes from a motorsports family, as she is the daughter of one of the most celebrated freestyle motocross riders to ever compete, Brian Deegan. Hailie has talent too, albeit she is pursuing a different type of motorsports — cars instead of bikes. Before her 16th birthday, she won a championship in the Lucas Oil Off Road Racing Series and was named to the 2017–18 NASCAR Next Class, the only female in the group.
Deegan's love of racing began early in her life, well before she hit double-digits in age."I saw these little trucks that I was obsessed with, and my dad got me one for my eighth birthday," Deegan said. "That was the start of my racing career."
The "Dirt Princess" as Deegan is nicknamed, desires to move from off-road racing to NASCAR. While she has the support of NASCAR through being a member of the NASCAR Next Class, Deegan knows that she'll have to market herself and prove what she can do on the track.
Her father remains optimistic about her chance to have success at any level.
"I've watched her win everything, so I don't see why she can't do it there. She's never folded under pressure. She can drive a car really loose off the turns, hit her marks every lap, sideways, whatever it takes to get the most speed. She has good car control. She's not scared at all."
So far, Deegan has done well. She competed in 2016, running the full Summer Shootout schedule at Charlotte. According to Deegan, she ran towards the front, driving a Legends Car, which she says "gave her the ability to drive stock cars."
This year, she's run two races in the CARS Super Late Model Series with sponsorship from Toyota in both races. In her inaugural race, she narrowly missed a top-10, coming home 11th.
"It's going to take a lot of work, and she gets it," said her dad. "That's what we do [as a family]. We work as hard as it takes to win. I'm just excited to see her path. It should be really interesting."
If she continues to perform, look for her relationship with Toyota not only to continue, but to grow. The marketability should be easy. The 15-year-old is already a pro with media (just watch her interviews as part of the NASCAR Next Class) and is something the sport needs — an up-and-coming female driver.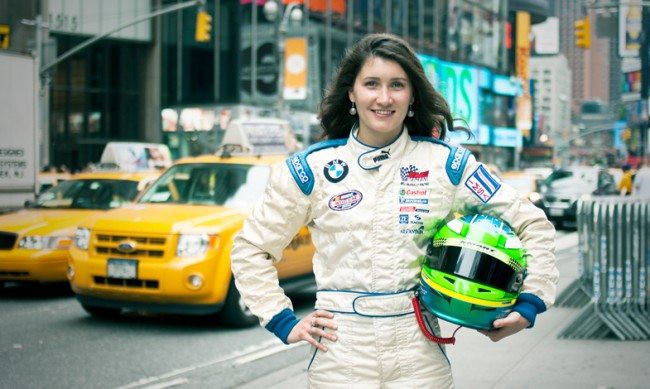 Julia Landauer, 25, a Stanford University graduate, is 10 years older than Deegan, but also hopes to make it to NASCAR's top series. At age 14, her stock car career was set in motion when she became the first ever female champion of the Skip Barber Racing School, which has seen former NASCAR champions Bobby Labonte, Jeff Gordon and Bill Elliott graduate from.
Landauer began competing in motorsports as a child and knew by age 12 that she could race forever. The issue? Racing is expensive. Landauer had a dream and she went after it. How'd she do it? Marketing. At age 14 she handed out a resume and learned the harsh reality that pleas for sponsorship many times go unheard. Last year, she met with NASCAR executives in Charlotte, North Carolina — the hub of the racing world — while also sitting down with all 10 male members of the 2016–17 NASCAR Next Class.
In 2016, Landauer raced in the K&N Series with backing from Toyota. This year, she switched to a Ford backed team. While the Stanford alumna is racing in a series three tiers below the pinnacle of the sport — the Monster Energy NASCAR Cup Series (MENCS) — she continues to market herself in an effort to get to the top.
As a sophomore in college she shot a promotional video, which she put on YouTube. She overhauled her social media presence with an effort on being authentic rather than rehearsed. The overhaul worked wonders as she raised $11,475 on Indiegogo (after failing to raise money the first time around). Heck, she even did a TEDX talk, spending eight minutes speaking on racing. Her topic was titled, "Can nice girls win (races)?" That speech has helped her speaking engagements take off. She'll speak at Fortune's Most Powerful Women Summit in Washington D.C. this fall.
It's clear Landauer can market herself, whether it's through social media, speaking engagements or hunting down sponsors. She can perform on the racetrack, too. The New York native has raced 13 times in the K&N Pro Series East and West. In eight of 13 events she's come home inside the top-10 and in her most recent race at Douglas County Speedway (Roseburg, Ohio) she recorded a season-best fifth place effort. Last year, she had a best finish of second and made history by finishing fourth in the championship standings, the highest finish for a female in the series' 62-year history.
Landauer's racing career has not gone unnoticed as she was named to Forbes Sports 30 Under 30 list. Her next goal? Make it to the NASCAR Camping World Truck Series, but the dream doesn't end there, as she wants to race in the Monster Energy NASCAR Cup Series. Her pitch to team owners is simple: "Just get me in a car, and I'll make you guys money. Invest now to pay off a little bit.' "
These two women have a dream: race at NASCAR's highest level. Everybody has a dream, but the question is what must be done to achieve that dream? Whether it's gaining your dream job in sports or getting a promotion at your current company, achieving results and marketing yourself is incredibly important. Deegan and Landauer have done an incredible job of chasing their dreams. Not only have their performed well on the track, they refuse to quit, marketing themselves to potential owners. Let's all take a lesson at just how important it is to never give up and show employers our value.
---
This piece has been presented to you by SMU's Master of Science in Sport Management.
---
Front Office Sports is a leading multi-platform publication and industry resource that covers the intersection of business and sports.
Want to learn more, or have a story featured about you or your organization? Contact us today.