The city of Atlanta recently played host to the 4th Annual Sports Fan Engagement Conference presented by Q1 Productions. I had the privilege of representing Front Office Sports, and it was truly an eye-opening experience. From the esteemed panels to the social media star sightings, there was a lot to take in.
The first day of general sessions featured panelists from both the professional and collegiate ranks discussing strategies by which marketers may engage fans at new ballparks as well as home contests. The second part of the day, however, brought us to a crossroads where we had to make an important decision:
Track One: Marketing or Track Two: Digital?
With respect to both parties, I won't disclose which one I opted for, but I will share my 5 overall takeaways from the conference:
1. Marketers have to earn their stripes.
Memories last a lifetime, and they are created at a moment's notice with no advance warning.
Who could forget the viral video of Clemson's Dabo Swinney dancing in the locker room following a huge victory? It's nothing short of a marketer's dream to have live content featuring a coach named "Dabo" performing a then-wildly-popular dance called the "dab."
According to Clemson's Jonathan Gantt, who has long since earned his Tiger stripes, this level of access is not a rite of passage. It has to be cultivated and earned over time.
Want more great content like this? Be sure to subscribe to our newsletter!
If you seek to capture memorable moments to engage fans, then you first have to earn a seat at the table.
After all, in the world we now live in, your content is considered the face of your athletic department in the eyes of prospective student-athletes.
2. B (F(x)) = U(K + ME)
Don't you wish you paid attention in chemistry class now? Per Brad Meriwether of the Atlanta Braves, this equation simply stands for:
Brand (Fan Experience) = User Experience (Knowledge + Memory & Emotion)
Appears balanced to me!
As the Braves prepare to open their new state of the art baseball stadium in SunTrust Park, significant attention is being allocated to executing a groundbreaking fan experience to coincide with the grand opening.
New construction is a unique opportunity to reinvigorate and re-engage with fans.
The anticipation associated with new capital projects are a cause for great excitement, so be sure to energize your fan base by tapping into their emotions. This may be accomplished by paying homage to tradition, as well as those who paved the way for what's to come.
3. Narrate the Narrative
No one can tell your story the way you can, so don't allow them to. Your campus/organization has what is often referred to as a unique value or selling proposition. Meaning that your story is your story and distinguishable from any other brand, so embrace it.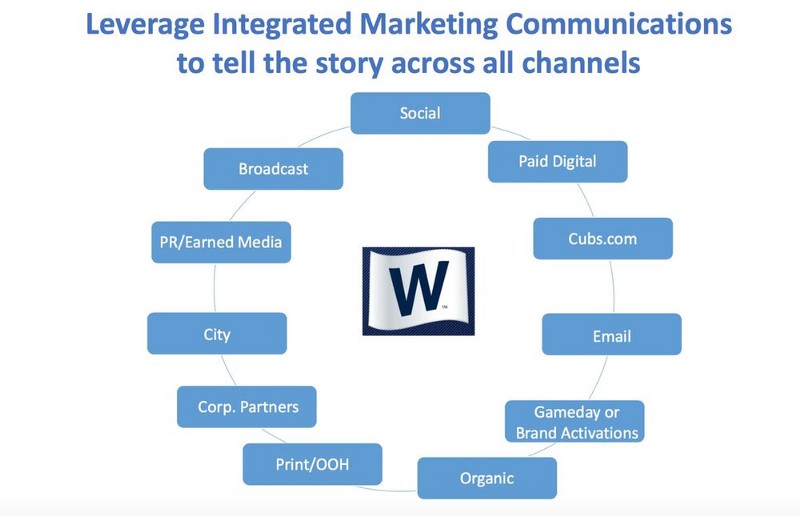 If you focus on your unique assets, then you will be able to craft, deliver, and ultimately distribute a more compelling brand story that will instill pride in your fan base.
What's more, your brand will begin to attract "adopted alumni" who believe in your brand simply because you do.
4. Create a walk-on type of experience.
Last year, a Michigan alumnus released a song and accompanying hip hop video which featured a cameo by Jim Harbaugh. The song is called, "Who's Got It Better Than Us?"
The "WGIBTU" phrase came to mind as I sat in on a small group discussion led by Craig Pintens of the University of Oregon.
He posed the question, "Who typically has the best seat in the house? Answer: Walk-ons."
Through Oregon's 24-hour ticket subscription service, which affords fans an opportunity to upgrade to premium seating, they seek to create a walk-on type of experience for their most dedicated supporters.
In essence, if these fans were to be asked the question, "Who's got it better than us? One would expect for their answer to be, "Nobody!"
5. Keep the fan in the middle and deliver.
While many of us may have grown up watching the television show Malcolm in the Middle, for marketers, the focus should be on keeping the fan in the middle.
Often times, fan experience initiatives are put into place without ever consulting the actual fans. Mike Gomes of Mercedes-Benz Stadium is firmly opposed to this decision-making protocol.
MORE #Q1SFE Coverage: 9 Cutting-Edge #FanEngagement Tips from the Best Teams in Sports via Libris
For instance, when deciding on which local eateries to include in the new stadium, they brought in fans for taste tests so they could decide.
If we want fans to spend their money, then it only makes sense to ask them what they would like to spend their money on.
Oh, and it helps to have a fan first food and beverage pricing model that will be the first of its kind in a professional stadium.
In closing, Steve Jobs once said that people don't know what they want until you show them.
While this may hold true in some respects, when it comes to the fan experience, people DO know what they want from us…to show them that we care.
To learn more about the 4th Annual Sports Fan Engagement summit be sure to check out https://events.q1productions.com/sports-fan-engagement/