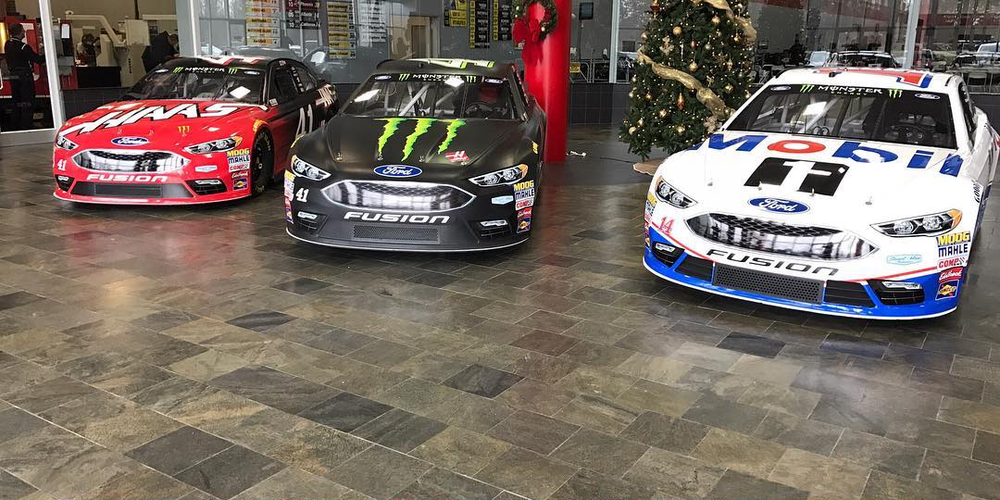 Less than 30 days remain until the running of the 2017 Daytona 500, therefore, our NASCAR team and sponsor previews continue. Our latest installment features Stewart-Haas Racing and Germain Racing.
Stewart-Haas Racing (SHR) Overview
Founder Gene Haas announced the beginning of his racing operation in April 2002 and, just six years later, champion driver Tony Stewart signed an agreement for a 50 percent stake in the company and drove for the team until his retirement at the end of the 2016 campaign. Stewart's arrival caused the team to be renamed Stewart-Haas Racing. The multi-car organization currently fields four drivers and has won two Cup Series championships.
SHR Drivers:
Kevin Harvick: Coming off a season that saw him win four races and finish eighth in the final standings, Harvick, the driver of SHR's #4 Ford Fusion, hopes to return to his championship form of 2014. The veteran driver signed a contract extension in May 2016, and several of his sponsors re-upped their deals as well.
Want more great content like this? Be sure to subscribe to our newsletter!
Stewart-Haas Racing switched to Ford for the upcoming season and Harvick's contract extension quieted any fears that he would bolt for a Chevrolet backed organization. Said Harvick, "I'm very happy to have my future secure with a team so dedicated to winning."
According to Jayski, Busch Beer, which has a contract to sponsor the 41-year-old California native through the 2019 season, will be on the #4 Ford for at least 12 races.
Jimmy John's, which has been associated with Harvick since the 2011 Brickyard 400, will be his primary sponsor for 16 races, including the Daytona 500. He ran 20 races with Jimmy John's on the hood in 2016 and won at Phoenix. Harvick ended 2016 with an overall average finish of 8.3.
Harvick, who has earned over $100 million from his time in the Monster Energy NASCAR Cup Series, will also be the flagship driver for Mobil 1. The company was previously primarily associated with Tony Stewart and the #14 car, but Stewart, a three-time champion (2002, 2005, 2011), retired from NASCAR Cup Racing at the end of 2016.
It will be interesting to see whether Harvick continues to improve as he ages. He has finished in the top five in points in five of the last seven seasons, which all came during his 30's and 40's.
All the tools appear to be there for Harvick, from sponsors to a supportive owner. As long as the growing pains with Ford are not a distraction, look for Harvick to be a Championship contender.
Danica Patrick: Patrick finished 24th in the final point standings in 2016, but the #10 team, will look to finish inside the top 20 this season, despite the uncertainty surrounding the team.
Patrick raised some eyebrows when she arrived at NASCAR's media day in Charlotte, North Carolina, wearing a suit adorned with the logos of colors of sponsor TaxAct. While it does not seem like a major issue, TaxAct is only scheduled to appear on Patrick's car for three races.
Nature's Bakery currently has a 25-race deal with Patrick and a contract through 2018, but the company has the option to sell five of their races to another sponsor.
SHR issued a statement that the two sides were still working on an agreement about how the sponsorship would look for 2017, but all uncertainty aside, there are several things that are locked into place for Patrick and her #10 team.
For starters, not only does TaxAct return, but Aspen Dental will be the primary sponsor for four races. The dental company first signed with Patrick prior to the 2014 season.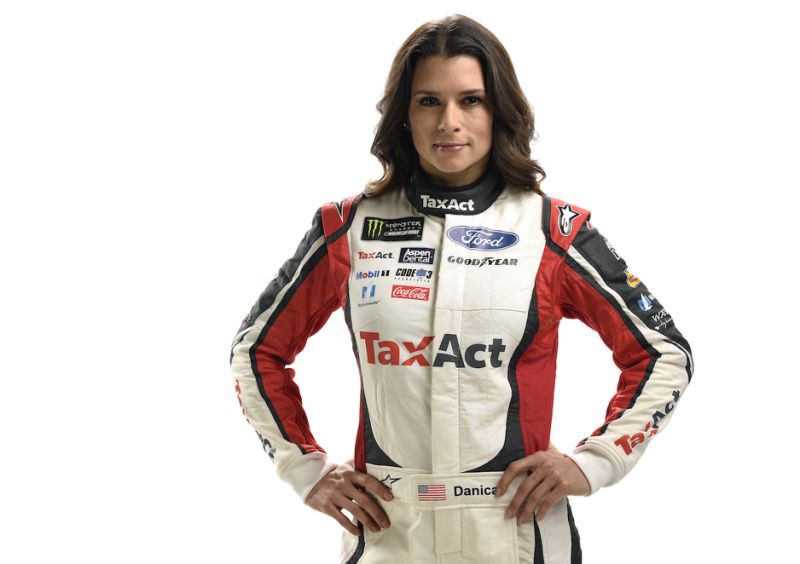 Code 3, which sponsored Stewart prior to his retirement, announced on Twitter that they'll be on board Patrick's machine this season. Currently, the animal welfare and disaster relief focused company will be aboard Patrick's machine for three events.
If Nature's Bakery keeps its sponsorship agreement at 25 races, the #10 team is set for 35 of 36 races and only needs to find sponsorship for one race. If it decided to sell five sponsorships, that would leave Patrick unsponsored for six races, although it would not be a surprise to see one of her current sponsors add races if needed.
The latest update is that Stewart-Haas has filed a lawsuit against the company and is seeking nearly $32 million for breach of contract. Nature's Bakery sent SHR a letter in mid-January, stating that it was terminating the sponsorship agreement.
The 34-year-old has never won a NASCAR race, but she did capture the poll for the 2013 Daytona 500, her rookie season. Patrick failed to record a top-10 finish last season, but has six for her career. Her best finish came in Atlanta in September 2014, when she finished sixth.
Patrick's contact runs through 2018, per Jayski, so it could be do or die time these next two seasons. Despite her popularity, Patrick will most likely need to finish in the top 20 in points to be considered for another long-term deal. She has the backing of a top-notch organization, as well as a new manufacturer. Stay tuned to see how Danica does in 2017.
Clint Bowyer: With a new team, a new owner and a dismal 2016 behind him, Bowyer should be back to his smiling self as he steps into the #14 seat, left vacant by the now-retired Tony Stewart.
2016 was a year to forget for the Kansas born driver. He competed in the #15 car for HScott Motorsports with longtime sponsor 5-hour Energy on board. Although he had a familiar car number and sponsor, things did not go well for Bowyer on the track in his one-year stint with HScott.
He recorded career worsts in nearly all major categories and led only three laps, with an average finish of 23.6.
Bowyer ended 2016 ranked 27th in points. However, things appear brighter in 2017.
Speaking on NASCAR Race Hub about the transition, Bowyer stated, "…what an unbelievable opportunity it is to go out and do what you love to do, not only to do that, but do it in first-class equipment built by racers that only share one thing in common — the will to go out and win races."
Sponsor 5-hour Energy did not follow him to Stewart-Haas, instead teaming with the #77 Furniture Row Racing team and driver Erik Jones.
Thus far, the only sponsor announced to the public is Mobil 1, but one could assume that Rush Truck Centers and Bass Pro Shops, which had a relationship with Stewart, will continue to sponsor the #14 car.
Bowyer, who has won over $60 million as of the start of 2016, hasn't won since 2012, when he ended up in victory lane three times and finished a career-best second in the final standings. Look for him to rekindle some of the magic of 2012, with a fresh start and new perspective.
Kurt Busch: Busch, who drives the #41 car and won his only Cup Series Championship in 2004, signed a multi-year deal with SHR in October 2015.
He joined Stewart-Haas prior the 2014 season and has captured five poles, while visiting victory lane four times. He finished outside the top 10 in the final standings in 2014, but the past two seasons Busch has finished eighth and seventh, respectively.
Monster Energy, the Cup Series' new title sponsor, returns to sponsor the #41 machine. In 2016, Busch ran 18 races with the energy drink company as the alpha sponsor. With Monster on the hood, he won the June Pocono race and had an average finish of 10.44.
Haas Automation, which is owned by SHR co-owner Gene Haas, also returns. Haas' company had limited success on the hood of Busch's car last season. Despite two third-place finishes, he recorded an average finish worse than 13th position.
While Monster Energy and Haas will be the two main sponsors for Busch, Mobil 1 said it will appear on the cars of all four Stewart-Haas drivers during the 2017 campaign. State Water Heaters, which sponsored Busch at October Martinsville, will again return for a single race.
With his personal issues behind him, Busch, who tied the knot with Ashley Van Metre during the offseason, hopes to make the playoffs for the fifth straight season. The last time that the Las Vegas native failed to make the playoffs was 2012, which saw him finish 25th in points.
Busch could be a dark horse to win the championship, but he'll need to do better than only nine top-five finishes and an average of 12.1.
Germain Racing Overview
Owner Bob Germain began Germain Racing in April 2004, and the team made its Cup Series debut five years later. Since 2012, the team has competed exclusively in NASCAR's top division. This year, the team is dealing with a driver change for the first time since midway through the 2010 season.
Germain Racing Driver:
Ty Dillon: After three consecutive top five finishes in the Xfinity Series standings, Dillon is moving to the Cup Series full-time and will compete for Sunoco Rookie of the Year honors.
Dillion replaces Casey Mears in the #13 Geico Toyota, but this is not his first rodeo in the Cup ranks. Over the course of three seasons, Ty, whose older brother Austin drives for grandfather Richard Childress, ran 18 races in NASCAR's top series.
In 2016, he ran 11 races for three teams, including three races in the #14 car in place of the injured Tony Stewart. His best finish came at Phoenix, where he finished 15th.
Geico, which first partnered with Germain Racing in 2008 in the Xfinity Series, before moving to NASCAR's top division in 2009, will sponsor continue to sponsor the #13 car and is signed through 2018, according to Jayski.
On the final day of January, Dillon announced on his Twitter, that Twisted Tea will be featured on his car. Last season, the hard iced tea maker sponsored the newly defunct #44 Richard Petty Motorsports team.
Competing as a single car team can be tough, but Germain has a technical alliance with RCR, which will provide support. The team slipped from 23th in the 2015 standings to 28th last year. Dillon had success in the Xfinity division, but will his impact make a difference for Germain?
He'll need to finish better than Mears did by a substantial margin for the transition to be accepted.