The Daytona Day commercials are in full swing and the 2017 NASCAR season is almost here. With that, our last season preview takes place, with Chip Ganassi and Furniture Row Racing featured below.
Chip Ganassi Racing Overview
Originally formed as SABCO Racing when Felix Sabates purchased a research and development team from Hendrick Motorsports, the team changed names in 2001, when Chip Ganassi purchased an 80 percent stake. The team currently runs in six different series, including the Monster Energy NASCAR Cup Series with drivers Jamie McMurray and Kyle Larson.
Chip Ganassi Racing Drivers
Jamie McMurray: He hasn't won since 2013 at Talladega, but McMurray, the driver of the №1 Ganassi Chevrolet, has made the playoffs each of the past two seasons. His stats from 2015 and 2016 are comparable, but they tailed off slightly last season.
Want more great content like this? Be sure to subscribe to our newsletter!
According to Jayski, this is the last year of McMurray's contract and no announcement has been made by either CGR or McMurray regarding his future plans. He enters his 15th season as a full-time MENCS driver, which has seen him make more than 500 starts.
Regarding sponsors, McMurray is the longest tenured driver in NASCAR with a McDonald's sponsorship. Jamie Mac and the fast food chain have been partnered together since 2010 and will continue the relationship in 2017, but details regarding the number of races have not been made available.
Jayski states that sponsor Cessna will also return, with the aircraft manufacturing company and McDonald's sponsoring the majority of the season's 36 events. In 2016, McMurray ran seven races with Cessna on the hood and finished seventh at Kentucky, while recording an average finish of 16.7 when featuring its colors.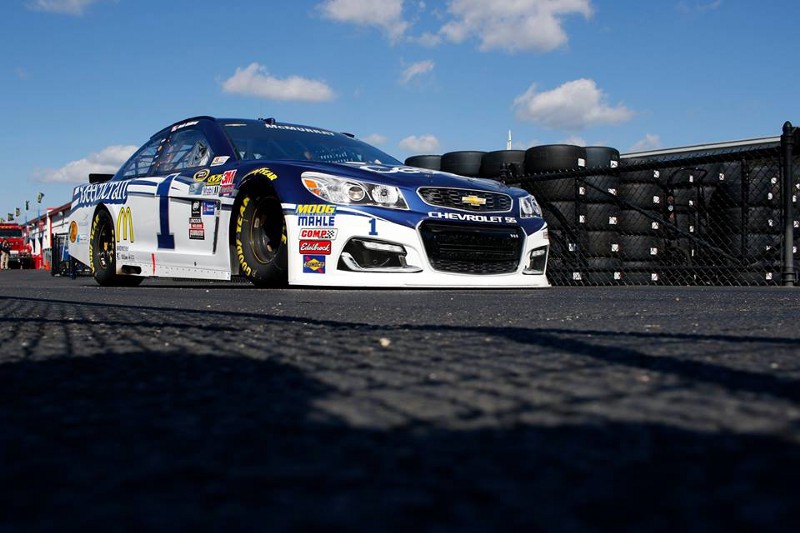 While it's unknown if Sherwin Williams and others will return in 2017, GearWrench will sponsor the №1 team for select races. McMurray's crew uses GearWrench's tools in the shop, making the agreement "unique," according to McMurray.
"That's really special when you get to be a part of a brand you're already using. Guys that work on our cars every day believe in them and they're using the tools every day. We're super pumped to have them on board," the veteran driver mentioned in a release.
McMurray has finished 13th in points the past two years and recorded a total of 22 top-10 finishes compared to only six top-fives. He'll need to find victory lane this season and double the number of races he finishes in the top-five if he wants to finish better than 13th in the final standings.
Kyle Larson: The young gun won his first Monster Energy NASCAR Cup Series race last season en route to a ninth-place finish in points, but hopes to take the next step in his career in 2017.
Larson, the driver of the №42 CGR Chevrolet, recorded 10 top-five finishes, including a three-race stretch that saw him end up in victory lane, followed by a runner-up and third place finish.
Sponsor Target announced that it will scale back its partnership with CGR by five to 10 races to allow other organizations to be associated with the №42 Chevrolet. The chain was on Larson's car for all but five races in 2016 and ended up in victory lane at Michigan.
According to Jayski, this is the last year of Target's NASCAR Cup Series contract with CGR. The company ended its 27 years of sponsorship of Ganassi's open wheel teams and it remains to be seen whether Target will stay with Ganassi, Larson or NASCAR in the future.
To combat the loss of Target, Credit One Bank shifts over to Larson and will have its colors on his Chevrolet for five races. The Las Vegas based bank first connected with Chip Ganassi Racing in 2016 with a three-race deal on Jamie McMurray's №1 Chevrolet.
The 2016 agreement with McMurray was eventually extended to five races, but in 2017 the bank shifts its focus to Larson.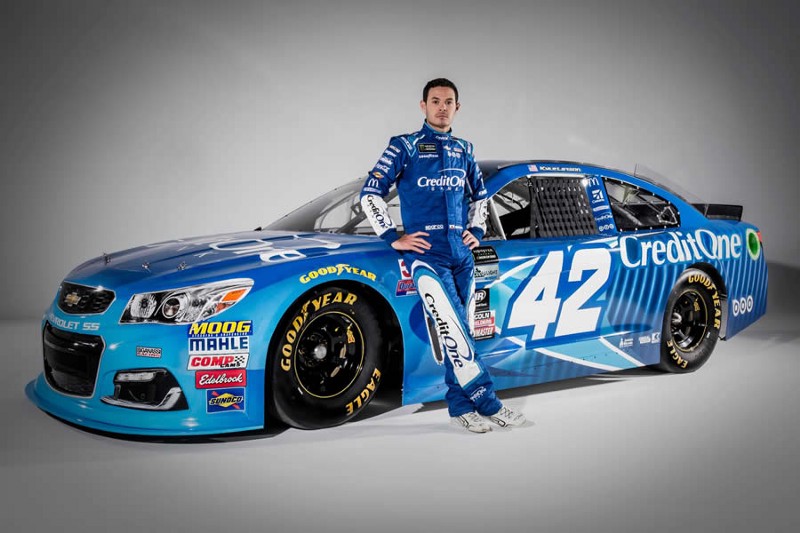 Larson spoke in early January about the sponsorship, stating, "I hope they get their full value out of the sponsorship with our race team and are a longtime sponsor of us and the sport. Looking forward to it and excited about 2017 and hoping for some good things."
After recovering from his sophomore slump, Larson had his best year in NASCAR's top series last season. Although Target reduced its sponsorship, Credit One was quick to see the value associated with one of NASCAR's top young guns.
Larson's statistics have been good and with a few more wins in 2017, he could be a dark horse in the playoffs.
Furniture Row Racing (FRR) Overview
Barney Visser started Furniture Row Racing as a NASCAR XFINITY Series team in 2004. The next year, the team jumped to the Monster Energy NASCAR Cup Series, but success did not come until a number of years later. Regan Smith won the organization's first race (2011 Southern 500), while Kurt Busch made history in 2013, making FRR the first single-car team in history to make NASCAR's playoffs. History continued when Martin Truex Jr (driver of the №78) advanced to the Championship 4 in 2015, as well as when the organization announced that Erik Jones would be the team's second car for the 2017 season.
Furniture Row Racing Drivers
Erik Jones: 2016 NASCAR XFINITY Series champion Erik Jones will make the transition to the Monster Energy NASCAR Cup Series in 2017, as Furniture Row becomes a multi-car team.
Although he is a Gibbs driver, Jones will pilot the №77 Furniture Row Racing Toyota Camry this season on a one-year deal. Speculation remains as to what will happen with Jones in 2018 and what Gibbs' plans for the young driver are.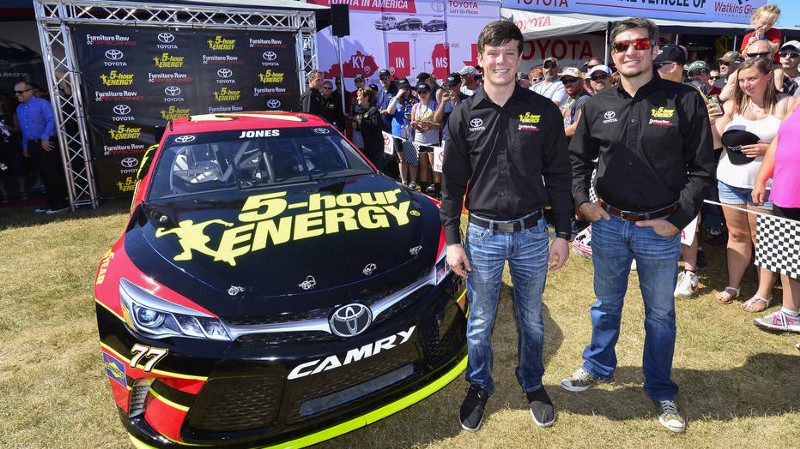 Last year, Jones ran a full NASCAR XFINITY Series schedule and won his first career XFINITY Series championship while driving the №20 Joe Gibbs Racing machine. His XFINITY series championship came one year after he won the NASCAR Camping World Truck Series title.
Jones entered all 33 XFINITY Series races and won four times in 2016. His average starting position was an incredible 3.1, while his average finishing position was 11.6
Furniture Row has a technical alliance with Gibbs, which is incredibly important regarding sponsors and personnel. Jones' crew chief in 2017 will be Chris Gayle, who comes over from JGR.
Despite not being Jones' crew chief in the XFINITY Series, Gayle served as a crew chief in the series for three drivers from 2013–2016, recording 17 wins.
About Gayle, Jones told NASCAR.com, "I am not only excited to have Chris as my crew chief, but also excited for Chris in a career move that he deserves. I have worked with Chris and we have a mutual respect for each other. I feel we have an opportunity to have a good year together. Chris has had tremendous success in the XFINITY Series and has shown time after time how to win races."
Sport Clips, which has had a longstanding relationship with Joe Gibbs Racing, will sponsor JGR's Denny Hamlin in two races, but will appear on Jones' hood in four races, with the first race being Bristol in April
5-Hour Energy, which left Clint Bowyer following the 2016 season, moves to Jones and will be on the hood for 22 races.
Between 5-Hour and Sport Clips, Jones' team only needs to find sponsorship for 10 races. If the aforementioned companies do not add additional races, owner Barney Visser could put his company, Denver Mattress, on Jones' Toyota, as well as Truex's.
This isn't Jones' first rodeo in the Monster Energy NASCAR Cup Series, but it will be his first full-time season. In 2015, Jones ran three races in the Cup Series, filling in for Kyle Busch and Matt Kenseth. His best finish was a 12th place run at Texas in place of Kenseth.
Jones, who headlines the rookie class, has the backing of two organizations, Furniture Row Racing, and the championship-winning organization, Joe Gibbs Racing. The transition to NASCAR's top series might take time, but look for Jones to lean heavily on Truex Jr. and eventually have success in the Monster Energy NASCAR Cup Series.
Martin Truex Jr.: Truex Jr. had his best year as a Cup Series driver in 2015, advancing to the Championship round at Homestead, where he finished fourth, the highest points finish of his career.
Unfortunately, the driver of the №78 Furniture Row Racing Toyota was unable to rekindle the magic in 2016. He won a career-high four races, including the Coca-Cola 600 and Southern 500, two of NASCAR's most notable events, but struggled in the playoffs, finishing outside the top 30 times, after being a contender during the opening round.
Truex Jr.'s contract with the Denver, Colorado based race team runs through 2018. As FRR owner Barney Visser told NASCAR.com, "Not everybody at the highest level wants to live in North Carolina."
To each their own; Visser and company operate FRR out of Colorado and have still been able to compete with the big boys of NASCAR, located in Charlotte.
Returning in 2017 is an array of sponsors, as well as new companies. Denver Mattress, a business started by Visser, will again appear on the hood of Truex Jr.'s №78 machine. Last season, the mattress corporation sponsored 20 races, two of which ended with the team in victory lane.
Auto Owners Insurance, which Truex Jr. took to victory lane in the Bojangles' Southern 500 at Darlington, doubles its sponsorship from three races to six. Luck was on Truex Jr.'s side last season, when he sported Auto Owners' colors. His worst finish was an eighth-place outing at Indianapolis.
5-Hour Energy, formerly associated with Clint Bowyer, jumps primarily to the №77 Toyota of Eric Jones, but will be the primary sponsor for Truex for two races, one of which is the all-star race in May. Wix Filters will handle the July New Hampshire race.
According to Jayski, Bass Pro Shops, which was on the hood of Truex's №78 car when he finished runner-up to Denny Hamiln in the 2016 Daytona 500, is signed through 2018 and will sponsor 16 of the season's 36 events, four more than 2016.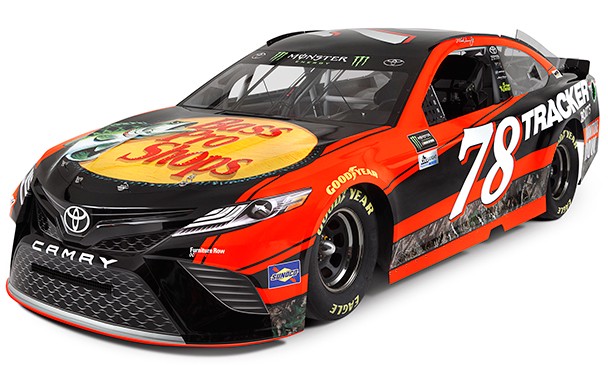 Last season with Bass Pro on the hood, Truex Jr. won at Charlotte, but had an average finish of 16th.
Consistency will be key for Truex Jr. and Crew Chief Cole Pearn in 2017. The duo won four races, including two in a three-race span during the playoffs, but to succeed in the playoffs, top-five finishes are a necessity.
Six finishes outside of the top 30, including three over the final 10 races, must be avoided if Truex and company want to have a season similar to 2015.
The Can-am Duels at Daytona are set for Thursday, February 24, with the running of the 59th Daytona 500 taking place on Sunday, February 27, 2017 at 2 p.m. EST. Stay with Front Office Sports for the latest NASCAR previews and news.