MLB chooses not to fine or suspend Justin Turner, and pitcher Aaron Barrett will be the latest athlete to get the documentary treatment.
Turner Escapes MLB Sanction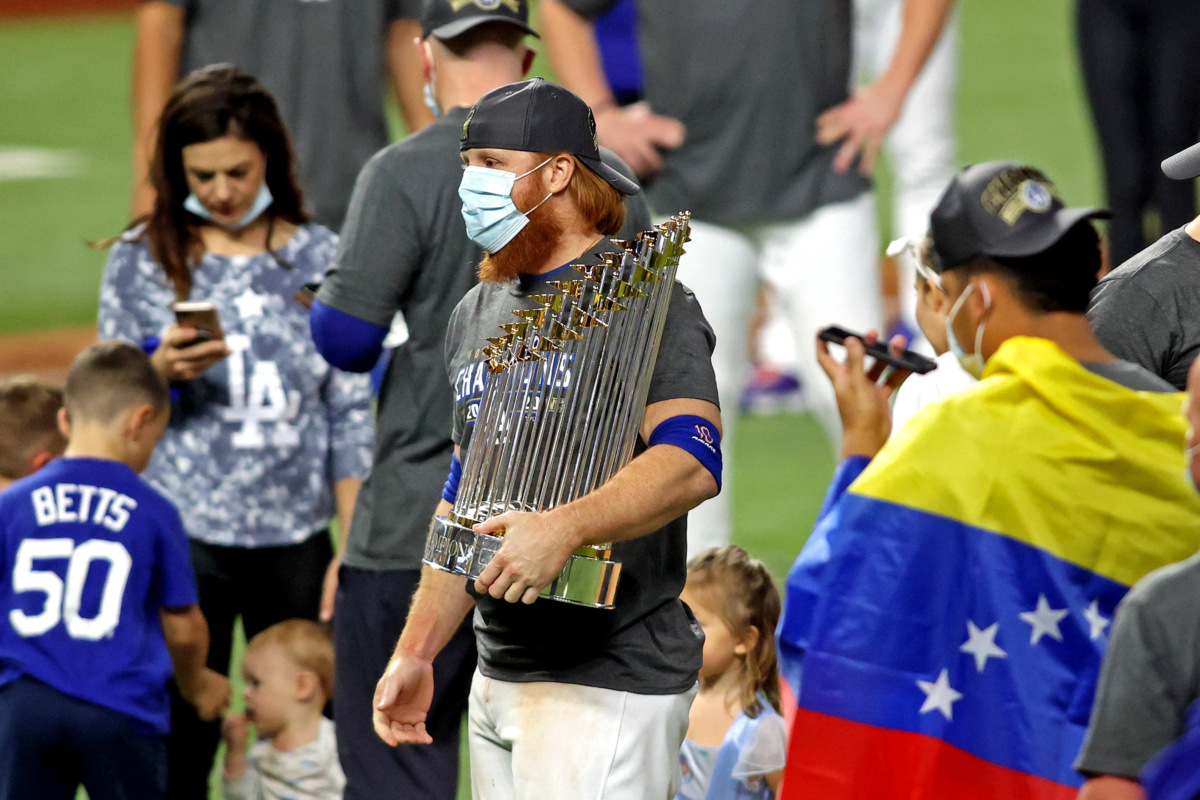 MLB is not suspending or fining Justin Turner for celebrating the Los Angeles Dodgers' World Series title on the field — at times, maskless — after testing positive for COVID-19 during Game 6.
Turner's actions, which included taking pictures with the team and interacting with family members, cast a shadow and caused a media frenzy in the aftermath of his team's first championship in 32 years.
After being removed from the game in the eighth inning and told to isolate, Turner managed to get back out to the field after the game concluded despite security efforts to stop him. In its initial statement, the league pinned all fault on Turner, but in a statement on Nov. 6, Commissioner Rob Manfred acknowledged holes in MLB's protocol that allowed the situation to occur.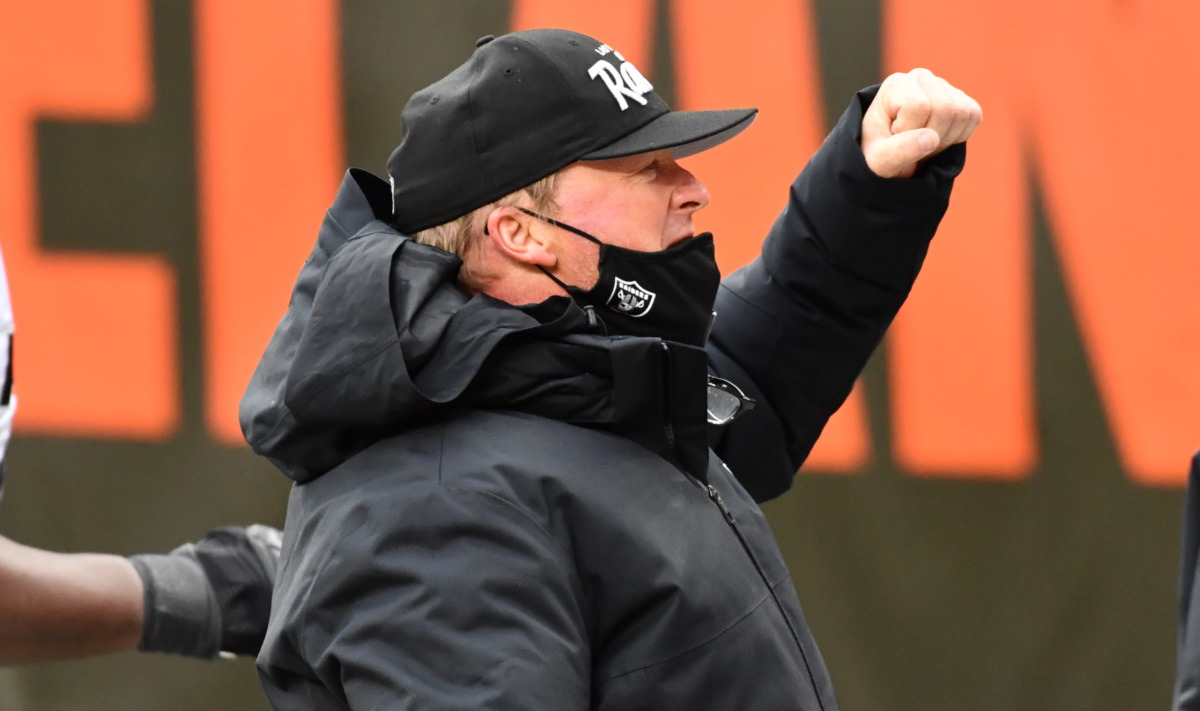 The Las Vegas Raiders and Pittsburgh Steelers are the latest NFL teams to be hit with COVID-19-related sanctions.
On Nov. 5, the Raiders were hit with the largest fine so far this season for "repeat offenses," getting docked $500,000 and a sixth-round 2021 draft pick; head coach Jon Gruden himself was also fined $150,000.
The undefeated Steelers were fined $250,000 on Nov. 6 for violations that occurred in their Week 8 come-from-behind win over the Baltimore Ravens, when players weren't wearing masks on the sideline or during celebrations. Head coach Mike Tomlin was also fined $100,000 for celebrating on the field without a mask — he had previously consistently worn his Steelers-branded neck gaiter since training camp.
SPONSORED
Get Your Body Right For Game Day
Athletes can't perform at the highest level without the right self care tactics. That's why many turn to beam's thc-free cbd products.
The ability for athletes to use beam was a core mission of the company's founders, Kevin Moran and Matt Lombardi, who were former professional athletes themselves. The former baseball and hockey players have made cbd much more approachable by creating products that can help athletes be at their very best.
Shop today and use code FOS20 to get 20% off of some of beam's best products, including what Cleveland quarterback Baker Mayfield uses himself.
Sports Doc Craze Continues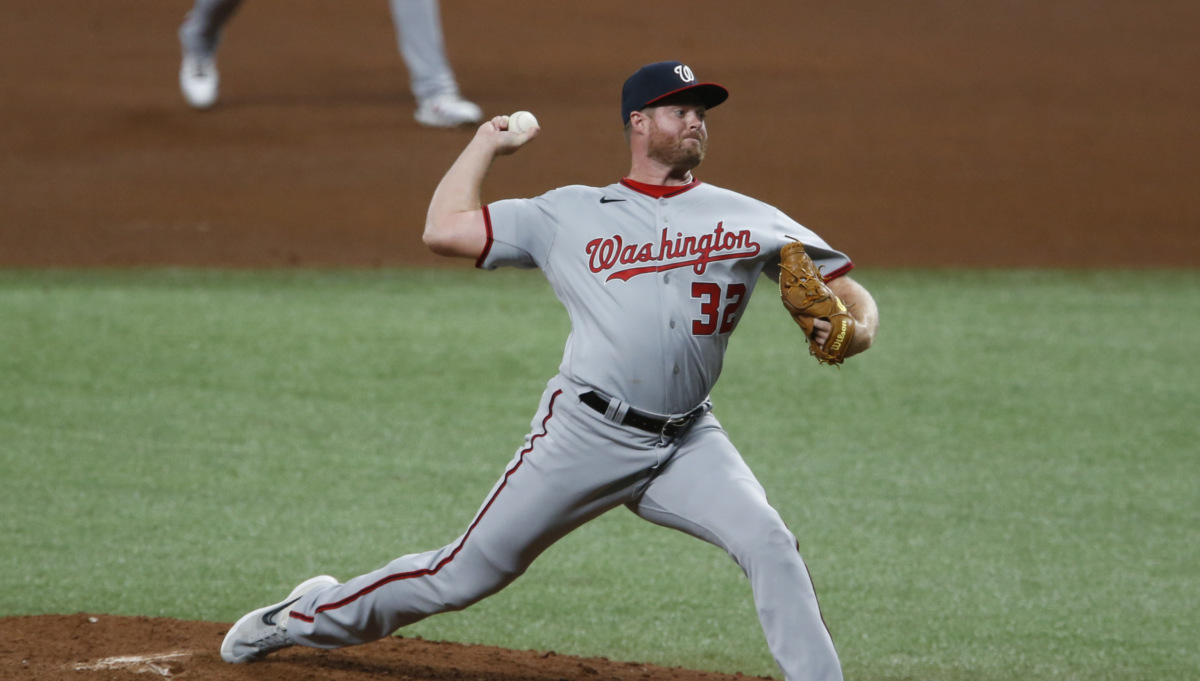 In a year that's already seen sports-driven documentaries like "The Last Dance" soar in popularity amid the COVID-19 pandemic, another athlete is set to get his story told: professional baseball pitcher Aaron Barrett.
Barrett famously suffered a gruesome fracture to his humerus in a minor league outing while rehabbing from Tommy John surgery. Players on the scene have said the injury sounded like a gunshot. Despite the setback, Barrett eventually worked his way back to the majors and won the 2019 World Series title with the Washington Nationals — he is currently signed by the team on a minor league deal. 
Directing the documentary will be Jeff Unay, known for his visual effects work on the films "King Kong" and "Avatar." He made his directorial debut on the documentary "The Cage Fighter" in 2017.
Steve Cohen's purchase of the New York Mets for $2.4 billion has officially closed. General Manager Brodie Van Wagenen was let go just hours later, along with most of his front office team.
The Arizona vs. Utah football game on Saturday was canceled due positive COVID-19 cases among the Utes. It's the second Pac-12 opening weekend game canceled after Washington vs. Cal.
100 Thieves has joined the Call of Duty League as the Los Angeles Thieves. The team will operate out of the 100 Thieves Cash App Compound in Los Angeles.
Wynn Resorts is investing $80 million in a newly reorganized joint venture to pursue online betting in the U.S.
SPONSORED
How Sports Media Can Be More Inclusive
Sports have always had a unique power and role in the conversations of social justice in society. Generally speaking, fans all over the globe can glean messages of diversity, inclusion, leadership, and teamwork from the athletes, leagues, and teams they follow.
Front Office Sports recently spoke with diversity and inclusion consultant Vince Pierson about the steps that need to be taken to make the sports industry a more inclusive place for all. Read on to hear his insights.
U.S. stocks finished near flat on Friday, ending what has been one of the best weeks for the markets since April. Here's a look at how sports-related stocks performed today.
Up:
Vista Outdoor (NYSE: VSTO) gained 6.55%
Achusnet Holdings Corp. (NYSE: GOLF) gained 6.43%
Take-Two Interactive Software (NASDAQ: TTWO) gained 3.86%
Down:
Camping World Holdings (NYSE: CWH) dropped 7.63%
Electronic Arts (NASDAQ: EA) dropped 7.12%
Liberty Media Corp. Series C (NASDAQ: BATRK) dropped 3.43%
(Note: All as of market close on 11/06/20)
ESPN announced the biggest round of layoffs in the company's 41-year history on the morning of Nov. 5. In an internal memo, ESPN President Jimmy Pitaro announced 300 jobs would be cut — and another 200 open positions eliminated.
Jason Concepcion, a multi-platform talent at The Ringer known for his podcast appearances and digital NBA show "NBA Desktop," left the company.
Mike Golic Sr. has scored a new gig as the host of a national sports trivia show created by Learfield IMG College and SIDEARM Sports.
Early-stage venture capital firm Will Ventures — which calls itself the first venture capital fund focused solely on the sports and sports-adjacent space — launched in September. The firm's thesis centers on identifying the "next wave" of sports-related innovations that can alter everyday life.
Miami (FL) vs. NC State: Miami (5-1) is coming off a bye week, having won their most recent game 19-14 over Virginia; quarterback D'Eriq King is averaging 233 passing yards and 50 rushing yards per game with 13 total touchdowns this season. NC State (4-2) is also coming off a bye week, with their most recent game ending in a 48-21 loss to North Carolina.
How to watch:
7:30 p.m. ET on ESPN
Betting odds:
Miami -10 || ML -370 || O/U 58.5