Former Astros general manager Jeff Luhnow is suing the team, and Kevin Mayer has a new role following his stints at Disney and TikTok.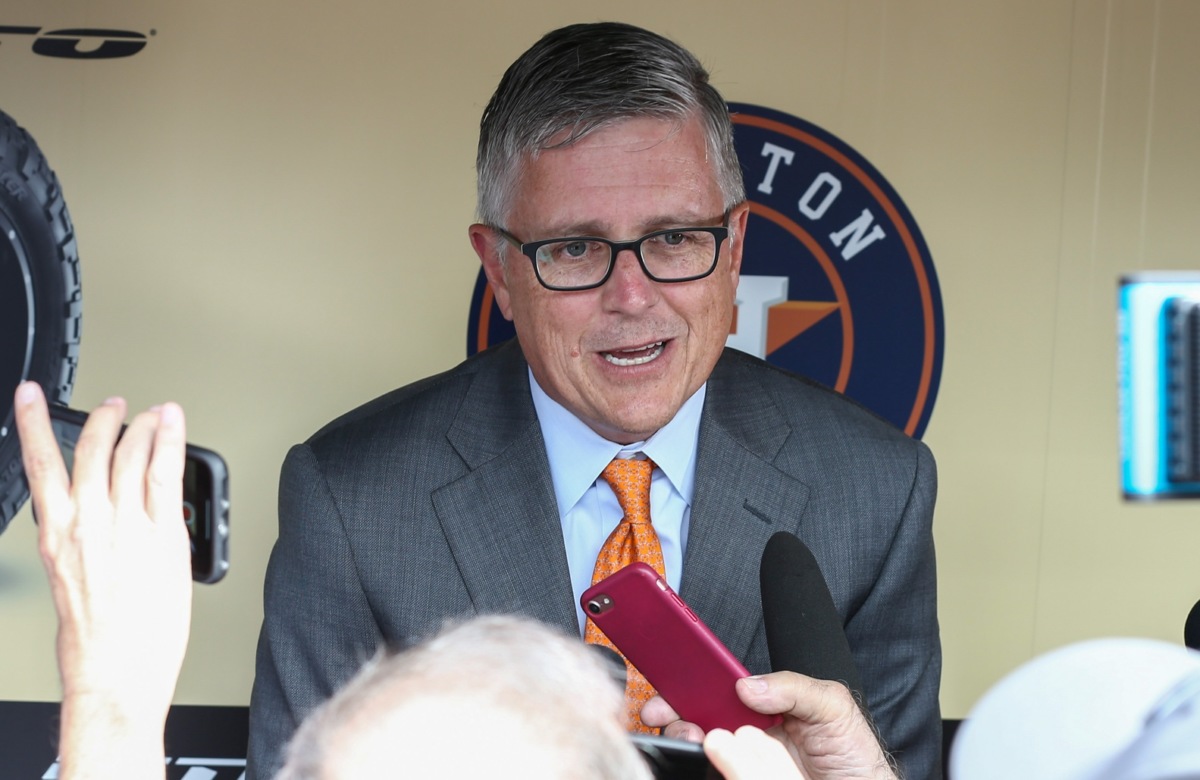 Former Houston Astros general manager Jeff Luhnow claims the club "concocted grounds" for his dismissal in the aftermath of the sign-stealing scandal "in order to save more than $22 million in guaranteed salary," according to a 17-page lawsuit filed on Monday.
Luhnow was fired by Astros owner Jim Crane after MLB released its findings from an investigation into the Astros' using live video and the banging of trash cans to alert batters of the next pitch during the 2017 and 2018 seasons. Luhnow's lawyers put "investigation" in quotes nine times in the lawsuit.
"The MLB's 'investigation' actually was a negotiated resolution between Astros' owner Jim Crane and MLB Commissioner Robert Manfred that enabled the team to keep its World Series championship, went to great lengths to publicly exonerate Crane, and scapegoated Luhnow for a sign-stealing scandal that he had no knowledge of and played no part in," the lawsuit alleges.
Stay-At-Home Stocks Shift
Shares of the few publicly traded fitness and fitness-related companies shuffled considerably Monday following news that Pfizer's early vaccine trials showed it to be more than 90% effective.
Stay-at-home technology stocks that soared amid the COVID-19 pandemic saw steep drops; connected fitness equipment company Peloton was among the biggest losers, with shares dropping 20.29%. The company's stock is still up 236% year-to-date, however. Video game companies like Activision Blizzard, Electronic Arts and Take-Two Interactive were also down on the day.
Conversely, gym chain Planet Fitness was up 16.19% with a return to normal operations potentially on the horizon. Companies that would benefit with fans back in stadiums, like Aramark and Live Nation, also saw gains.
SPONSORED
SportsBettingDime.com Owns the Futures Market
Futures odds have long been of interest not only to sports bettors, but fans looking to predict the fate of their favorite teams. 
SportsBettingDime.com's futures trackers not only provide the latest odds with interactive graphics – they showcase the movement in each team/player's chances and remove the influence of money on the line.
Here are Editor-in-Chief Matt McEwan's top futures betting insights:
Before signing Tom Brady, Tampa Bay was nearly 47-1 to win the Super Bowl; they're now 6-1

Russell Wilson's NFL MVP odds opened at +900 and are now -171
Check out SportsBettingDime.com for more.
Longtime Disney executive and former TikTok CEO Kevin Mayer is joining Access Industries as a senior media adviser. Access, founded by Ukrainian-born billionaire Len Blavatnik, is the parent company to sports streaming service DAZN and Warner Music Group.
Mayer, who played a key role in launching Disney+, will "identify new opportunities, across media, entertainment and telecommunications sectors, from wireless communications and production services to broadcast/streaming media and entertainment licensing ventures," the company said.
The 58-year-old Mayer was previously reported to be in late-stage talks to join the investment firm RedBird Capital, which has a number of sports investments including in YES Network and the XFL.
The NBA set the board for its new Social Justice Coalition. Members include Steve Ballmer, Doc Rivers and Donovan Mitchell.
Olympic sports federations shared concerns about their ability to complete qualifying events for the 2021 Tokyo Games during the pandemic.
VF Corp., owner of North Face and Vans, has agreed to buy streetwear brand Supreme for $2.1 billion.
Notre Dame mandates virus testing after students rushed the field in celebration of its football team's upset win over Clemson.
SPONSORED
Daytona Leads The Return To Sports
Daytona International Speedway was one of the first venues to find a way to host fans safely for some of racing's biggest events.
In close partnership with AdventHealth, Official Health Care Partner of Daytona International Speedway, the NASCAR track established a rigorous set of protocols for fans and competitors to prevent spread of disease and limit contact inside the venue. Read on to learn more!
U.S. stocks rose sharply Monday on news that a vaccine developed by Pfizer and BioNTech had better than expected results at protecting people from COVID-19. Here's a look at how sports-related stocks performed today.
Up:
Dave & Buster's Entertainment (NASDAQ: PLAY) gained 33.30%
Wynn Resorts (NASDAQ: WYNN) gained 27.69%
Genesco (NYSE: GCO) gained 19.12%
Down:
Peloton Interactive (NASDAQ: PTON) dropped 20.29%
Big 5 Sporting Goods (NASDAQ: BGFV) dropped 14.68%
Camping World Holdings (NYSE: CWH) dropped 14.44%
(Note: All as of market close on 11/09/20)
Women's college basketball coaching legend Muffet McGraw is joining the ESPN-owned ACC Network as a women's basketball studio analyst. She retired from coaching after 33 years at Notre Dame in April.
The Athletic rolled back coronavirus-driven salary reductions for its workforce of 570 people. The outlet had asked all of its employees on June 5 to take at least a 10% salary cut for the remainder of 2020.
NASCAR team co-owner Jeff Dickerson says the 2021 NASCAR season will be "the most economical year" in recent series history.
New England Patriots vs. New York Jets: At 0-8, the Jets are the only remaining NFL team without a victory this season, averaging a league-worst 11.8 points per game. The Patriots (2-5) have won the last eight straight match-ups with the Jets, and can't afford a loss on "Monday Night Football" if they have any hopes of turning their season around.
How to watch:
8:15 p.m. ET on ESPN
Betting odds:
Patriots -10 || ML -450 || O/U 41.5