ESPN may skate into an NHL TV rights deal while the WNBA saw success with its merch this season.
ESPN — which broadcast the NHL from the 1992-93 season through the 2003-04 season — is increasingly interested in bidding for the league's U.S. media rights when its deal with NBC expires following next season, sources told Front Office Sports.
NBC currently has a $2 billion, 10-year deal for NHL U.S. broadcast and cable TV rights, and the network wants to retain the rights as well. "We love our partnership with the NHL and hope to continue it for a long time to come," an NBC Sports spokesman said.
The NHL could look to split the league's TV and digital rights among multiple media partners — like the NFL, NBA, MLB and MLS do — to maximize rights fees.
Bird Lands Top WNBA Jersey
The Seattle Storm's Sue Bird led WNBA jersey sales for the 2020 season, marking the first time in her 17-year career that the 11-time All-Star topped the list. 
Top 5 Most Popular WNBA Jerseys:                                
1. Sue Bird
2. Diana Taurasi
3. Candace Parker
4. Sabrina Ionescu
5. Maya Moore
Moore, notably, did not play either of the last two seasons and instead pursued activism; she did not make the top-10 in jersey sales for the 2019 season. In September, she and Jonathan Irons, a wrongly incarcerated man Moore worked to help free from prison, announced they had married.
SPONSORED
Impress Your Sponsors In New Ways
Q4 is here already and your digital team needs to do something special to break through the noise.
Furthermore, your sponsors are waiting on some big ideas for 2021.
In this new guide from Greenfly, learn how brand advocacy and authentic fan engagement can help you build a great story around key sponsor objectives.
Virtual Courtside Heats Up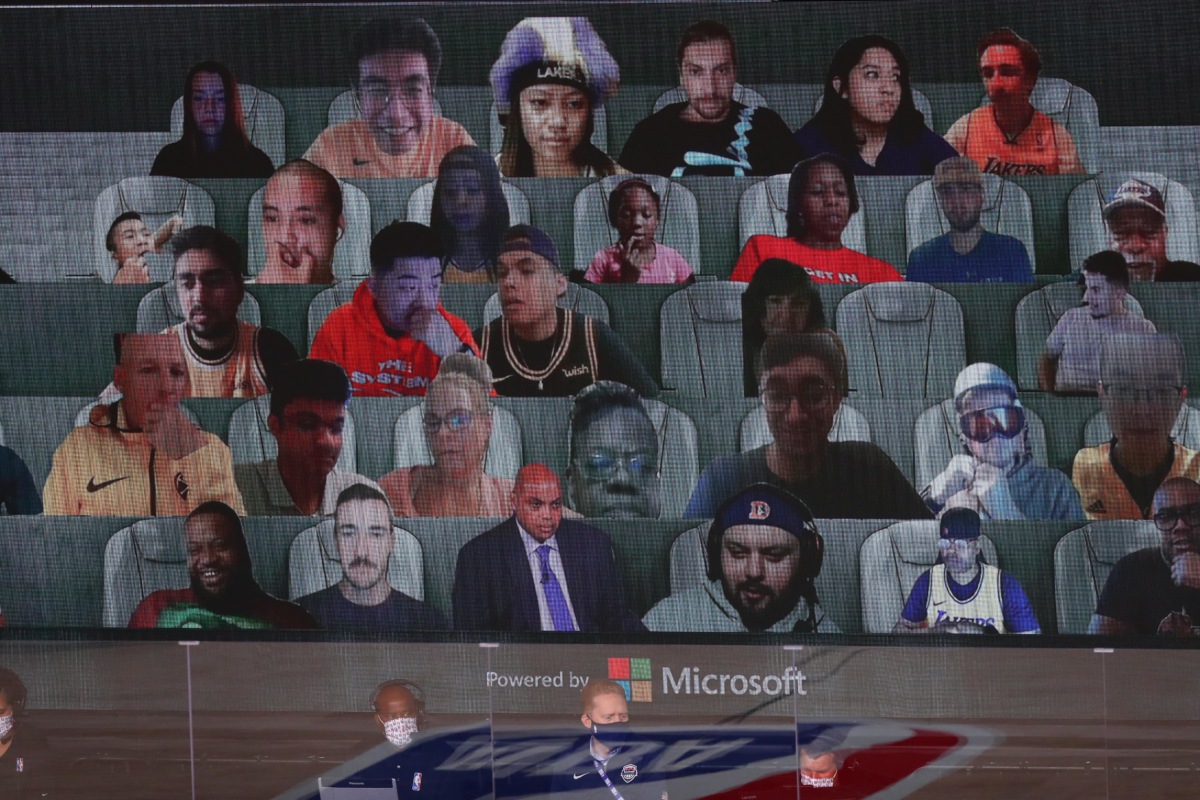 After former President Barack Obama and a group of first-time poll workers attended Game 1 of the 2020 NBA Finals as virtual fans, the league is bringing in a group of 50 children from the Challengers Clubhouse as well as multiple celebrities for Game 2 tonight.
Professional athletes and celebrities expected to be in attendance include: Richard Sherman, Tyrod Taylor, Chiney Ogwumike, Iman Shumpert, Schoolboy Q, LL Cool J, Mike Golic Jr., Cordae and Bad Bunny.
Throughout the NBA's bubble season, more than 300 fans each game have appeared live on 17-foot video boards surrounding the court. The fans watching virtually can interact with each other throughout the game using Microsoft Teams' "Together mode," which removes fans from their individual backgrounds and brings them together in a shared visual space.
Two additional Tennessee Titans' players tested positive for COVID-19. In total, 13 members of the organization have tested positive this week. Steelers-Titans was moved to Week 7; Steelers-Ravens will move from Week 7 to Week 8, moving the Ravens' bye to Week 7. This will be the Steelers and Titans' new bye week.
The SEC issued a memo to coaches and players to wear masks while on the sideline during games, and said "additional action" could be taken if protocols aren't followed.
NBA Commissioner Adam Silver reaffirmed that the 2020-21 season will not begin until at least late December. "Christmas the earliest, more likely January," he said.
Honda will end its run as a power unit supplier for Formula One at the end of the 2021 season. The Japanese manufacturer plans to funnel more resources into zero emission technologies.
U.S. stocks closed lower on Friday but ended the week with an overall gain. Here's a look at how some sports-related stocks performed.
Up:
Allied Esports Entertainment (NASDAQ: AESE) gained 8.66%
Hibbett Sports (NASDAQ: HIBB) gained 7.31%
Foot Locker (NYSE: FL) gained 4.43%
Down:
Activision Blizzard (NASDAQ: ATVI) dropped 5.30%
Take-Two Interactive (NASDAQ: TTWO) dropped 3.59%
Electronic Arts (NASDAQ: EA) dropped 2.79%
SPONSORED
Realife Tech and The COVID Safety Hub
Realife Tech is an experience automation platform that connects disparate systems, creating a 360-degree view of fans, which enables automated personalization across digital touch points and ultimately enhances the fan experience.
Join us on October 8 at 1 PM ET as Joe Londergan and Finn Walsh of Realife Tech discuss this technology and how venues and clubs from the Premier League, MLS, Indianapolis Motor Speedway, and Swiss Super League are using it for mobile ticketing, contactless mobile ordering, contact tracing, crowd management, personalized safety feeds, and more.
Most-Read FOS Stories This Week
Arsenal FC and Pierre-Emerick Aubameyang choose Instagram Live to announce the captain's new three-year contract, drawing a peak live audience of more than 250,000 and showing the power of letting an athlete lead that sort of announcement.
Brands are finally seeing the "power" of WNBA players and other activist athletes as partners — a seeding program in the "Wubble" led to more than 10 new larger player partnerships.
In an open letter, NFLPA President JC Tretter called for all NFL teams to remove artificial turf. His remarks come as players have raised concerns over how the surface may have led to several injuries already this season.
The NFL is working toward developing a single app platform that will house all 32 teams. It's likely that the NFL's new platform will be similar to aspects of MLB's Ballpark app that offers mobile ticketing, stadium maps, schedules and rewards perks.
Josina Anderson, the first woman NFL insider in ESPN history, launched her own video and podcast platform called "Undefined with Josina Anderson." She spoke with FOS about "greenlighting" herself, her exit from ESPN and whether she'd join another NFL TV partner.
What To Watch This Weekend
NBA Finals: The Los Angeles Lakers will look to extend their 1-0 series lead in Game 2 Friday (9:00 p.m. ET, ABC) and Game 3 Sunday (7:30 p.m. ET, ABC), while the Miami Heat will look to bounce back amid injuries to Goran Dragic and Bam Adebayo.
WNBA Finals: The finale to th tips-off on Friday (7:00 p.m. ET, ESPN2) with the Las Vegas Aces and 2020 MVP A'ja Wilson taking on the star-studded Seattle Storm led by Sue Bird and Breanna Stewart. Game 2 will air Sunday on ABC ahead of the NBA Finals at 3:00 p.m. ET.
MLB Playoffs: Baseball's playoffs are in full swing, and MLB will wrap its Wild Card round this weekend. The San Diego Padres and St. Louis Cardinals will play tonight (7:00 p.m. ET, ESPN) to determine who advances to the NLDS to play the winner of the Chicago Cubs-Miami Marlins series.
Betting odds:
NBA Finals Game 2: Lakers -9.5 || ML -455 || O/U 216
WNBA Finals Game 1: Storm -5.5 || ML -220 || O/U 164
MLB Wild Card Series Game 3: Padres -134 || O/U 9