Welcome to FOS College, where we usually don't stick to sports — and this week is no exception.
In this week's edition:
How the GW basketball programs adjusted to life after the insurrection

The Biden administration and Congress' opinions on college sports reform

Former Auburn football coach and Senator Tommy Tuberville challenges election results
– Amanda Christovich
GW Hoops Navigates Heightened Security
Last weekend, the George Washington men's and women's basketball teams moved off campus, which sits about two miles from the U.S. Capitol.
They've since practiced and played at George Mason's arena in Fairfax, and are living in a Virginia hotel.
Since the Jan. 6 insurrection, the Colonials have proceeded under military-grade safety protocols and logistical concerns from the D.C. shutdown.
"None of us can predict what's going to happen tomorrow, or the next day," GW athletic director Tanya Vogel told FOS. "We just have to continue to prioritize safety."
Preparing for a Protest
The D.C. school had contingency plans for riots prior to Election Day. Vogel said the athletic department created an online check-in system for Nov. 3 to ensure campus safety.
The system was useful again on Jan. 6, when people deemed "not part of the GW community" passed through campus on their way to the Capitol.
When D.C. Mayor Muriel Bowser instituted a 6 p.m. curfew, the athletic department canceled that night's men's basketball game against visiting UMass Amherst. Athletes felt "rattled," Vogel said.
Staff used the check-in system to account for the 250 athletes quarantining on campus after winter break.
After Jan. 6, teams practiced under the protection of national guard members, until they moved to Virginia when the campus closed, Vogel said.
What's Next for GW
Vogel was the GW women's soccer coach during the Sept. 11 attacks.
"On Sept. 12, we wondered, was it over? And Sept. 13, we wondered, was it over?" Vogel said.
The immediate aftermath of the insurrection felt the same, Vogel said.
Both teams planned to return to "normalcy" on Jan. 21, after the inauguration, Vogel said. Though the men's team paused competition on Jan. 19 due to a positive COVID-19 test.
NIL: The New Political Football?
During a session at the NCAA Convention, the governing body's Chief Legal Officer Donald Remy discussed potential reforms with members of Congress.
Democratic Sens. Cory Booker (N.J.) and Richard Blumenthal (Conn.) ripped into the NCAA's lack of name, image, and likeness legislation and other reforms, while Rep. Anthony Gonzalez (R-Ohio) took a more measured approach.
All three NCAA-athletes-turned-politicians, however, stressed bipartisan support for helping college athletes profit off NIL.
New Administration's NIL Opinion
According to Gonzalez, the Biden administration is aware of pending NIL legislation, but President-elect Biden "doesn't have a particularly strong opinion one way or the other" about how far an NIL bill should go. He added that he'd met with the administration last month to discuss his proposed bill.
He did echo the skepticism voiced by politicians on both sides of the aisle that the NCAA would actually make NIL reforms.
The Student Athlete Level Playing Field Act, a bipartisan bill introduced by Gonzalez and Rep. Emanuel Cleaver (D-Mo.), creates a framework for athletes to profit off their NIL rights by:
Designating the Federal Trade Commission to oversee NIL deals
Creating a congressional committee to provide recommendations to improve the bill's rollout
Prohibiting athletes from becoming university employees
"How do we extend student-athlete rights as far as we can without jeopardizing the system overall?" Gonzalez said of the balance he looked to strike.
The College Athlete Bill of Rights, proposed by Booker and Blumenthal, looks to address what Booker called "system-wide failures."
"When you say things to me like, 'Hey, we've made progress' — for folks experiencing injustice, that's not satisfactory," he said of the NCAA's previous reforms.
In addition to NIL rights, the bill would allow athletes to:
Participate in group licensing deals
Take part in some programs' revenue-sharing
Receive enhanced medical and educational opportunities
However, the senators clarified that their bill doesn't require athletes to be university employees, which appeared to please Remy.
SPONSORED
Pitch Like The Pros With Sportsdigita!

Sportsdigita is changing the way the biggest brands in sports tell their story with its cloud-based presentation platform, Digideck. With a rich roster of 400+ teams and universities globally, Sportsdigita is helping organizations drive revenue in the digital age. Digideck is helping colleges and universities step up their game with solutions for:
✅ Recruiting
✅ Development
✅ Ticketing
✅ Sponsorship
CFB Coach Goes to Congress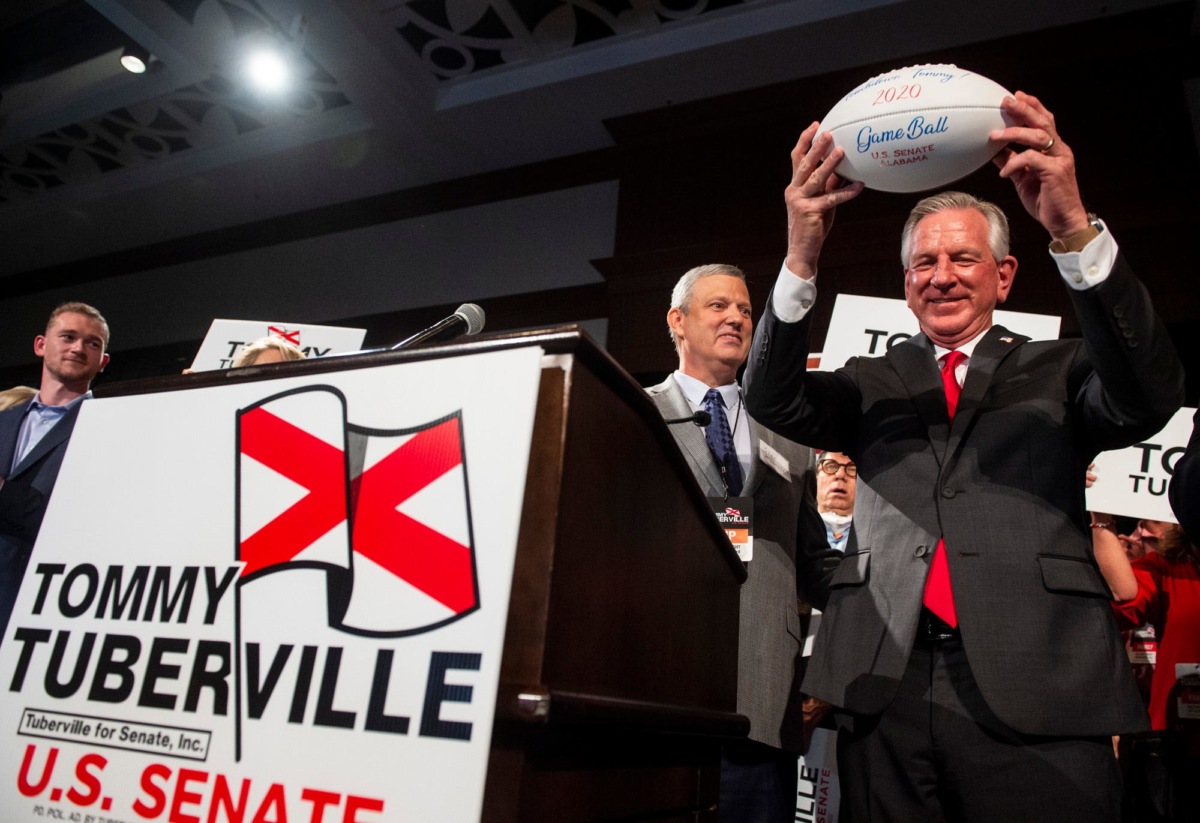 It's been a busy two weeks for Republican Alabama Sen. Tommy Tuberville.
The former Auburn football coach was sworn into Congress on Jan. 3, and his first high-profile act came on Jan. 6, hours after the Capitol riots.
Although courts previously found no evidence of significant fraud in Arizona and Pennsylvania, Tuberville joined several colleagues' formal objection to those states' presidential vote counts.
Tuberville tweeted that he "strongly condemned" the "violence and actions" at the Capitol but maintained he had "serious concerns" about unfounded election fraud.
"Because I promised to raise these concerns on behalf of my constituents, I voted against seating the electors from Arizona and Pennsylvania," he said.
Tuberville held fast to his position while other Republican colleagues — including outgoing Republican Georgia Sen. Kelly Loeffler (who co-owns the WNBA's Atlanta Dream) — reversed course after the tragic events at the Capitol.
Opposition Campaign Strategy Resurfaces
In response, Alabama Democrats re-deployed a campaign trail strategy in which they used Tuberville's controversial coaching career to disparage his political image.
"Your legacy will be one of sedition, violence and shame," the tweet read. "Not of patriotism. To quote a failed football coach turned traitor: 'Go to hell.'"

During the fall campaign, the group said Tuberville's track record of jumping from one team to another proved his disloyalty and dishonesty, according to the WSJ.
Vanderbilt kicker

Sarah Fuller

, the first woman to play — and score — in a Power 5 football game, will be a

featured

participant in tonight's inauguration celebration.

The NCAA released a preliminary schedule for men's March Madness, and eligibility details for the women's tournament.

Vanderbilt women's basketball became the third Power 5 team to cancel its season, following opt-outs by Virginia, Duke and SMU.
College athletes and coaches become politicians. Politicians draft bills to influence college sports. Political violence affects athletes, coaches and administrators.
January 2021 has provided a laundry list of reasons why the political and sports arenas cannot be separated — and how, in fact, they often operate at the same address. 
Recent events have proven that no one can simply "stick to sports." 
Tips? Feedback? Reach out to me at amanda@frontofficesports.com or on Twitter.