Until a few decades ago, there was little room in the United States for the world's game.
America already had "football" — and because American exceptionalism convinced generations that soccer didn't belong in the national sports culture, those who loved the sport anyway were left to enjoy it from the shadows.
"You were almost embarrassed or ashamed to say you played the sport," former USMNT player and current CBS Sports soccer analyst Charlie Davies told Front Office Sports.
That all changed in 1994, when the United States hosted the FIFA World Cup for the first time.
"That was literally the moment where soccer became a sport that people were interested in," says Davies. "People could watch, people started to learn how to play. You're just seeing the generations from that moment want more — and with that, the quality has gotten better."
But as soccer's popularity grew in the States, did it have enough cultural relevance to warrant its own dedicated network?
"NFL fans have NFL Network, NBA fans have NBA TV, MLB fans have MLB Network, NHL fans have NHL Network," says CBS Sports Golazo Network coordinating producer Mike Nastri. "There was nothing that was committed to showing soccer 24/7."
The Buildup
Prior to 2020, CBS Sports' soccer coverage was sparse, to say the least.
From 1968 to 1976, the network broadcasted a handful of North American Soccer League games — most famously showcasing soccer legend Pelé to a U.S. audience. Then it was only a smattering of one-off, high-profile matches until 2019, when it acquired the U.S. rights to UEFA club competitions, including the high-profile Champions League. It extended those rights for six years and $1.5 billion last August.
CBS Sports senior creative director Pete Radovich Jr. set out on a mission to build the network's soccer coverage — which began earlier than expected when previous rights holder Turner Sports backed out of its contract due to the pandemic in 2020.
"We knew from our data that this audience segment was growing fast, that it skewed young, and that it skewed to streaming preference largely because it was young," CBS Sports' EVP of digital Jeff Gerttula says. "We've seen it grow year after year, and as we've thrown more content at the audience, we've seen there's almost an insatiable appetite for [it]."
From there, it was all about building a brand. Enough reluctance has remained over the sport's national profile that executives at CBS Sports agonized over naming its blossoming soccer branch.
"It came out of our internal debates as to whether to use the word 'soccer' or the word 'football' in our branding," says Gerttula. "Let's find another word that captures the passion of the sport and everyone can agree on."
That word was "Golazo" — the term shouted by those who have just witnessed a breathtaking, sensational soccer goal.
With Champions League and Europa League matches on CBS airwaves, the company decided to experiment with an "NFL RedZone"-style TV show that they aptly named "The Golazo Show." The whiparound program hosted by Nico Cantor covers all of the action going on during packed UCL and UEL matchdays, ensuring that viewers see every goal from every game.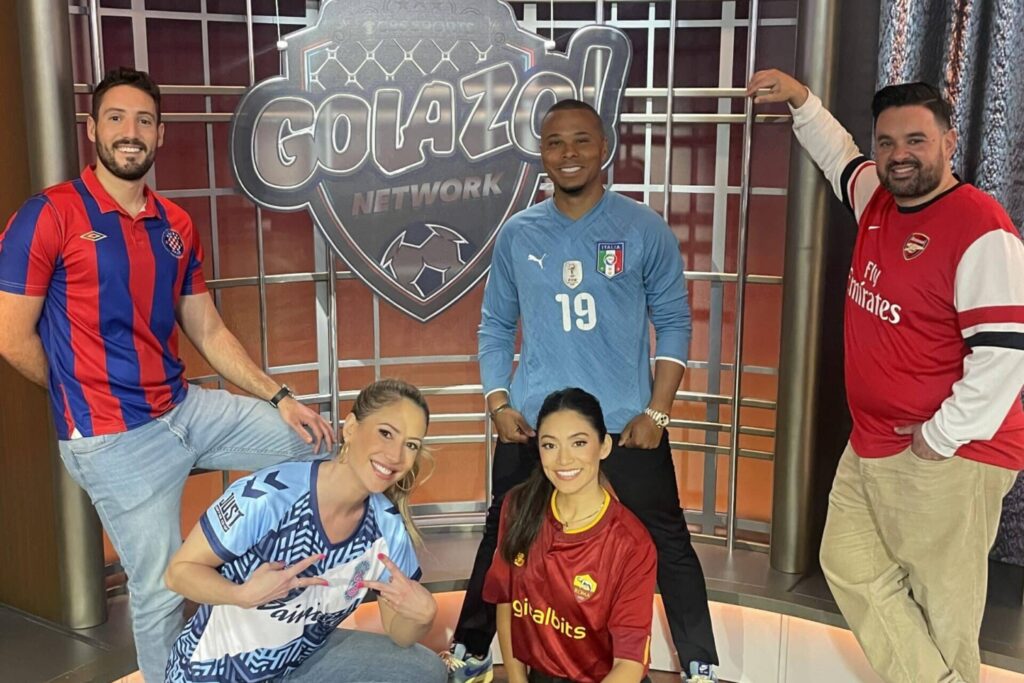 Perfectly Timed Risk
Paramount's next step was its most ambitious — and riskiest.
After finding success with its first free, ad-supported television (FAST) channel CBS Sports HQ, the company decided to make its second America's first-ever dedicated soccer channel — Golazo Network.
While the network's execs specifically tell FOS that Golazo Network didn't directly develop from the show, the name itself has become most central to its soccer identity.
"It's built around that brand, which we think is energetic and fun for everyone and represents the best in the sport, which is the goal that really excites you," Gerttula says.
Soccer has come a long way from that '94 World Cup moment — and it's set to take another leap forward when North America hosts the world's biggest soccer tournament again in 2026.
It's why CBS Sports believed that this was the right time to launch Golazo Network in earnest.
"We're in this sweet spot right now because we're coming off a World Cup, and then we've got the 2026 World Cup, where all eyeballs are going to be on this global sport," says "Morning Footy" co-host Susannah Collins. "So we're kind of hitting it right at the perfect moment because interest is high."
"The need for more content is there, and it just takes a big network to say, 'We're going to do it,'" says Davies. "It makes it that much more special to be the ones at the forefront."
Like many successful sports media channels, Golazo Network is anchored by a morning show — in this case, "Morning Footy," hosted by Collins, Davies, Cantor, Alexis Guerreros, and Jenny Chiu.
"It's the show that I have always wished existed," says Collins. "Now we get to be a part of it and host it and bring it to the masses. It's just incredibly gratifying."
"We want this to be the destination for soccer fans to come to and be able to hear about anything going on, whether it's a property on Paramount+ or the EPL or MLS," Nastri says.
That one-stop-shop mentality allows the show to cover nearly every league in the world. The Champions League, the top-flight European leagues, and MLS clearly lead the way, but if something big happens in Asia or South America, the "Morning Footy" team wants to cover it.
And the show's desire for mass appeal doesn't just extend to its coverage of different leagues around the world — it also wants to bring in fans of all kinds, from the hardcore to the casual.
"I think that soccer can be a pretty intimidating sport if you are a new soccer fan or you're just getting into it," says Collins. "It can be a little unwelcoming, and I think that it's really important that we make it accessible."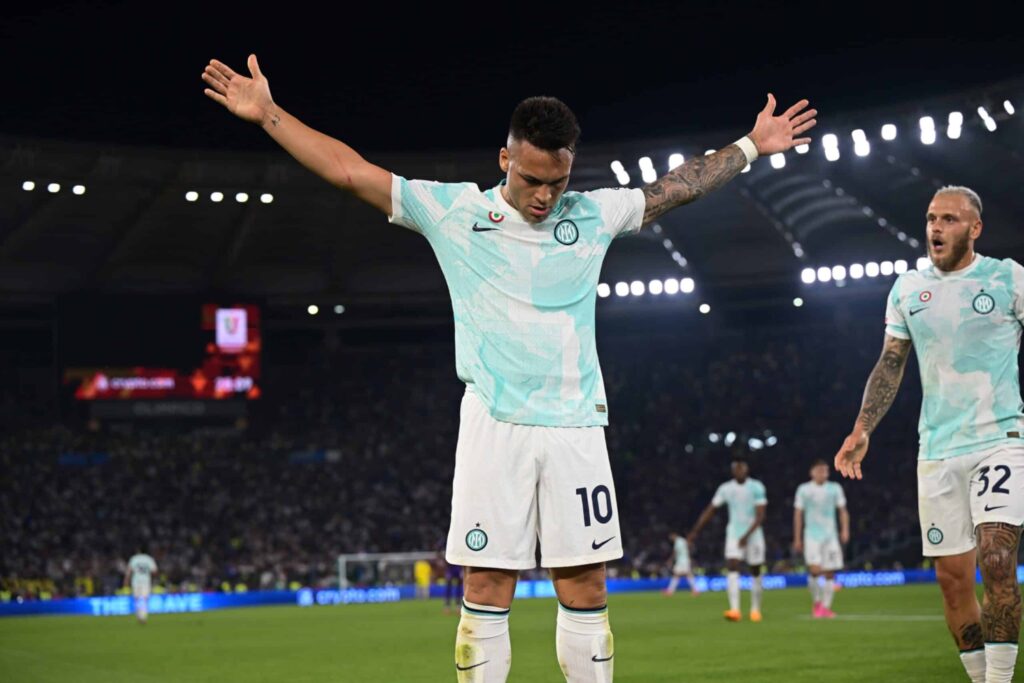 Around The World
Morning Footy occupies six hours of each weekday — meaning Golazo Network has 138 hours of content to fill each week outside its flagship show to truly be a round-the-clock destination for soccer.
Luckily, the near-constant flow of soccer matches around the globe provides plenty of opportunities to fill airtime, both through live matches and original content.
While the UCL may be the biggest property to which Paramount holds rights, it's acquired as many others as it can. This past week alone, Golazo Network showed live coverage of Italy's Serie A, Brazil's Serie A, the Scottish Premiership, as well as the U.S. Open Cup and NWSL in the United States.
Through its first five weeks (April 11-May 14), Golazo Network showed nearly 100 live matches across over a dozen competitions.
When it's not showing games, Golazo Network turns to its other studio show, "Box 2 Box," for a more news-driven approach to covering the soccer world. It also shows original documentary films and series that often serve as test runs before they're promoted to Paramount+.
And it's not just the audience craving the content — those making it want it, too.
"I think we view this — the network as a whole and specifically 'Morning Footy' — for all of us being passionate soccer fans, as the opportunity of a lifetime," says Nastri. "It's something that we have truly been looking for our whole lives."
"I think it's so important for the growth of the sport for [U.S.] fans to be able to know what's going on around the world."