Wednesday marked two dubious milestones in Pep Guardiola's Manchester City tenure: His club conceded two goals in the 90th minute or later — and two goals in consecutive minutes — for the first time ever. The latest Manchester meltdown also marked a royal return to glory…
How An Investment in Youth Returned Real Madrid to UCL Final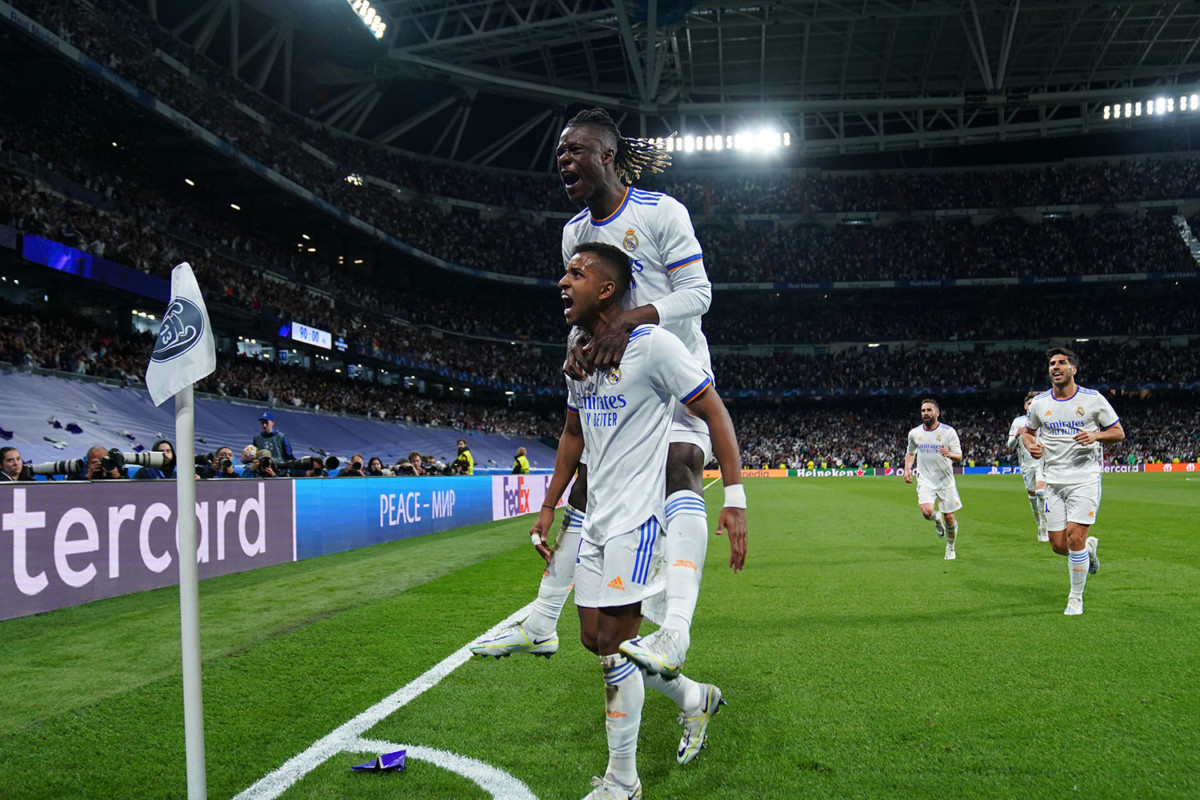 Following one of the most stunning comebacks in Champions League history, Real Madrid have returned to the pinnacle of European soccer after a relatively short rebuild.
Down 5-3 on aggregate to Manchester City entering the 90th minute of the semi-final's second leg, Rodrygo's two goals in two minutes sent the match to extra time — where mainstay Karim Benzema's penalty put Real through to a record-extending 17th final appearance in Europe's most prestigious competition.
Rodrygo is part of a young, inexpensive core that has combined with several holdovers from the club's recent glory years to shore up an attack that lost Cristiano Ronaldo in 2018.
Rodrygo, Vinicius Junior, and Eduardo Camavinga — all 21 or younger — came to Madrid for transfer fees totaling $133.1M. By comparison, a 19-year-old Joao Felix transferred to Atletico Madrid for $139.9M in 2019.
The trio have recorded eight goals and nine assists in 2021-22 UCL play.
Benzema, 34, leads the UCL in scoring this season (15), while fellow veterans Luka Modric and Toni Kroos have combined for two goals and four assists.
And while many remember only Zinedine Zidane at the helm when Real won four UCL titles from 2014 to 2018, including three straight, current manager Carlo Ancelotti presided over that first championship.
After handing Man City boss Pep Guardiola another shocking defeat, Ancelotti can set his sights on another of the world's best managers — Liverpool's Jurgen Klopp. Real are +280 underdogs to Liverpool's -110 on the moneyline.
The High-Priced Lightning Are Nearly Unbeatable After Loss
The Lightning specialize in bouncing back — which will make them a hard postseason out as they seek a third consecutive Stanley Cup.
On Wednesday, Tampa defeated the Maple Leafs 5-3 to even their series at one. The Bolts are now 15-0 following a postseason loss, a streak going back to the 2020 playoffs.
On a team with the NHL's highest payroll ($108M), the Bolts' big-money stars played a big part in righting the ship — especially netminder Andrei Vasilevskiy, who has been in goal for all of Tampa's bounce-back wins.
He notched postseason win No. 50, joining Marc-Andre Fleury (91) and Braden Holtby (50) as the only active goalies with at least 50.
Vasilevskiy ($9.5M cap hit, T15 in NHL) has a 1.31 goals-against average, .948 save percentage, and five shutouts following a playoff loss since 2020.
Nikita Kucherov ($9.5M, T15) added a goal and two assists to his 130 points (45 goals, 85 assists) over 115 postseason games.
Victor Hedman ($7.9M, 47) set a franchise record for points by a defenseman in a playoff game (goal, three assists) and leads active blue-liners in the postseason (134).
The Lightning now enjoy home-ice advantage for Friday's Game 3 as they look to become the first team to win three Cups in a row since the 1980-83 Islanders.
But the Bolts haven't quite bounced back yet with oddsmakers: Tampa is the sixth-favorite (+1100) to win the championship, just behind Toronto (+900).
SPONSORED BY SAILGP
Reinventing Crypto-Led Fan Engagement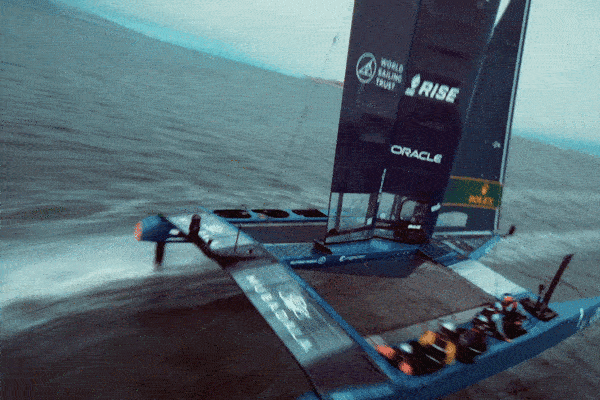 SailGP will explore the sale of a new team to a DAO launched on the NEAR Protocol – a first-of-its-kind community engagement and activation platform in professional sports.
The partnership will enable fans and cryptocurrency enthusiasts to engage and access their favorite teams, athletes and events like never before.
The DAO team is scheduled to join the SailGP starting lineup as early as Season 4 in 2023, with the DAO community members determining athlete selection, team management, commercialization options, operations and team strategy.
Learn more about SailGP and NEAR.
Tyler Herro Is Miami Heat's $4M X-Factor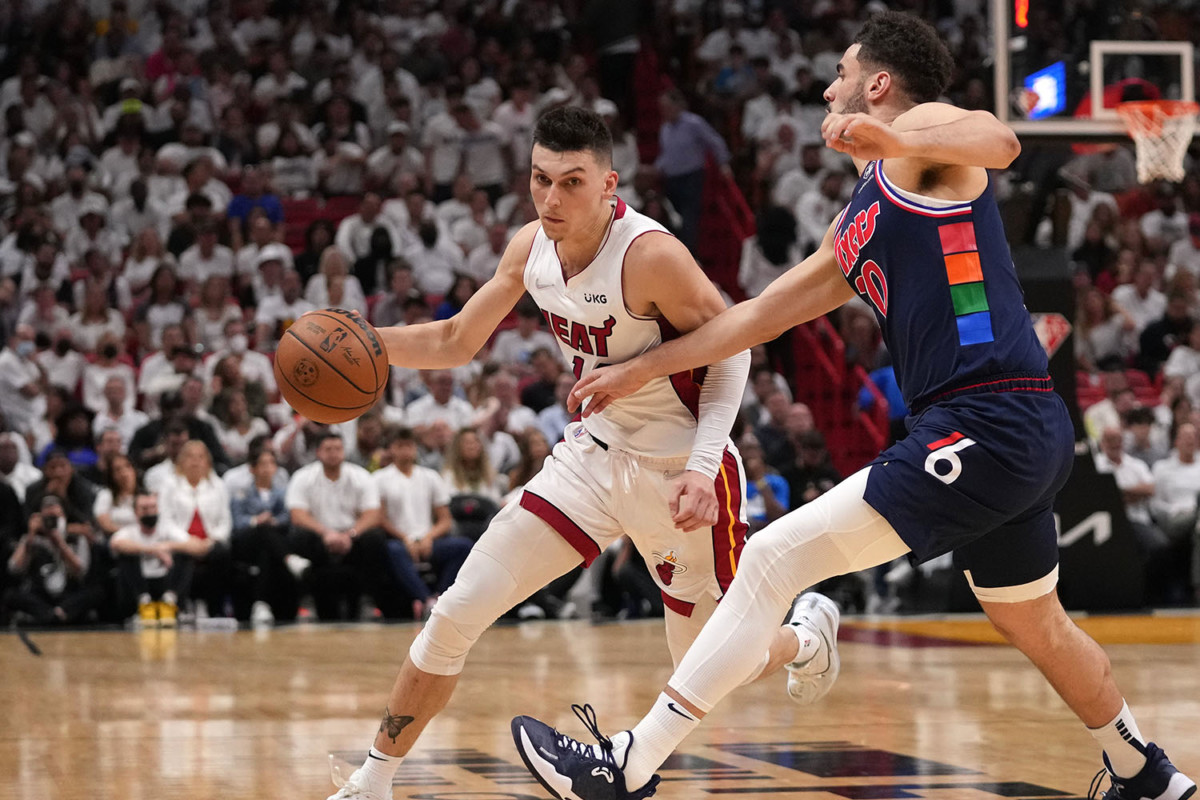 It isn't often that a team's most important player comes off the bench, but Miami's Tyler Herro is challenging that wisdom with his game-changing heroics.
On Wednesday, this season's Sixth Man of the Year finished with 18 points and seven rebounds against the 76ers, leading a Heat bench that outscored Philly's 52-19 on the way to a 2-0 series advantage.
Herro, who's earning only $4 million this year — the seventh-highest-paid player on a Miami squad with a $140.8 million payroll — rode a landslide to become the second-youngest player to win 6MOTY.
Herro scored the most points for Miami in the regular season (1,367) and averaged the second-most PPG (20.7).
His bench unit led the NBA in PPG (40.5) and is second behind the Warriors (43.1) in the postseason.
In Game 1, he became the first in Heat postseason history to score 25 points and with five assists off the bench.
The 22-year-old's contract provides some breathing room for a Miami team with $133 million already on the books next season — he's owed a mere $5.7 million next season, and the Heat can wait until 2023 to offer him a five-year, $184 million rookie max extension.
With Joel Embiid uncertain to play in Friday's Game 3 in Philly, the Heat have a chance to go up 3-0 and make the Eastern Conference Finals for the second time in three seasons.
History's on their side: The Heat are 16-0 when up 2-0 in a best-of-seven series, while the Sixers are 0-13 when trailing 2-0. Miami is the third-favorite (+475) to win the title.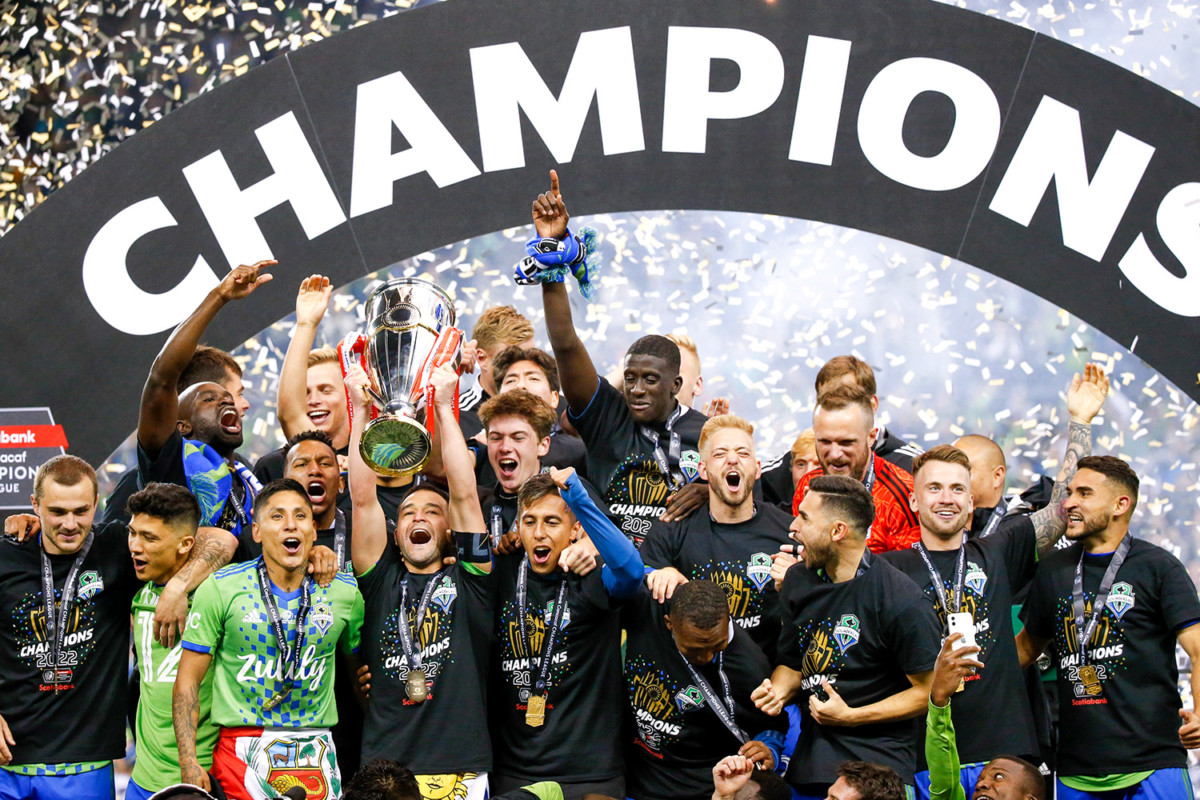 Soccer: The Seattle Sounders became the first MLS team to win the CONCACAF Champions League with a 5-2 aggregate victory over Pumas UNAM in the Final; LA Galaxy were the last MLS team to win the former CONCACAF Champions Cup in 2000.
NBA: The Nets announced that Ben Simmons underwent "successful" surgery on his back; he hasn't played a game since June 20, 2021. Also: Warriors' guard Gary Payton II is out 3-4 weeks with a fractured elbow from Dillon Brooks' flagrant 2 foul in Game 2.
Baseball: The Staten Island FerryHawks' Kelsie Whitmore made a relief appearance, becoming the first woman to pitch in an Atlantic League game; Whitmore was the first woman to sign with an MLB-affiliated pro team and the first woman in an Atlantic League starting lineup.
NFL: Per ESPN, the NFL will hold a diversity seminar later this month for 64 head coaching and general manager candidates on the business of football and coaching techniques.