As the NFL kicks off its 2020 season tonight, FOS details which teams will have fans in the stands this season, along with the teams who have not fully committed to a plan one way or the other.
What Each NFL Team is Planning for Fan Attendance at Games in 2020
What Each NFL Team is Planning for Fan Attendance at Games in 2020
For many sports fans it is the most awaited sight amid all the pandemic blues — the NFL returning. Sports shut down completely in early March as COVID-19 raged throughout the country, and many fans wondered if football would return at all.
But with training camps starting back up, fans are not only getting excited but also wondering if they would be able to attend games once the 2020 regular season starts on Sept. 10.
In May, NFL Executive Vice President of Football Operations Troy Vincent said the league was "planning to have full stadiums until the medical community tells us otherwise." But with the rising cases across the country, along with state and city officials trying to avoid outbreaks by banning large gatherings, the prospects of having a significant number of fans have all but dwindled.
As of Sep 8, 25 teams have announced that they will not have fans at their stadiums at the start of the season, citing various state restrictions. Along with that, two teams have yet to formally announce if fans will or won't be in attendance. Only five teams have committed to having fans inside stadiums, but in a limited capacity.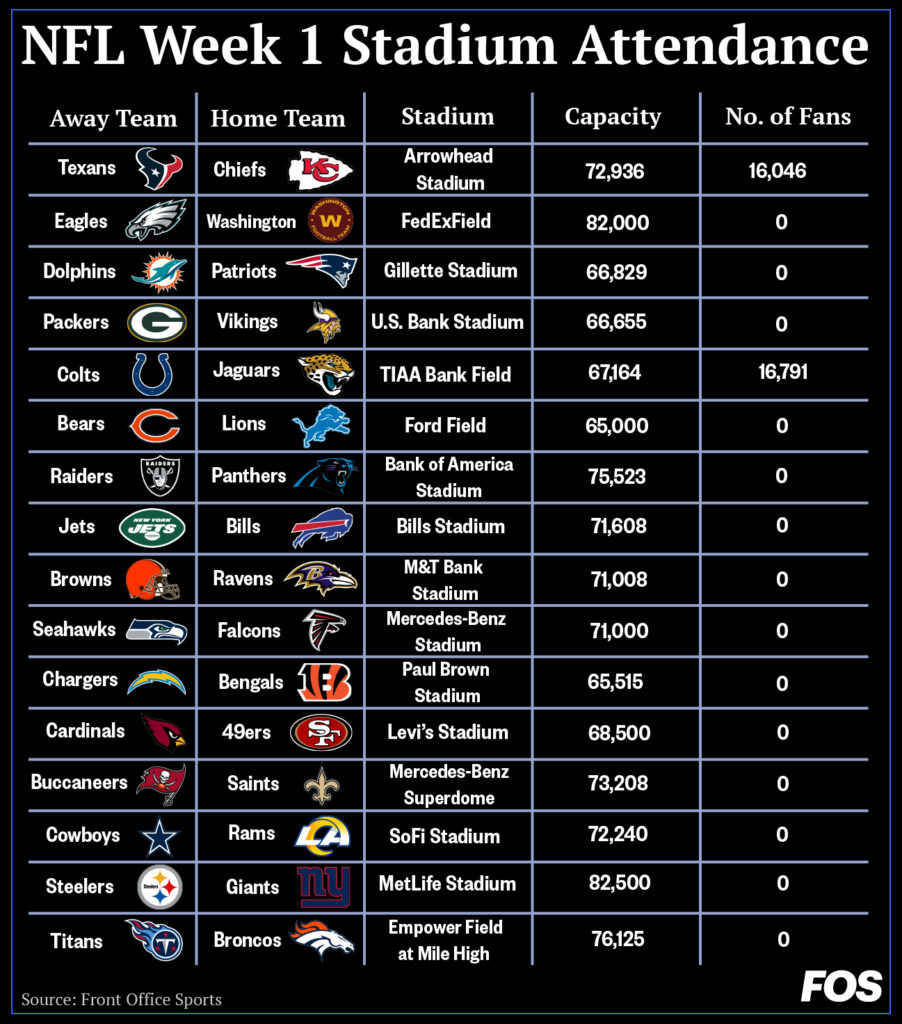 While the NFL has generally left it up to the teams to decide if they want to have fans or not, the Center for Disease Control's social distancing guidelines cap attendance to about 20-25% of U.S. venues' full capacity. Many teams are ready to follow the guidelines and assess the situation on a week-to-week basis, which is contingent on the number of cases in their particular city indicating that the situation remains highly fluid between the teams and city authorities.
Consequently, the pandemic has upended ticket sales. The NFL stands to lose about $5.5 billion — or 38% — of its stadium revenue, based on 2018 league numbers, according to Forbes. The impact on each team will differ.
About 40% of NFL season-ticket holders who pushed their packages to 2021 demanded a refund, according to Sports Business Journal, pointing to further trouble for the league in the coming weeks. In response, many teams have started encouraging their fans to leave their money in their accounts by offering incentives like food and drinks discounts and priority access to playoff tickets.
Many players have opted out of the season, citing various personal and family medical reasons. In total, 66 NFL players announced that they will not be playing the 2020 season.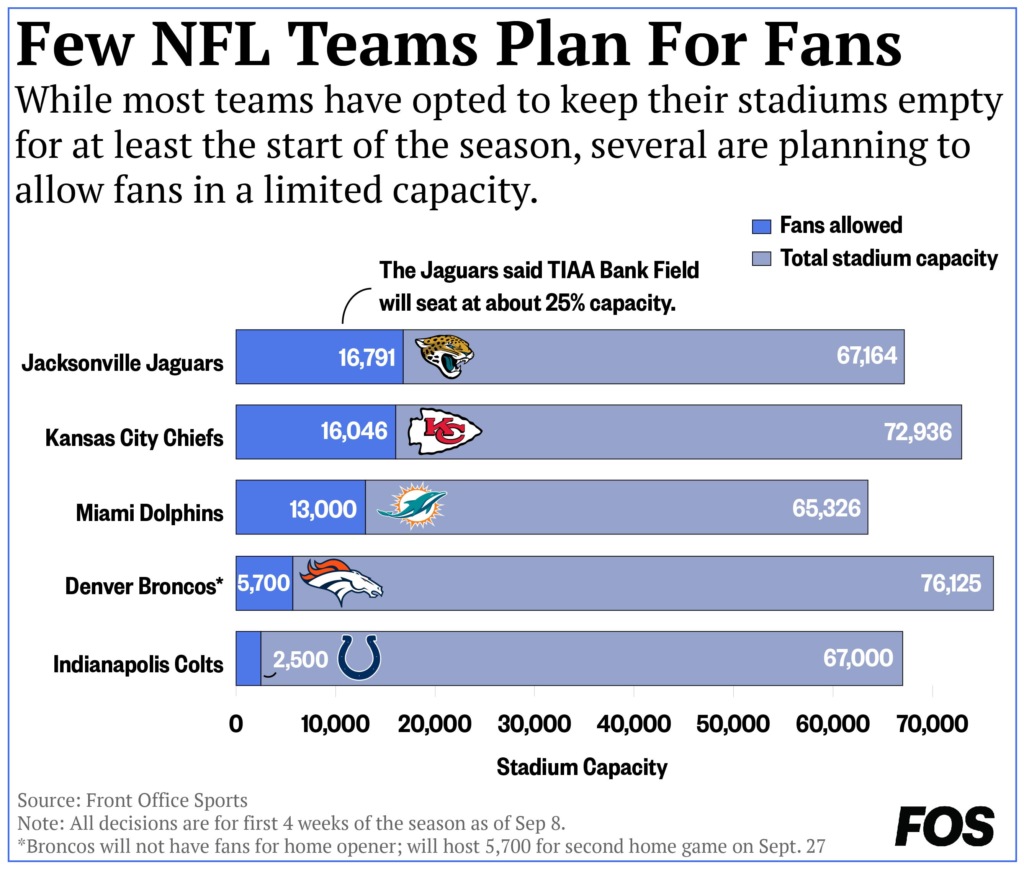 NFL Team 2020 Fan Attendance Tracker (Last Updated: 2:50 pm ET on Sep. 8):
Teams That Will Not Have Fans in Attendance:  
Arizona Cardinals (first two home games)
Atlanta Falcons (through Sept.)
Baltimore Ravens (until further notice)
Buffalo Bills (for the first two home games)
Chicago Bears (until further notice)
Cincinnati Bengals (for home opener)
Carolina Panthers (for Week 1)
Denver Broncos (for home opener; will host 5,700 for second home game Sept. 27 )
Detroit Lions (through Oct.)
Green Bay Packers (for first two home games)
Houston Texans (through Sept.)
Las Vegas Raiders (for 2020 season)
Los Angeles Chargers (until further notice)
Los Angeles Rams (until further notice)
Minnesota Vikings (for first two home games)
New England Patriots (through Sept.)
New Orleans Saints (for home opener)
New York Giants (until further notice)
New York Jets (until further notice)
Philadelphia Eagles (until further notice)
Pittsburgh Steelers (for the first two home games)
San Francisco 49ers (for the first home game)
Seattle Seahawks (for first three home games)
Tennessee Titans (through Sept.)
Tampa Bay Buccaneers (for first two games)
Washington Football Team (for 2020 season)
Teams That Will Have Fans in Attendance:
Indianapolis Colts (capped at 2,500 fans)
Jacksonville Jaguars (capped at 16,791 fans)
Kansas City Chiefs (capped at 16,046 fans)
Miami Dolphins (capped at 13,000 fans)
Teams That Have Not Yet Made a Formal Statement: 
Cleveland Browns (first home game: Sept. 17)
Dallas Cowboys (first home game: Sept. 20)
Other recent NFL coverage from FOS
Other recent NFL coverage from FOS