Several big name NFL players signed noteworthy contracts this offseason, seven teams have said they'll welcome fans this year, football could be a lifeline for TV networks, and millions of Americans are ready to bet on the NFL.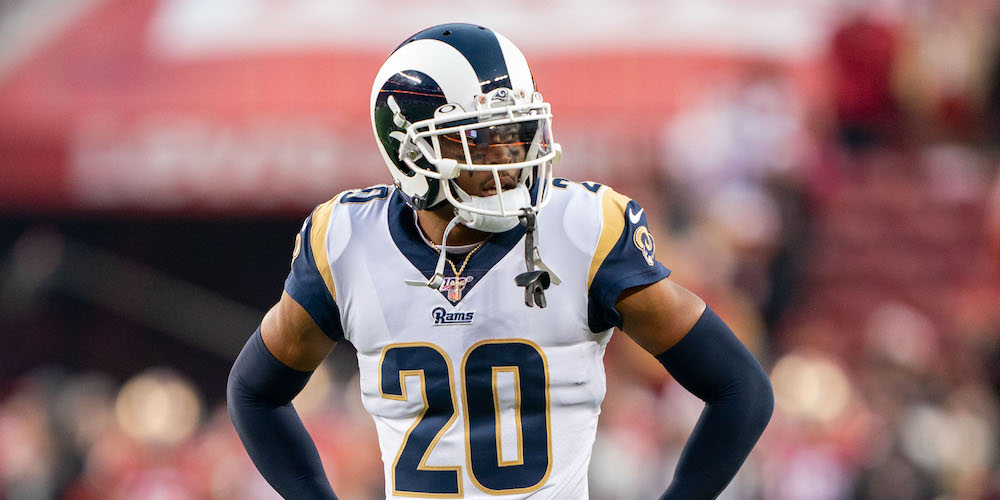 The NFL offseason was highlighted by two giant quarterback contracts: Kansas City Chiefs quarterback Patrick Mahomes' deal worth up to $503 million and Houston Texans Deshaun Watson's $156 million contract extension. But there were plenty of other noteworthy deals signed as well.
Quarterback Moves:
Six-time Super Bowl champion Tom Brady left the New England Patriots, signing with the Tampa Bay Buccaneers for a reportedly two-year, $50 million deal.
Long-time Los Angeles Chargers quarterback Philip Rivers joined the Indianapolis Colts on a one-year, $25 million deal.
Former NFL MVP Cam Newton took Brady's spot in New England on a one-year deal with a $1.05 million base salary — the league's veteran minimum. 
Cashing Checks:
Wideout DeAndre Hopkins was traded from the Houston Texans to the Arizona Cardinals and recently negotiated his own two-year, $54.5 million extension. He reportedly wants to be a general manager when he hangs up his cleats.
Los Angeles Rams cornerback Jalen Ramsey signed a five-year, $105 million extension, with $71.2 million at signing. He's the first defensive back with a contract worth more than $100 million.
Los Angeles Chargers defensive end Joey Bosa signed a five-year, $135 million extension, including $102 million guaranteed — an NFL record for a defensive player.
2020 NFL Draft No. 1 pick quarterback Joe Burrow signed a fully-guaranteed four-year, $36 million deal with the Cincinnati Bengals.
Football is Back; Are Fans?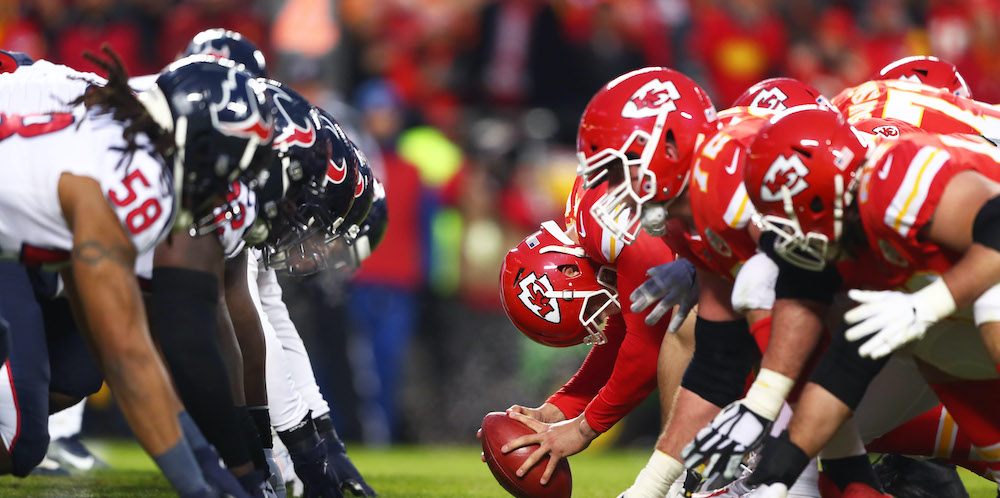 Last night the Kansas City Chiefs hosted the Houston Texans at Arrowhead Stadium, one of two NFL stadiums that will allow fans during Week 1.
Arrowhead welcomed up to 16,046 fans with dozens of tickets still available on Ticketmaster starting at $200 prior to kickoff. In Jacksonville — the only other NFL stadium that will have fans in the stands this week — tickets are available starting at $28 on the secondary market as of Thursday evening. 
As of Week 1, just seven teams said they plan to have fans in the stands in the first few weeks of the season. But there is belief across the league, including from NFL Commissioner Roger Goodell, that fans will be interested in attending games when allowed.
Teams Planning On Fans: 
Indianapolis Colts (capped at 2,500 fans)
Jacksonville Jaguars (capped at 16,791 fans)
Kansas City Chiefs (capped at 16,046 fans)
Miami Dolphins (capped at 13,000 fans)
Cleveland Browns (capped at 6,789 fans for first two home games)
Dallas Cowboys (haven't announced capacity yet)
Denver Broncos (no fans Week 1; capped at 5,700 fans for second home game)
SPONSORED
An Ally For Golf And Golf Fans

For the last several years, Team RBC have worked to positively impact communities that continue to support the sport of golf.
RBC has donated over $20 million to communities hosting events like the RBC Canadian Open and the RBC Heritage tournaments. RBC is pleased to be the official banking and financial services partner of Team RBC – world class golfers and emerging professionals who wear the RBC brand and compete on the PGA and LPGA Tour.
Visit teamrbcgolf.com today to learn more about everything RBC does to grow the game.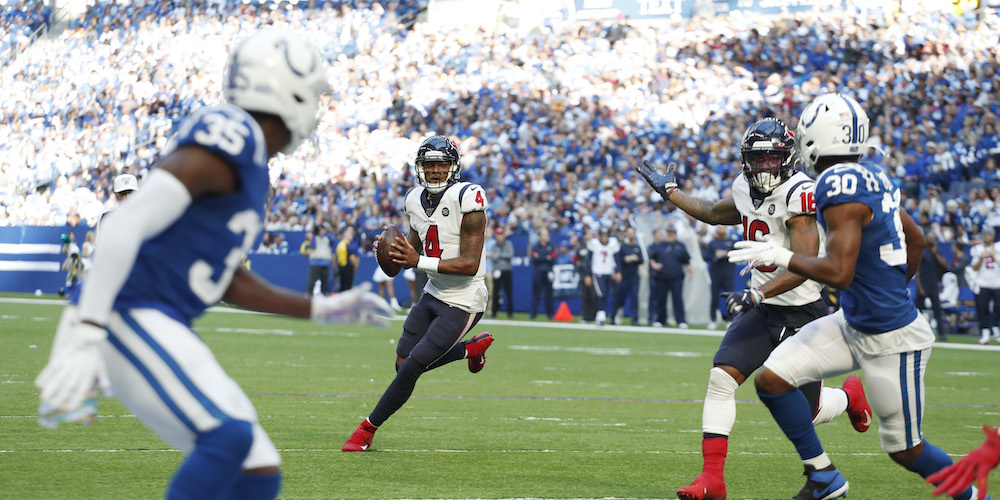 TV networks are letting out a sigh of relief as the NFL could bring them up to $5 billion ad revenue over the next few months. NBC reportedly garnered $900,000 for 30-second ads during last night's opener. Last season, the average Sunday night matchup drew $685,227.
ViacomCBS and NBCUniversal — which broadcast games on their CBS and NBC networks — both reported 27% advertising declines in their 2020 second quarters, largely because of the lack of sports. Last year, the NFL accounted for an estimated $4.6 billion in national TV advertising revenue. 
NFL games are a driver for viewership and ad dollars for networks, so the boost will likely be more than the return of MLB, the NBA and the NHL. Without a significant chunk of Power 5 college football programs playing this fall, the NFL could be even more important.
2019 Live Viewership Driven By NFL Games And Programming:
61% for Fox
28% for CBS
28% for ESPN
27% for NBC
Where The Ads Are Coming From:
Many of the league's normal partners and advertisers will be back, like Amazon, Procter & Gamble brands and insurance companies like Progressive and State Farm. Other partner brands like Pepsi, Oikos, Gillette and Snickers have announced extensive football-focused brand campaigns as in years prior.
It's also an election year, so as November nears, campaign ads could heat up. Joe Biden's campaign is expected to spend upwards of $25 million on NFL adjacent ads. President Donald Trump spent approximately $11 million around the Super Bowl, but reportedly isn't spending on NFL ads this fall.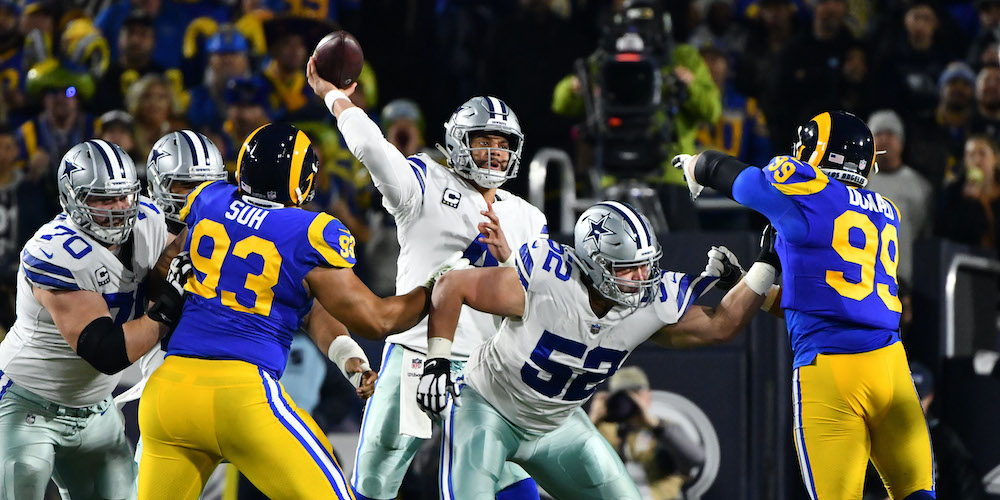 More than 33 million Americans are planning on wagering money on the 2020 NFL season, according to the American Gaming Association. That projection comes as more Americans will have access to legal betting than ever before as 18 states and Washington, D.C. now have legalized betting. 
Among those interested in betting on the NFL, 54% said they were especially excited for the 2020 season — more than the 41% of avid NFL fans looking forward to kickoff. The increased engagement from bettors can eventually bring the NFL an additional $2.3 billion in revenue, according to a 2018 AGA study.
Sportsbook operators have also reported an uptick in demand heading into this NFL season. 
Other NFL Betting Findings: 
16.6 million will make casual bets with friends, coworkers or family
11.3 million will bet online, legally or illegally
8.6 million will play in pools, fantasy or squares
6.6 million American adults will bet at a legal physical sportsbook
6 million will bet with a bookie
SPONSORED
Win The Ultimate Baseball Fan Prize Pack!

Want to win a fantastic prize pack to celebrate the 2020 baseball season?
Our friends at Dugout Mugs are giving away a 65″ screen TV, $200 in cash, and a 4-pack of Dugout Mugs® to one lucky fan. Sign up today by following this link and entering your name, email, and phone number AND following @dugoutmugs on Instagram. 
The winner will be announced later today and notified via text message!
Peloton doubled its total revenue and connected fitness subscriber count over the last year as the pandemic-forced shift to at-home fitness propelled the company to profitability for the first time. It reported $607.1 million in revenue in its fourth fiscal quarter — a 172% increase from the same quarter a year ago.
The biggest name in gaming is headed back to the biggest name in streaming: Tyler Blevins, known as "Ninja," will once again exclusively stream on Amazon-owned Twitch after leaving for a lucrative deal with Mixer last year.  
With the NFL barring sideline reporters from the field due to COVID-19 concerns, networks and reporters will have to find creative solutions. "We love challenges on 'Sunday Night Football,'" NBC's Michele Tafoya said on a recent conference call. "I'm eager to see how it all works out."
Would you buy a Peloton bike or treadmill?
Thursday's Answer: 
52% of respondents are playing fantasy football this year.