Whenever the Oakland A's stadium situation approaches a resolution, the road curves, and the team returns to the maze. Various paths lead to Las Vegas, Oakland, or alternate possibilities, namely, selling the team. But in the labyrinthine twists and tangles of all of this, a broader truth has emerged: There is something systemically wrong with a league that allows this to happen.
Major League Baseball appears from a distance to be an organization devoted to the long-term health of professional baseball in North America. Still, certain moments reveal that this is not strictly true. MLB is first and foremost concerned with appeasing its 30 ownership groups — a goal that largely, but not entirely, overlaps with promoting the sport's long-term health.
The last few years have seen a handful of moments in which MLB has acted against the sport's long-term health in service of their owners' pocketbooks.
One such example is the yearslong effort to suppress minor league player salaries, including MLB's successful lobbying for an exemption from minimum wage laws. (The tide turned on that issue earlier this year with minor leaguers joining the MLBPA and signing a collective bargaining agreement. That brought many changes, including raising single-A salaries from $11,000 to $26,200.) The 99-day lockout before the 2022 season, making the season itself into a hostage in labor negotiations, was another.
Losing by Design
And now we have the A's and their owner John Fisher, who have chosen to have a non-competitive team. The A's are on pace for the worst record in modern baseball history, not because of injuries and misjudgments, but because they chose to trade all their best players and received very little in return.
Following the 2021 season, the A's were coming off four consecutive winning seasons, including three playoff appearances. Their core players, namely Matt Chapman, Matt Olson, and Sean Murphy were in their primes and under team control for multiple seasons.
By Fangraphs' Wins Above Replacement stat, four of MLB's dozen most valuable hitters were A's as recently as 2020.
Another team would have attempted to sign some of those players to long-term deals and filled gaps with free agents. But the A's commitment to frugality far exceeds their attempts to win.
A Public Failure
Oakland's only focus as an organization, the only thing that draws any investment of time and resources, is extracting public money for their next venue. 
Their roster is the cheapest in MLB by a healthy margin, their stadium was famously home to feral cats last year and possums this year, and after getting deep into talks with the city on a community benefits program, they informed officials that they wouldn't be paying for it. 
To be fair, even their attempts at public money seem hastily slapped together, with renderings that don't necessarily fit on the nine acres allotted to them by Bally's and projections that strain credulity, including that 405,000 people would travel to Las Vegas every year to see them who otherwise would not have come, and that the team would create 10,000 permanent jobs (currently 670 people say they are employed by the team on LinkedIn).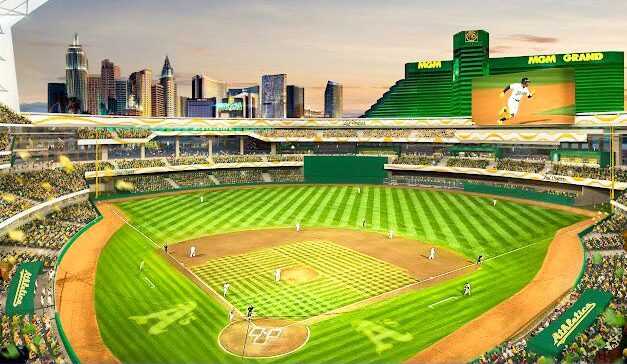 They haven't even been able to stick to their promises in their brief time as a team ostensibly committed to the move: In April, they claimed to have signed a "binding agreement" to purchase land owned by Red Rock Resorts, only to drop that deal the following month for the Bally's-managed Tropicana site. Reports later revealed that they toured a third site after agreeing to move forward with the Tropicana site.
Many A's fans believe Fisher's gutting the roster while raising ticket prices is a calculated move to drive away fans to strengthen the premise that the team has no future in Oakland. 
The Blame Game
Fisher is a problem, but it's the league that enables him. MLB commissioner Rob Manfred works for MLB owners. They pay him, and they can fire him. When a non-competitive team is put on the field, Manfred has decided it is in his best interest to support that owner. 
When asked about the A's move, he has only blamed the city of Oakland, not Fisher, for their inability to reach a deal, despite the city raising $375 million for infrastructure surrounding a ballpark development, conducting and passing an environmental impact report, changing the designation of Howard Terminal to allow for development there, and agreeing to the A's ask that neither side speaks to the media.
The week the A's announced that they purchased land in Las Vegas, the team and Oakland officials, including the mayor, were scheduled to have a negotiation summit to hammer out many details of an agreement.
Manfred's calculation in supporting Fisher unequivocally is presumably that it would establish a precedent of expansion instead of one in which owners could be cajoled into spending more or even selling their team.
But for the sport's health, MLB owners ought to be put in a position that treats their roles as a privilege that can be taken away. Otherwise, we are simply left to hope that the sports' 30 owners care about the fans — and to suffer the consequences when they don't.