Warner Bros. shakes up the movie industry, Flutter places a bigger bet on FanDuel, and Champion has another move up its sleeve.
Space Jam 2 is coming to a couch near you.
In a move certain to shake up the movie theater industry, AT&T's Warner Bros. announced that its entire 2021 slate of films will release on HBO Max the same day they come out in theaters. That's an expected 17 movies available for streaming, including:
LeBron James-produced "Space Jam: A New Legacy."
"King Richard," Will Smith's biopic about Venus and Serena Williams' father.
A film reboot of the Mortal Kombat video game franchise.
Other major 2021 releases from WB: "Matrix 4," "Suicide Squad 2," and "Sopranos" prequel "The Many Saints of Newark."
On-Demand Success: Universal's "Trolls World Tour" was the the first big release to skip theaters when COVID-19 hit, renting for $19.99 on a variety of platforms and raking in $100 million during the first three weeks it was available digitally.
After the film's success, Universal said more digital-only releases are "inevitable." In response, AMC said it would boycott Universal films at its theaters.
NBCUniversal later reached a deal with AMC that lets new films head to on-demand 17 days after their theatrical release, and reportedly gives AMC a cut of sales.
AMC Entertainment stock fell nearly 16% today. The movie theater chain had also announced a plan to sell $700 million worth of stock to avoid a debt default.
Ireland-based Flutter Entertainment is buying out Fastball Holdings' stake in FanDuel in a deal worth $4.2 billion. The transaction takes Flutter's share of the online gaming company — which now has an estimated enterprise value of $11.2 billion — from 57.8% to 95%.
Flutter's U.S. business, which is largely driven by FanDuel, saw its revenue increase 82% to $213 million in the third quarter. FanDuel said it has more than doubled its active sportsbook customers since last year.
On a Roll: The deal follows Flutter's acquisition of Canadian gaming company The Stars Group in May, which included complete ownership of Fox Bet. Fox Corp., which currently owns a 2.6% stake in Flutter, will take part in the capital raising for the FanDuel buyout.
Flutter also operates a variety of sportsbooks overseas, including Paddy Power, Betfair and Sky Bet.
International and U.S. gambling companies have been merging as of late:
U.S. casino operator Caesars Entertainment agreed to acquire Britain's William Hill for $3.7 billion in September.
Online gaming provider 888 signed three multi-year market access agreements to launch in Colorado, Indiana and Iowa with the 888Sport brand during 2021.
Sports betting and casino company BetMGM is a joint venture between MGM Resorts and Europe-based GVC Holdings.
SPONSORED
2021 Is Around The Corner

In Samsung's latest white paper, fans give their honest take on what needs to happen in venues before they will return to live events.
Over 1,000 event-goers participated to give you the insights you need so you can reopen safely, successfully, and profitably when the time is right. Get to the root of what fans truly value about the live experience and adapt your strategy around it. Discover the precautions event-goers consider must-haves, versus nice-to-haves. Understand the current perception of live events, and align communications accordingly.
Download the report today and get ready to start 2021 off the right way.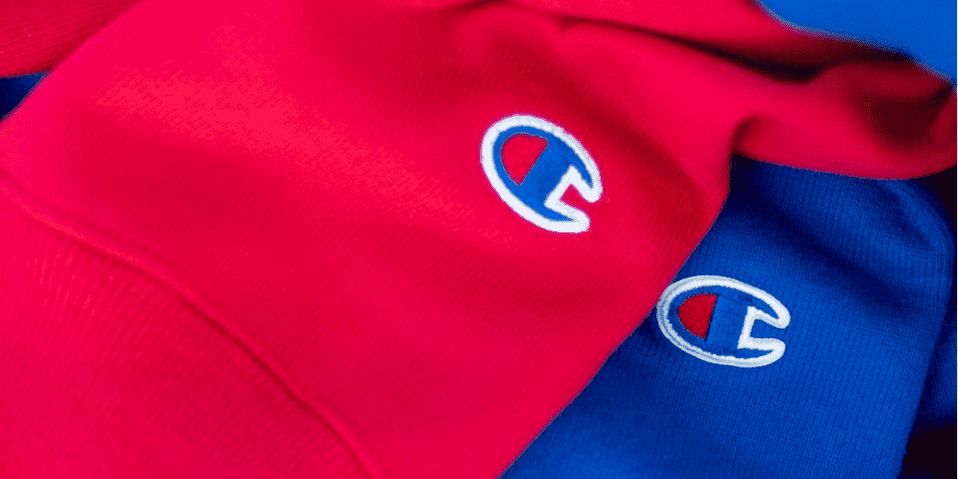 Champion is making its latest move to re-establish itself as a top-tier apparel brand. The 100-year-old company will be the official uniform provider of the Fan Controlled Football League, which is set to launch in February.
Logos for the teams were voted on by fans, who will also decide on final uniform designs that Champion provides.
FCFL team owners include athletes like NFL players Austin Ekeler, Richard Sherman and Marshawn Lynch, MLB player Trevor May and boxer Mike Tyson.
Renaissance Champions: Once the uniform supplier of the NBA and some NFL and NCAA teams, Champion has been riding a recent surge in 90s-inspired fashion and increased adoption in streetwear circles.
Champion sales grew 40% in 2019, up to $1.9 million — an increase of $1.1 billion in three years. Parent company HanesBrands' forecasts it will be a $2 billion unit by 2022.
2020 third quarter sales were down 9% year-over-year, largely driven by a decline in college sports sales because of COVID-19. Still, sales were up 85% from the second quarter.
Game Time: While Champion's legacy is in stick and ball sports, the company has looked to connect with gamers. It released a video-game inspired hoodie that can be worn with headphones and has a pocket that can carry a controller.
Champion collaborated with Nintendo to celebrate Super Mario's 35th anniversary in November, is the official outfitter of the NBA 2K League and an official partner of the Drone Racing League.
Anthony Davis has agreed to a five-year, $190 million maximum contract to stay with the Los Angeles Lakers after LeBron James signed a two-year, $85 million extension. 

NHL Commissioner Gary Bettman said that the start date for next season is still a "work in progress." The league was reportedly targeting Jan. 1. 

Microsoft bought esports platform vendor Smash.gg and will integrate it into its MSN Esports platform.

Several NHL teams have looked into playing outdoors during the upcoming NHL season, including the Boston Bruins at Fenway Park.
SPONSORED
Environmental Impact-Driven Audiences

While the connection between sport, climate, social justice, and mission-driven work is gaining momentum by the day, the topics are generally addressed separately. However, it is becoming more evident that the power of sport is a key to impactful positive change. 
Leveraging Zoomph's audience analysis tool, Zoomph and Recipric, an agency focused on representing positive change for sports organizations, have teamed up to shine light into the state of sustainability within sports today.
This report shows where professional sports teams rank when it comes to their fan bases affinity for sustainability topics, provides insights into the interests of sustainability-minded individuals, and highlights some key takeaways for sports organizations' pursuit to drive positive growth and change at the intersection of sport and sustainability. 
U.S. stocks had a mixed day over concerns that a COVID-19 vaccine may roll out slower than hoped. Here's a look at how sports-related stocks performed today.
Up:
Hibbett Sports (NASDAQ: HIBB) gained 6.87%
Allied Esports Entertainment (NASDAQ: AESE) gained 6.00%
Caesars Entertainment (NASDAQ: CZR) gained 3.94%
Down:
DraftKings (NASDAQ: DKNG) dropped 2.04%
Camping World Holdings (NYSE: CWH) dropped 1.82%
Vista Outdoor (NYSE: VSTO) dropped 1.54%
(Note: All as of market close on 12/03/20)
In an effort to reach younger sports fans, leagues and teams are turning to celebrity influencers. The NFL, NFLPA, Islanders and Rays are just a few sports properties that have incorporated influencer marketing into their social media strategies.
Video game sales from Black Friday to Cyber Monday dropped 10% year-over-year as gamers seem to be waiting to upgrade consoles before buying more games. Console games specifically saw a 13% drop in sales.
Sarah Fuller, the first woman to play in a Power 5 football game, is a marquee example of a college athlete with significant name, image and likeness earning potential — via Front Office Sports College.
Minnesota United FC vs. Sporting Kansas City: After being postponed from Wednesday, tonight's matchup marks the first meeting of Sporting KC and Minnesota in the MLS playoffs. The teams have faced off 13 times overall since Minnesota joined MLS in 2017, with Sporting KC amassing a 7-4-2 overall record and a 6-0-0 mark at home. Minnesota, however, is on a nine-game unbeaten streak. 
How to watch:
8:30 p.m. ET on FS1
Betting odds: 
Sporting KC ML -150 || O/U 2.5