While Tom Brady is somewhere living his best life on a boat, the league is getting its broadcast contracts in order.
NFL Focused on Media Money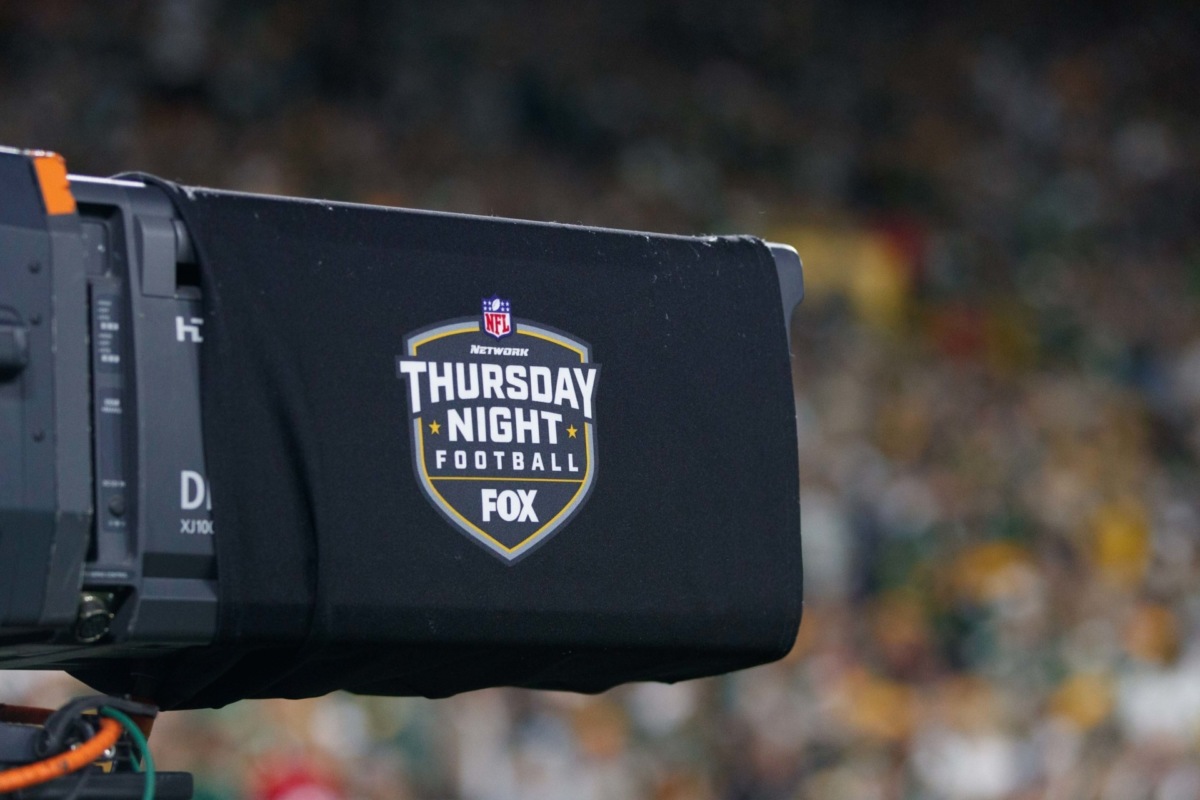 The Super Bowl is over and the NFL is shifting gears — the league wants to finalize upcoming media rights by next month.
The 2021 salary cap figure, which was $198 million per team last year, is scheduled to come out in March. The NFL hopes to have its broadcasting deals set beforehand.
Fox and CBS will keep Sunday afternoon games and NBC will hold its Sunday Night Football package.
ESPN+ is being considered to take over DirecTV's Sunday Ticket package.
Disney has expressed interest in being part of the Super Bowl rotation.
Fox is the current owner of broadcast rights for the Thursday night package, but the deal ends in 2023. Finding Thursday Night Football a new home has contributed to the delay in finalizing media rights, per CNBC. It's been speculated that Amazon, which already has Thursday night streaming rights, will take over.
Rumor has it that the league's new agreements for media rights could reach $100 billion for 10 years, $98 billion for seven years or $96 billion for eight years.
Last year, the NFL struck a 10-year labor agreement with the NFL Players Association to include more postseason games along with a 17-game regular season schedule. With the addition of more content, the NFL is looking to cash in.
PepsiCo Reveals Q4 Earnings
PepsiCo has benefitted from consumers hoarding snacks and sports drinks like Gatorade during the pandemic.
Overall, the company reported $22.46 billion in Q4 revenue – an 8.8% uptick in net growth. It expects a "mid-single digit increase" in revenue through the rest of 2021. The North American beverages category saw a 19% increase in operating profit.
Gatorade bolstered its reach during Q4 by adding to its roster of athletes. NBA star Damian Lillard inked a multi-year deal with the brand in December, and Matthew Wolff became the first professional golfer since Tiger Woods to endorse the sports drink.
Much of the company's profit growth also came from its international presence.
PepsiCo operating profit grew by 80% in Africa, South Asia, and the Middle East, largely due to major cost reductions and its acquisition of Pioneer Foods.
China, Asia Pacific, and Australia and New Zealand operating profit grew by 7%, as increased spending on marketing appeared to pay dividends, overcoming logistical expenses related to the acquisition of Chinese snack brand Be & Cheery.
"We ended the year on a strong note with our global beverage business having accelerated while our global snacks and food business remained resilient in the fourth quarter," said PepsiCo Chairman and CEO Ramon Laguarta.
SPONSORED
The Essentials You Need to Stay in the Game

Introducing Sports Marketing Essentials – a new interactive course featuring leaders from Pepsi Sports and their agency partners at Genesco. 
Learn about Pepsi's overall sports strategy, how they bring their brands to life at marquee events including The Super Bowl and NBA All-Star Weekend. Modules also include leveraging athletes, the rising presence of esports, importance of data and how they've pivoted in a post-COVID environment. 
Register now for an inside look at this sports megabrand!
Tokyo Olympics President to Step Down
A week after his sexist comments about women, Yoshiro Mori is reportedly stepping down as president of the Tokyo Olympic organizing committee on Friday.
When answering a question on the Olympic Committee's goal of increasing female membership to 40%, Mori said, "You have to regulate speaking time to some extent, or else we'll never be able to finish."
"Women have a strong sense of competition," he went on. "If one person raises their hand, others probably think, 'I need to say something too.' That's why everyone speaks."
Mori apologized after swift backlash, and the Tokyo Olympic Committee issued a statement on its support for diversity.
The former prime minister initially said he would not resign.
It's still unclear if the Tokyo Olympics, now scheduled for July, will happen at all. Officials have insisted the event will go on regardless of the pandemic.
A recent poll found that 61% of people in Japan want the games to be postponed or canceled, and only 8% believe that they should happen in front of a live audience.
MLS expects to lose "close" to $1 billion in 2021, Commissioner Don Garber said. The league said it had nearly $1 billion in losses in 2020. 

RedBird Capital acquired a minority stake —

reportedly

between 30-40% — in sports marketing and talent agency Wasserman Media. 

Next year, Ivy League presidents will allow current senior athletes to participate in athletics as full-time grad students at their current school.

Chicago Bulls guards Zach LaVine and Coby White became the first teammates in NBA history to each make at least eight three-pointers in the same game. Get more stories like this in The Association, a free, daily NBA newsletter. Click here to subscribe.
SPONSORED
The NBA's Welcome Return On Social

This season, Zoomph is taking their talents to the hardwood and giving a month-by-month report on the NBA season's performance through social media.
Zoomph's first-month report provides insights including:
Jersey patch exposure rankings
Top sponsored assets exposure using Zoomph's newest AI detection solution
Team performance rankings on social, including follower growth
League sponsor performance and values
Sign up to receive Zoomph's NBA First Month Social Report today!
U.S. stocks closed on Thursday with all indexes experiencing instances of decline. Under Armour saw gains for the second straight day. Here's a look at how sports-related stocks performed:
Up:
Vista Outdoor Inc. (NYSE: VSTO) gained 4.60%
Under Armour Inc. (NYSE: UA) gained 2.56%
Electronic Arts Inc. (NASDAQ: EA) gained 1.88%
Down:
Allied Esports Entertainment Inc. (NASDAQ: AESE) dropped 8.01%
DraftKings Inc. (NASDAQ: DKNG) dropped 5.61%
fuboTV Inc. (NYSE: FUBO) dropped 4.22%
(Note: All as of market close on 2/11/21)
The Portland Trail Blazers (13-10) will host the Philadelphia 76ers (18-7) tonight at Moda Center. While the 76ers have won six of their past seven games, the last matchup between the two teams earlier this month ended in a 16-point win for the Trail Blazers.
The 76ers lead the Eastern Conference while the Blazers stand at fifth in the West.
How to Watch:
10 p.m. ET on TNT
Odds:
76ers -5.5 || ML -210 || O/U 229.5