The Green Bay Packers have raised millions of dollars over the years by allowing fans to buy shares in the team. Now Ice Cube, the rapper-turned-entrepreneur who co-founded the Big3 basketball league, is opening team ownership to fans with his own goal of raising money.
Liberty Media CEO: Several Eyeing U.S. Media Rights For F1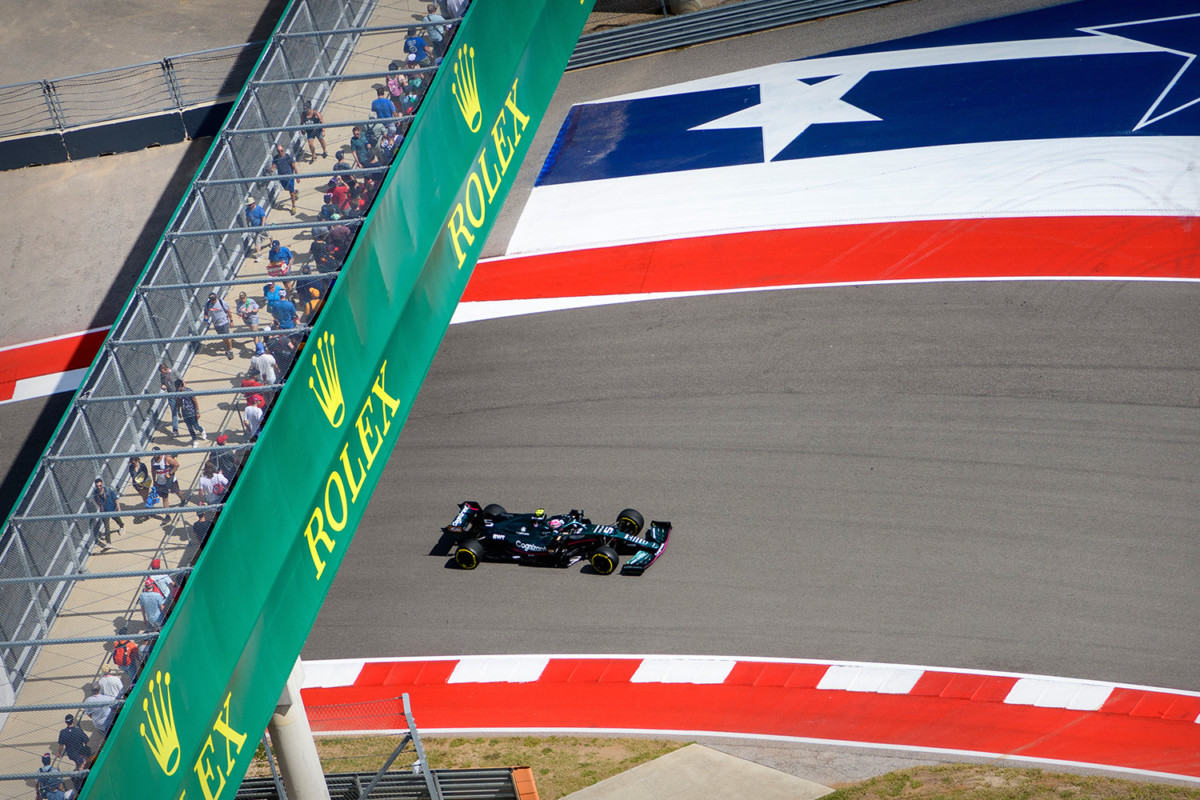 Greg Maffei, the president and CEO of Formula 1's parent company Liberty Media, said the motorsport circuit will command a higher price for its next U.S. broadcast rights deal.
Maffei told CNBC that "we have a lot of interest" and several broadcasters are in the mix. "And it's likely to be at a much better price for us that's hopefully still good for our broadcast partners too."
ESPN has held U.S. rights to Formula 1 since 2018, replacing NBC. In November 2019, Formula 1 agreed to a three-year extension with ESPN, which runs through this year. In August 2021, ESPN made it clear it wanted to continue its partnership beyond 2022.
NBC paid $4 million annually from 2013 to 2018 to broadcast Formula 1, but ESPN is currently not paying an annual fee.
Disney-owned ESPN also does not currently produce the Formula 1 races, but carries British Sky Sports broadcasts.
The 2021 Formula 1 season averaged 931,000 viewers on ESPN through its first 14 races, a 50% increase compared to the 2020 season. Through two races this season, Formula 1 is averaging 1.4 million viewers on ESPN, a 47% uptick compared to the same period last year.
Fast Paced
Liberty Media, which is also the parent company of the Atlanta Braves and SiriusXM, generated $11.4 billion in total revenue in Q4 2021 across its three divisions. The company's Formula One Group pocketed $787 million during the quarter, a 62.3% increase year-over-year.
Maryland's $400M Commanders Proposal Excludes New Stadium
Maryland's efforts to keep the Washington Commanders in Landover were highlighted on Monday after a legislative committee approved the state's first public bid.
The proposal, which includes $400 million for the area around FedEx Field, would see the state use the Maryland Stadium Authority to funnel state lottery cash to Prince George's County. One caveat: The money can't be used to build a stadium.
Instead, the county would build infrastructure and a "sports entertainment facility" in the surrounding area.
If the Commanders opt to move elsewhere, the county would reportedly still be able to use the money.
Team owner Daniel Snyder reportedly already owns more than 200 acres surrounding the venue.
The team is reportedly looking at three different Virginia locations, but those plans would include building a domed stadium and entertainment district. All three locations are at least 27 miles from the Capitol.
Commanders Controversy
The proposal comes as the Commanders continue to face allegations of financial improprieties. Front Office Sports reported that the club and Snyder allegedly withheld ticket sales revenue that is to be shared with visiting teams — 40% of net ticket sales is required to go to the NFL.
The Commanders also received criticism for its hostile work environment, which the House Oversight Committee "continues to investigate."
SPONSORED BY FIDELITY
Empowering Representation and Diversity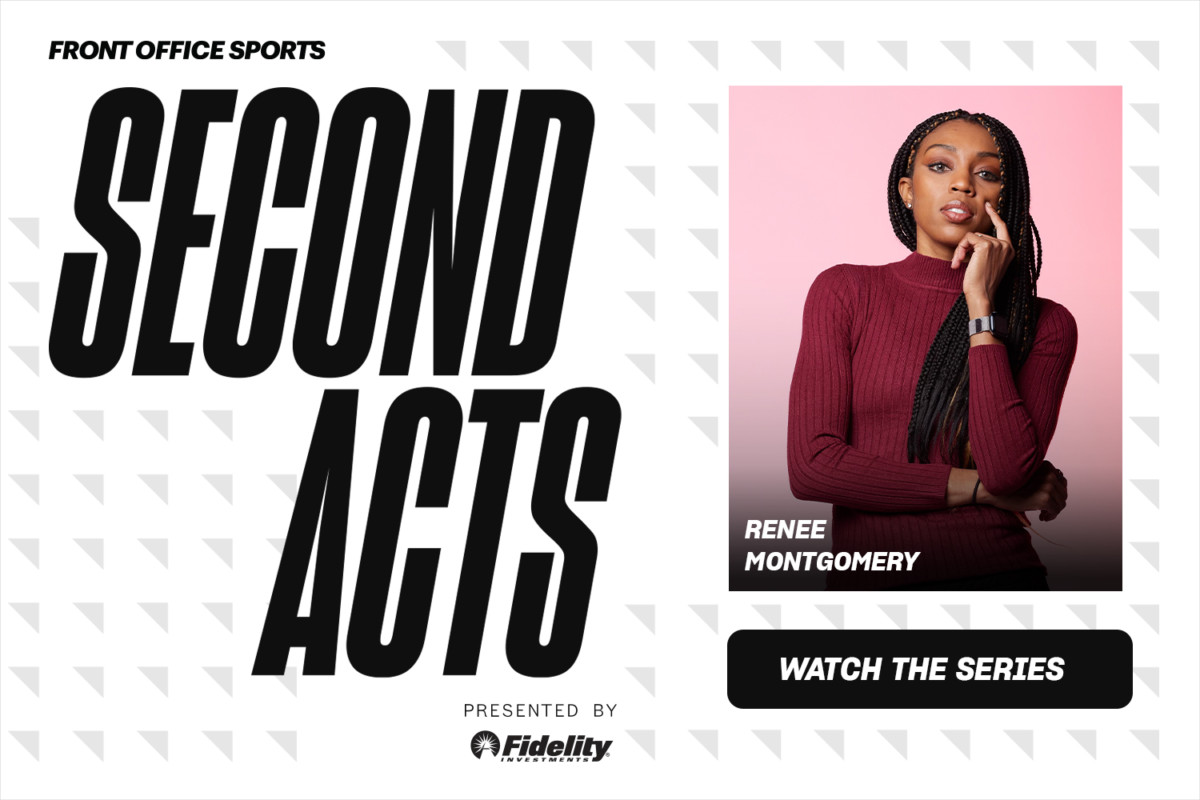 Renee Montgomery started her career in Storrs, Connecticut, where she was a key cog in the UConn Huskies' 2009 Women's National Championship team.
Drafted 4th in the WNBA, she won 2 WNBA championships while also being named an All-Star and 6th Woman of the Year in her 11-year professional career. Renee retired in 2021 after sitting out the 2020 season to focus on social reform and justice.
Her basketball career was just a precursor to her second act, which includes titles such as podcast host, sports broadcaster, Vice President and Co-Owner of multiple professional sports teams. 
Most recently, she expanded into the entertainment world with the launch of Think Tank Productions with her wife Sirena Grace. 
In the latest episode of Second Acts, sponsored by Fidelity, Renee shares her journey from WNBA star to sports business and media mogul. Watch now.
March Madness Reportedly Generates $410M of In-Game Brand Exposure
The brands featured during this year's NCAA Division I basketball tournaments received multimillion-dollar platforms — even outside of commercials.
Men's and women's March Madness delivered more than $410 million worth of media exposure value for featured brands in telecasts, according to a report by Elevate Sports Ventures and Hive.
That's more than double the delivery for Super Bowl LVI, which generated an estimated $170 million.
The companies that benefited the most included NCAA corporate sponsors, apparel brands, and equipment providers.
Together, Capital One, Coca-Cola, AT&T, Nike, and Spalding earned 56% of all media value.
Capital One led the women's tournament with 13 hours and 25 minutes of exposure, while AT&T led the men's with nine hours and 13 minutes.
In all, companies received about 187 total hours of exposure during all 134 men's and women's games.
A previous report noted that men's games generate more value than women's, as viewership numbers — and therefore the cost of a spot — is higher. This year's women's ratings skyrocketed, with the championship game peaking at almost 6 million viewers. It averaged 18% more than 2021, and 30% more than 2019.
Early-Round Value
From the last day of the women's second round onward, both tournaments generated $245 million in exposure. Elevate and Hive found that up to that point, $165 million had been generated.
An early-round winner for product placement was the basket stanchion arm, which helped Spalding earn the most exposure time of any brand during early rounds.
SPONSORED BY NIELSEN
How Women's Sports are Changing Sponsorship Models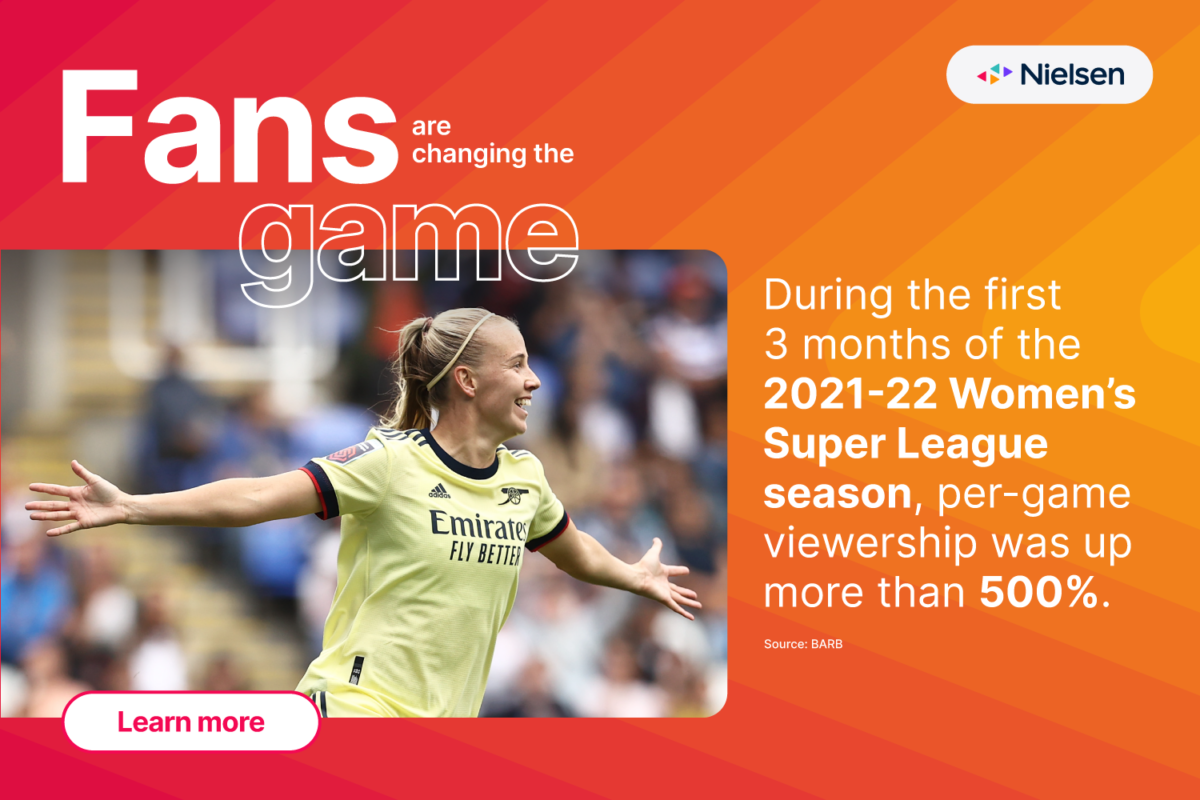 Historically bundled with men's sponsorship opportunities, often as an afterthought, properties are increasingly unbundling them amid rising interest and investment in women's sports overall.
Rights holders are also capitalizing on the increased interest, as evidenced by examples like last year's TV deal between the Women's Super League (WSL) and both the BBC and Sky Sports – during the first three months of the 2021-2022 WSL season, per-game viewership was up more than 500%.
With more women's sports being televised and increased sponsorship opportunities specific to women's sport, many brands are effectively reaching consumers they weren't reaching through sponsorships in men's sport.
Learn more about the impact of women's sports on sponsorship models in Nielsen's latest report.
Market Movers
U.S. stocks experienced declines across all three major indexes on Tuesday. Here's a look at how sports-related stocks performed:
(Note: All as of market close on 4/5/22)
The Milwaukee Bucks (48-30) face the Chicago Bulls (45-33) on Tuesday at United Center.
How to Watch: 8 p.m. ET on ESPN
Betting Odds: Bucks -6 || ML -240 || O/U 232.5
Pick: Expect the Bucks to bounce back from Sunday's loss. Take Milwaukee to cover.
Refer Friends to Score Your Favorite Team's Jersey
| | |
| --- | --- |
| SPONSORED BY | |
Front Office Sports is celebrating that Paramount+ is home to world-class soccer matches from around the globe by giving away three authentic official jerseys.
How can you score one? Refer your friends and colleagues to Front Office Sports. Copy and paste your unique link below and share it in an email or on your timeline. 
*NO PURCHASE NECESSARY. Enter between March 21, 2022 @ 12:01 a.m. ET – April 30, 2022 at 11:59 p.m. ET. Open to US residents age 18+ only. 1 entry per person. Void where prohibited. See Official Rules for details.
Your custom referral link:
Or use these one-tap sharing methods: