Universal Music Group — home to superstars Drake, Billie Eilish, Post Malone, Ariana Grande and many more — has licensed its entire catalog to Equinox Media.
The parent organization to fitness companies like SoulCycle and Equinox gyms now has access to the world's largest music catalog for its Variis digital fitness app, which launched last March.
The move comes after at-home fitness rival Peloton has faced accusations of using improperly licensed music.
In February, Peloton settled a lawsuit filed by a music industry group that sought more than $300 million in damages. The connected fitness company reported $49.3 million in settlement and litigation costs.
As part of the settlement, Peloton and the organization entered into a partnership to "work together to further optimize Peloton's music-licensing systems and processes." 
In addition to partnerships with artists like Beyoncé, Peloton recently began using remixes created exclusively for its classes.  
The Variis app offers classes across the SoulCycle, Pure Yoga, Rumble Boxing, Precision Run and Equinox brands, along with other partner brands.
"These classes are like going to a concert – 60 people in the dark rocking back and forth, riding together to the beat, boxing sequences to the rhythm," Jason LaRose, media chief executive at Equinox, told The Wall Street Journal.
Universal said it anticipates that within the next year leading fitness services will be among its top-10 revenue generators for digital accounts — which include Spotify, Apple Music and Amazon Music.
Las Vegas Raiders owner Mark Davis is expanding his desert sports empire. 
He entered an agreement to purchase the WNBA's Las Vegas Aces from MGM Resorts International, the team announced today. The deal is pending approval by the league's board of governors. 
MGM brought the Aces — formerly the Utah Starzz and San Antonio Stars — to Vegas in 2018. The team, led by league MVP A'ja Wilson, reached the 2020 WNBA Finals.
WNBA ownership has already been a topic of discussion in 2021, as LeBron James suggested he wanted to buy the Atlanta Dream from Kelly Loeffler after she lost the Georgia Senate runoff election. 
The average WNBA team is estimated to be valued at around $13.7 million.
Davis has an estimated net worth of $500 million; the Raiders are valued at about $3.1 billion. 
The presumptive new Aces owner has regularly attended the team's games, and in 2019 the Raiders distributed 1,600 Aces tickets to young fans.
The Raiders' Vegas relocation was approved in 2017 after they spent the previous 25 years in Oakland and 60 total in California.
Vegas' third major sports team, the NHL's Golden Knights reached the Stanley Cup Final in their inaugural 2017-18 season.
"The community benefits of professional sports are tremendous," Davis said in 2019. "In particular, the women who play for the Las Vegas Aces are great role models for the young women all over Southern Nevada."
SPONSORED
How 5G Can Affect Your Investing Strategy

The emergence of 5G is sure to have major implications across the sports industry, as well as a host of others. 
Our friends at The Motley Fool have taken notice and done extensive research on what this could mean for your personal investment strategy. It all may come down to Apple…
Download your copy of "5G Supercycle: An investor's guide to Apple's next must-have device" today and consider signing up for The Motley Fool's Stock Advisor service and take a step toward the life you want.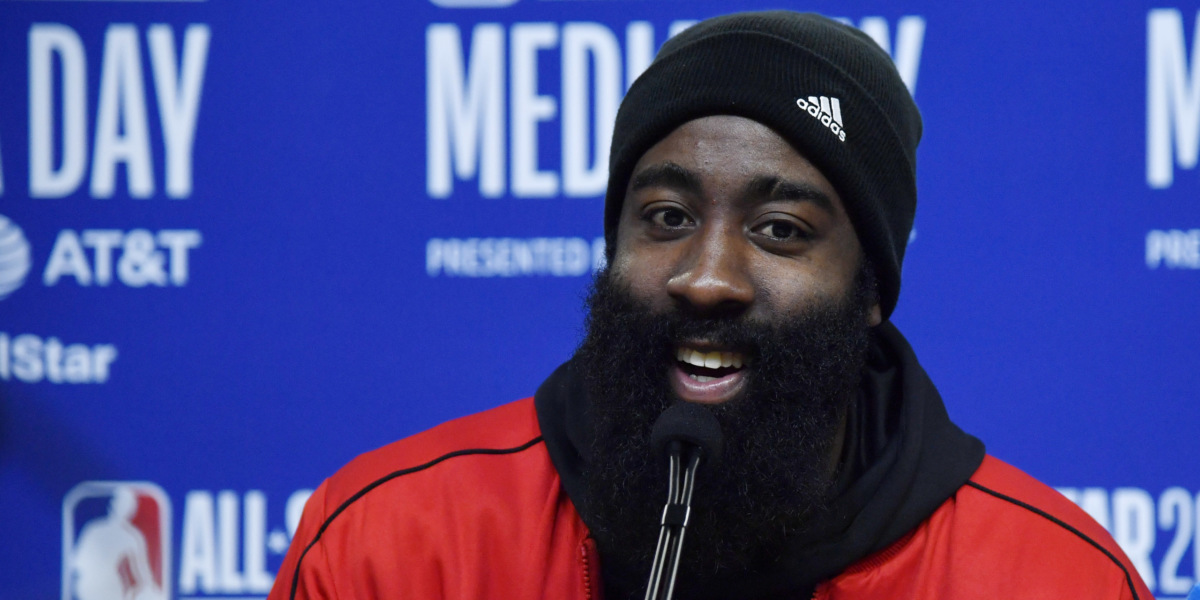 The Brooklyn Nets amped up their global appeal when they acquired James Harden from the Houston Rockets in a blockbuster trade.
The team has already drawn more local viewers this season than the Knicks — a stark role reversal. National networks' interest in the Nets is likely to grow when the NBA releases the second half of its 2020-21 schedule.
Before Harden, the Nets were already one of the most popular teams internationally — particularly in China, a country with an estimated 500 million basketball fans. Nets owner Joe Tsai is the co-founder of Chinese tech giant Alibaba.
The Rockets, meanwhile, were previously one of China's favorites. Harden had the No. 3-selling jersey in China in 2018, but the relationship soured in October 2019.
After former Rockets GM Daryl Morey tweeted his support for Hong Kong protestors, several Chinese retailers pulled Rockets merchandise, China's CCTV temporarily stopped airing NBA games, and Chinese sponsors pulled away from the franchise.
With the NBA now back on Tencent, the former MVP returns to the spotlight in China.
Harden's wallet will take a hit, however: He'll pay nearly $14 million extra in taxes through the remaining three years of his contract in Brooklyn than he would have in Houston.
The Jacksonville Jaguars are engaged in advanced talks to make former Ohio State football coach Urban Meyer their next head coach. The Jags fired former head coach Doug Marrone following the 2020 regular season.

Racing Louisville FC, the newest National Women's Soccer League expansion team, selected University of North Carolina defender/midfielder Emily Fox with the first pick in the 2021 draft. 

The University of Virginia's women's basketball team opted out of the remainder of the 2020-21 season due to health and safety concerns.

FIFA approved Brazilian-born former Stanford soccer star Catarina Macario to represent the U.S. women's national team in international play. Macario signed with French Ligue 1 team Lyon after forgoing her final collegiate season to turn pro.
SPONSORED
College Football Playoff's Social Media Report

While the University of Alabama Football team secured their fifth National Championship since 2011 earlier this week, Zoomph was taking a deep dive into the athletes, teams, and brands that had a stake in the championship on social.
Zoomph's College Football Playoff Report summarizes the social performance of the Rose Bowl, Sugar Bowl, and National Championship game, as well as unique audience insights of the CFP audience.
Stocks slipped slightly overall on Thursday. Here's a look at how sports stocks performed:
Up:
ViacomCBS (NASDAQ: VIAC) was up 6.68%
Madison Square Garden Network (NYSE: MSGN) was up 5.53%
Sinclair Broadcast Group (NASDAQ: SBGI) was up 5.03%
Down:
Twitter (NYSE: TWTR) was down 3.05%
Ferrari (NYSE: RACE) was down 2.45%
Take-Two Interactive (NASDAQ: TTWO) was down 2.02%
(Note: All as of market close on 1/14/21)
The new-look Houston Rockets (3-6) will take the court for the first time since the dramatic, franchise-altering trade of James Harden to the Brooklyn Nets. While the Rockets have played just 34 games without Harden since he joined the team in 2012, his final days were marred by public clashes between team members.
The San Antonio Spurs (6-5), conversely, are coming off a 4-1 road trip that included three wins against 2020 playoff teams. Tonight's game is the first of two consecutive matchups this week between the teams at the AT&T Center. 
How to watch:
7:30 p.m. ET on TNT
Betting odds:
Spurs -7.5 || ML -250 || O/U 218