Welcome to FOS College, where we wrote you a newsletter longer than Trevor Lawrence's hair, but shorter than his brother's.
In this edition:
How the men's March Madness semi-bubble will bolster Indiana's economy

Whether the risk Justin Fields took playing this postseason paid off

The logistical challenges ESPN faces if the CFP National Championship is postponed
– Amanda Christovich
Big Dance, Big Semi-Bubble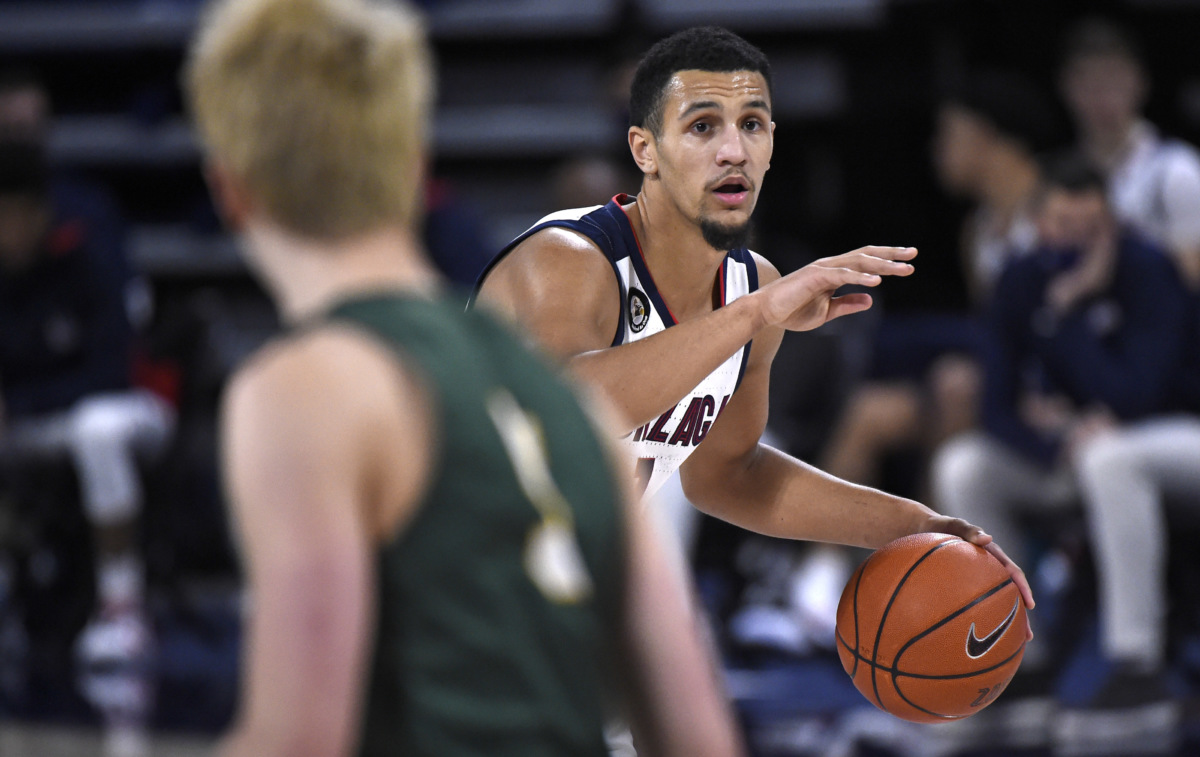 As Notre Dame men's basketball coach Mike Brey was telling reporters he's "not sure we can make it" to March Madness given rising COVID-19 cases, the NCAA released its plans to plow ahead with the men's Big Dance in a semi-bubble environment in Indianapolis.
The NCAA is desperate to stage the men's tournament because it pays out more than $800 million each year to the governing body and schools — revenue that vanished after the 2020 tournament's cancellation. Similarly, the Indianapolis economy, suffering without tourism, appears desperate to host.
"Indy was made for this moment," Leonard Hoops, president and CEO of Visit Indy, said in a statement.
The Details
The landmark dates of Selection Sunday — March 14 — and the Final Four remain the same as of now. Here's what the NCAA says the bubble will include:
Marriott properties will house "most" teams, who will be sequestered to isolated dining, transportation, and practice courts at the Indiana Convention Center.
Medical protocols, though not revealed by the NCAA, have been approved by the local health department, and will include a partnership with a local COVID-19 testing company.
Programs including Butler, Purdue, Ball State and Indiana will serve as hosts.
The NCAA hasn't yet decided whether it will allow fans, though players' families can attend.
P.S. The "Mask Madness" trademark the NCAA filed last week will be used for "an initiative" to promote mask wearing, the NCAA announcement said. "As part of this program, the NCAA will donate thousands of masks throughout the state leading up to the tournament."
Saving a Local Economy
The tournament could bring between $125 million and $175 million in net profit to the Indianapolis area, Ball State economics expert Michael Hicks told FOS. Here's why, according to Hicks:
March Madness will take place during a previously empty event calendar, making it perhaps more valuable than sporting events during normal times when they would just displace existing tourism.
It will likely cost the city less than an event in normal times, given that the cost of extra police and transportation personnel to accommodate an influx of fans won't be necessary.
Families of players and media personnel who arrive will boost the ailing hotel and restaurant business, even if regular fans can't attend.
What's more, it showcases the area to potential future tourists, Hicks said. "The economic effect is extraordinarily large."
Justin Fields' Draft Stock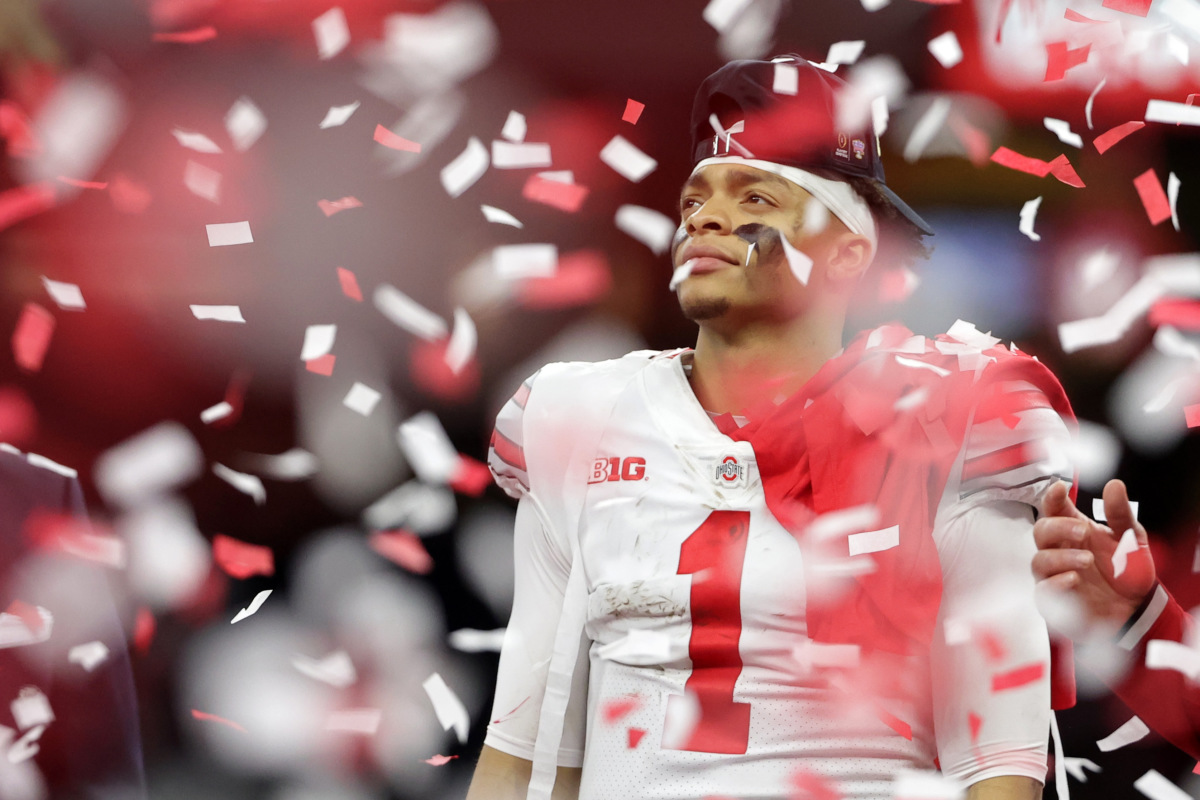 Ohio State quarterback Justin Fields suffered a gruesome hit to his ribs on New Year's Day that he later said "messed up" his entire right side. But he finished the Sugar Bowl with six touchdowns and solidified his title as one of the College Football Playoff's newest "studs."
Fields' stellar performance "absolutely" improved his NFL draft stock, Wasserman Vice President of Football CJ LaBoy wrote to FOS. 
But his triumph, in stark contrast with the risk of a potential long-term rib injury and of contracting COVID-19, illustrates the conundrum college athletes have faced all season. Is the potential upside of playing this year worth the risk?
The Money Made
All season, Fields has been a proponent of the riskier approach — and it may literally pay off for him. Fields' achievement "showed a ton of grit, leadership, moxie, and toughness, but also showed his skill set as a passer," LaBoy said.
Before the Sugar Bowl, reports suggested that Fields' draft stock fell after his Big Ten Championship performance. LaBoy said he thinks Fields was still a top-10 pick, and that he'll likely be one of the first three quarterbacks drafted. "How high does he ultimately go? I guess that's the fun part," he said.
The top three quarterbacks in the 2020 NFL draft signed contracts between about $26 million and $36 million, if that's a sign of the check that could be waiting for Fields later this year.
The Risks
But the chance Fields took was great — and was one that many other football players, who either opted out of the entire season or of bowl games, didn't want to take.
The severity of Fields' injury remains a mystery: Fields said postgame that team doctors didn't provide a diagnosis, and head coach Ryan Day has repeatedly refused to reveal details, saying Monday that Fields felt better than expected and would practice normally. LaBoy doesn't believe it'll impact his draft stock.
If Fields catches COVID-19, a particularly difficult bout could lead to severe long-haul symptoms like extreme chronic fatigue or myocarditis, all of which could impact his long-term NFL career.
SPONSORED
The Presentation Tool Your Department Needs

It may be a new year, but the 2021 spring sports season will present plenty of challenges for college athletic departments. Make sure your presentation software isn't one of them.
Founded in 2010, Minneapolis-based Sportsdigita has revolutionized the ways teams pitch to prospects with its cloud-based presentation platform, Digideck.
Named to the Inc. 5000 list of Fastest Growing U.S. Companies for two consecutive years, Sportsdigita combines a deep understanding of sports sponsorship, ticketing, and premium experiences with best-in-class software technologies to solve business problems. Sportsdigita's roster of over 400 professional and collegiate teams includes the biggest brands in sports worldwide.
For more information, visit www.sportsdigita.com and www.thedigideck.com.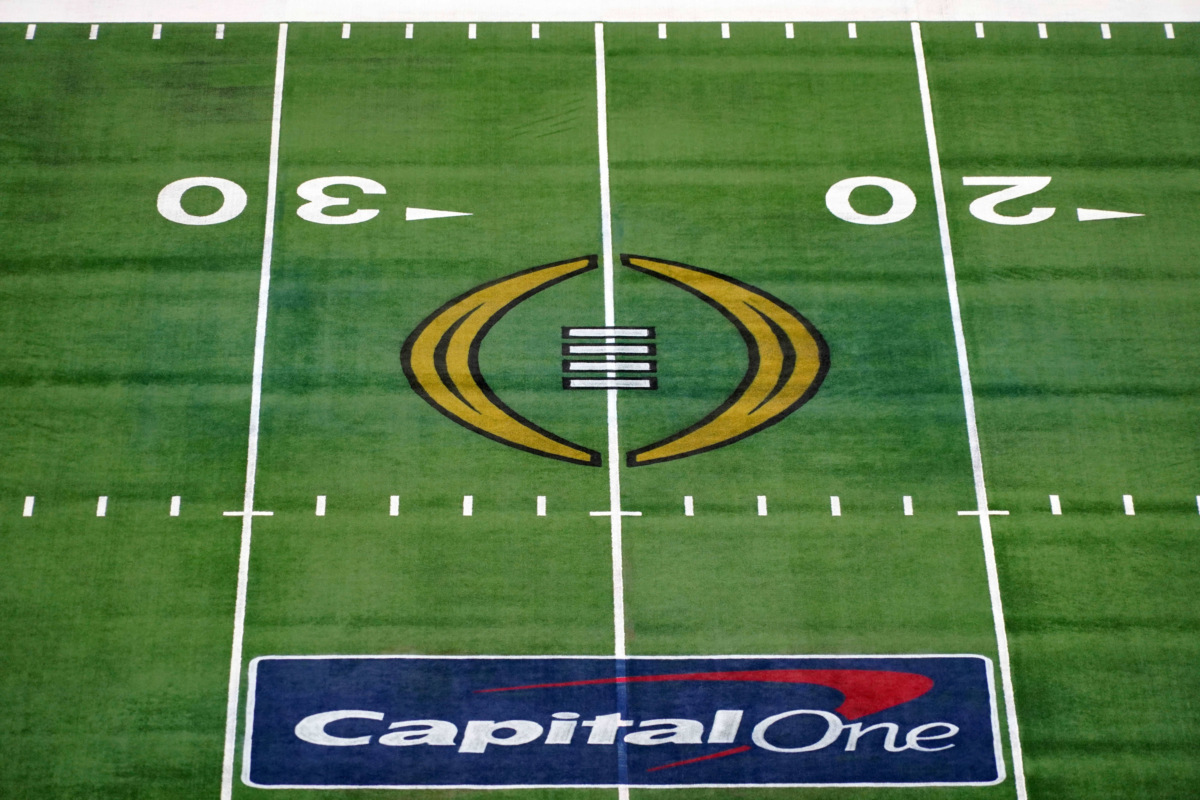 With the news that a potentially alarming number of Ohio State football players are unavailable due to COVID-19, ESPN is being "flexible" with its production plans in case the College Football Playoff National Championship must be postponed, sources told FOS.
For now, officials including Alabama athletic director Greg Byrne have said the game is still set for Jan. 11, but ESPN is working on contingency plans.
On Tuesday, AL.com first reported that the number of Ohio State players unavailable due to COVID-19 is concerning. While it's unclear how many Buckeyes have been suffering through the team's latest outbreak, the Big Ten's guidelines mandate that teams shutter if the seven-day average positivity rate tops 5%.
"There's noise coming out of Ohio State they had COVID issues," one source told FOS. "The Alabama side seems good."
ESPN declined to comment, and a spokesperson for the CFP didn't respond to a request.
Impact on ESPN
ESPN has become expert at remotely producing live sporting events during the pandemic, and likely would lose less money in travel and expense costs than it would have previously, especially given that a postponed game would still take place at Hard Rock Stadium.
Every year, ESPN "MegaCasts" the CFP National Championship, with over a dozen separate productions and hundreds of staffers who might have to be rescheduled.
Besides game production, ESPN would have to reschedule all of its studio "shoulder" programming scheduled to air before, during and after the game, potentially to be replaced by NFL programming.
CFP Executive Director Bill Hancock recently told ESPN that a contingency date for the game at its original location would be Jan. 18.
Revenue Status Quo
The CFP gets major cash from ESPN, which pays $470 million annually for CFP rights, according to the Wall Street Journal, and ticket revenue. While all the contracts have been "scrapped" and rewritten this year, there's certainly still revenue to go around, Bowl Season Executive Director Nick Carparelli told reporters in October.
In normal years, conferences can get up to $66 million each in guaranteed CFP distributions, and receive $6 million for every team participating in a semi-final game or $4 million for every team playing in a "non-playoff" bowl game.
FOS senior writer Michael McCarthy contributed to this story.
Outside of the announcement that the women's Division I NCAA basketball tournament would likely be held in San Antonio, the governing body hasn't released more details.

The Texas Longhorns fired football coach Tom Herman and will pay him a $15 million buyout,

according to USA Today

— only a few months after implementing $13 million in department layoffs and pay cuts.

Alabama wide receiver DeVonta Smith won the Heisman Trophy, which was awarded virtually.
If there's anything this week's reporting reminded me, it's how many stakeholders outside of the athletes profit immensely from college football and basketball, from coaches, athletic directors and conference commissioners to ESPN executives and the Indianapolis tourism industry.
The value of college athlete labor is astronomical. While some of this value may be realized in the pending name, image and likeness era, it currently only reaches the Justin Fields and DeVonta Smiths of the NCAA: the rare athletes who will get their pay days in the pros.
Tips? Feedback? Reach out to me at amanda@frontofficesports.com or on Twitter.