Hi there, this is Owen Poindexter, Senior Writer for Front Office Sports. I've interviewed star athletes, big execs, and politicians, but I don't know if I've ever been as starstruck as I was when I spoke to Bob Kendrick. He's a spot of sunshine during dark days for my favorite sport.
Here are some reflections on where things stand with MLB's labor negotiations, and why a voice like Bob's is sorely needed.
The Chapter of MLB History That Can Save Its Future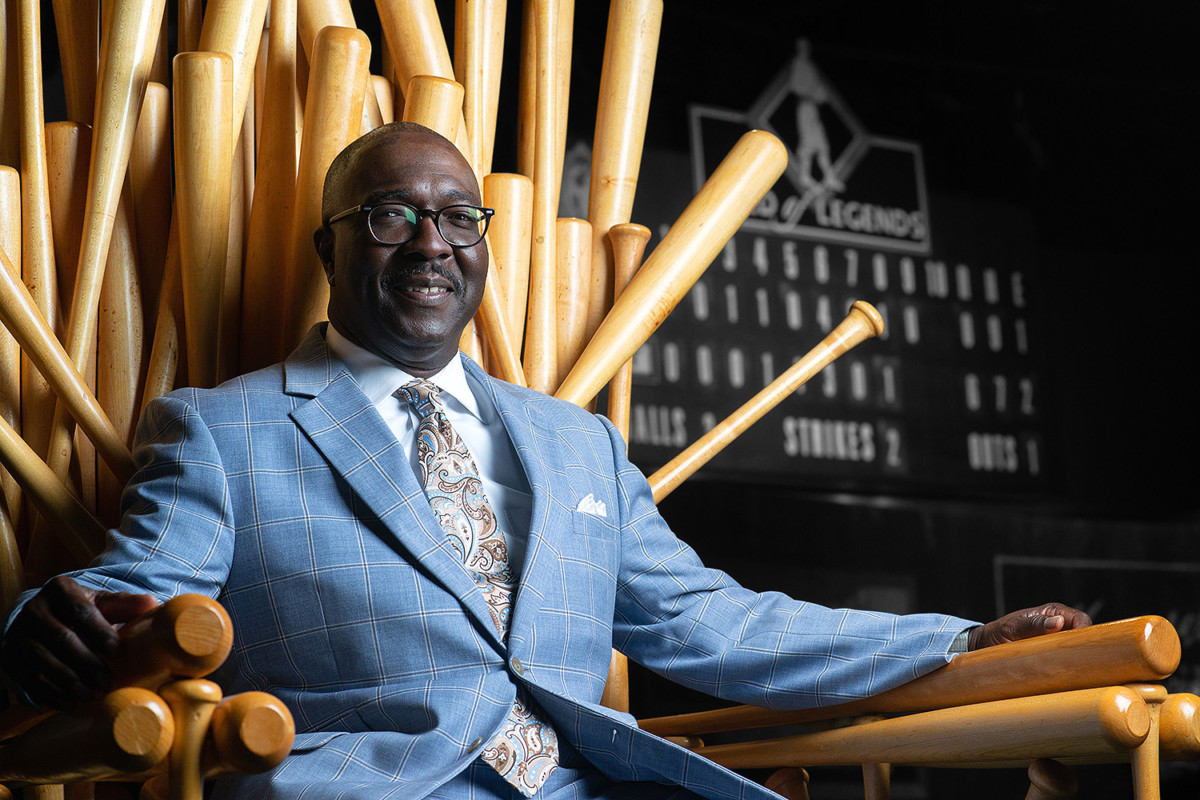 It's not fair to judge a sport at its lowest moments, but I couldn't help but have this thought while speaking to Bob Kendrick: This guy is exactly what baseball needs right now.
Kendrick, the president of the Negro Leagues Baseball Museum, is one of those people who has you smiling within about thirty seconds of meeting him. Not just a polite smile either — a genuine reaction to being in the presence of someone who sees the world for what it is, and still comes at it with joy and optimism.
"This story [of the Negro Leagues] is a powerful tool that number one, creates value for the importance of diversity, equity, and inclusion, and then demonstrates how it can be utilized as a bridge to a tolerance and respect," he said. "And it's all seen through the lens of baseball — something that we do find commonality in."
Kendrick believes that the Negro Leagues hold a lot of lessons for a sport that once made Black people sit behind chicken wire in a separate part of the stands if they wanted to enjoy a game.
State of the Labor Talks
It's clear that baseball needs a course correction right now. To review:
The core economic issues at the heart of the negotiations between MLB and the MLBPA have been known and understood for years, but no serious negotiations took place prior to this offseason.
After trading a few offers back and forth with some but not nearly enough progress toward an accord, the league locked out its players on Dec. 2, stopping all transactions other than for coaches, staff, and minor league players, and barring all contact between players and staff, including coaches and medical personnel.
Despite casting the lockout as a necessary accelerant to negotiations, the league then did not make an offer to the players for six weeks.
After meeting daily for nine days, the league presented a culminating offer, which made no significant concessions, despite the MLBPA backing down from some of its major asks.
The players quickly and unanimously rejected the offer, and commissioner Rob Manfred said he was canceling a week's worth of games, still four weeks before the scheduled opening day on March 31.
Meanwhile, player salaries have dipped each year since 2017 (not counting the pandemic-shortened 2020), and MLB has sought to eliminate hundreds of minor league playing jobs and argued in court that minor league players should continue to not get paid for spring training.
The acrimony is disheartening, and the cancellation of games is depressing, but the truly galling thing is that even after months of semi-public back-and-forths, it's far from clear that both sides are negotiating in good faith.
Blue Jays pitcher Ross Stripling made some eye-opening claims about Monday's late-night negotiations.
"It got to be like 12:30 [in the morning] and the fine print of their [collective bargaining agreement] proposal was stuff we had never seen before," said Stripling. "They were trying to sneak things through us, it was like they think we're dumb baseball players and we get sleepy after midnight or something."
Jackie's Day
Kendrick is optimistic that a deal will get done soon, and that the sport will be able to properly celebrate the 75th anniversary of Jackie Robinson breaking the color barrier on April 15.
"We here at the Negro Leagues Baseball Museum have always made the assertion that Jackie Robinson breaking the color barrier was actually the beginning of the civil rights movement in this country," said Kendrick, noting that it was before the integration of the armed forces, Brown vs. Board of Education, and Rosa Parks refusing to sit in the back of the bus.
Though Robinson dealt with vicious harassment and threats, the powerful symbolism and resulting domino effects of him taking the field as a Brooklyn Dodger are stark reminders of how far-reaching baseball's influence can be.
Even after a 40-team cutback, MLB still has 120 minor league teams dotted across the U.S. in small to mid-sized cities. It has a strong presence in Latin America and there are ample opportunities to expand MLB's connections to Japan and Korea, where baseball is incredibly popular.
Need for Speed
The first order of business, however, should be to excite a new generation, and lower the average fan age, which is 57 according to a 2017 survey. That starts with countenancing a players union that fully understands how the previous CBAs have been working to lower payrolls each year since 2017, and a fan base that could be watching soccer or playing "Fortnite."
"As a fan of the game," said Kendrick, "I would like to see the style of play resemble the Negro Leagues. They were bold and brash. If [Negro Leagues legend] Cool Papa Bell drew a walk, well Cool Papa Bell is going to end up on third base."
Satchel Paige telling his infielders to sit down while he pitched would dominate entire news cycles in 2022. In that vein, Kendrick wants to see more stolen bases, balls in play, flashy defensive moves, and the league marketing its big stars.
He's not alone. The league has considered rule changes to encourage steals, such as larger bases, and other ideas for creating more action, but it lags far behind the NBA and NFL in promoting its top players. Mike Trout — a generational talent — has 1.9 million Instagram followers, the most among active MLB players. LeBron James has 113 million.
What baseball's team owners need to understand is that baseball does its best business when it's more than a business. They are not just holders of assets that have increased 564% in value in the last 20 years (compared to 308% for the S&P 500), they are custodians of a rich culture.
Looking Back to Go Forward
This year, the Negro League Baseball Museum is selling commemorative coins and a puzzle set of bobbleheads of the museum's core display, the Field of Legends, as well as celebrating Buck O'Neal's long overdue, posthumous admission to the Hall of Fame.
Kendrick hopes these celebrations can bring attention to the Negro Leagues and what they meant, not just to baseball, but to America.
"We want to make sure that we preserve, celebrate, educate the public about a piece of baseball and Americana that you cannot find in American history books," said Kendrick. "The secondary aspect of what we do is connecting it to what's happening in this world right now. And with an eye toward looking at the future."
What's happening in baseball right now is greed and shortsightedness keeping fans away, embittering players, and threatening the long-term health of the sport. Baseball, however, can be one of America's great connectors.
If the keepers of the game need to be reminded of that, they should head over to the museum in Kansas City — or give Mr. Kendrick a call.
SPONSORED BY NIKE
How Nike Is Leveling The Playing Field
The fight for racial equality has gained much needed attention and amplification from people and organizations throughout the sports industry, including Nike.
Check out the recent conversation between Ernest Baker, Editor-in-Chief at Front Office Sports, and Jarvis Sam, Vice President of Global Diversity, Equity & Inclusion at Nike as they go into detail about the company's approach towards celebrating Black culture and fighting for racial equality through three initiatives:
The Black Community Commitment
2022 Black History Month Product Launch
The Future Movement