Astonishingly, World No. 445 Callum Tarren leads the U.S. Open (-4) at press time — but stalwarts Scottie Scheffler, Jon Rahm, and Collin Morikawa are lurking just below at -3.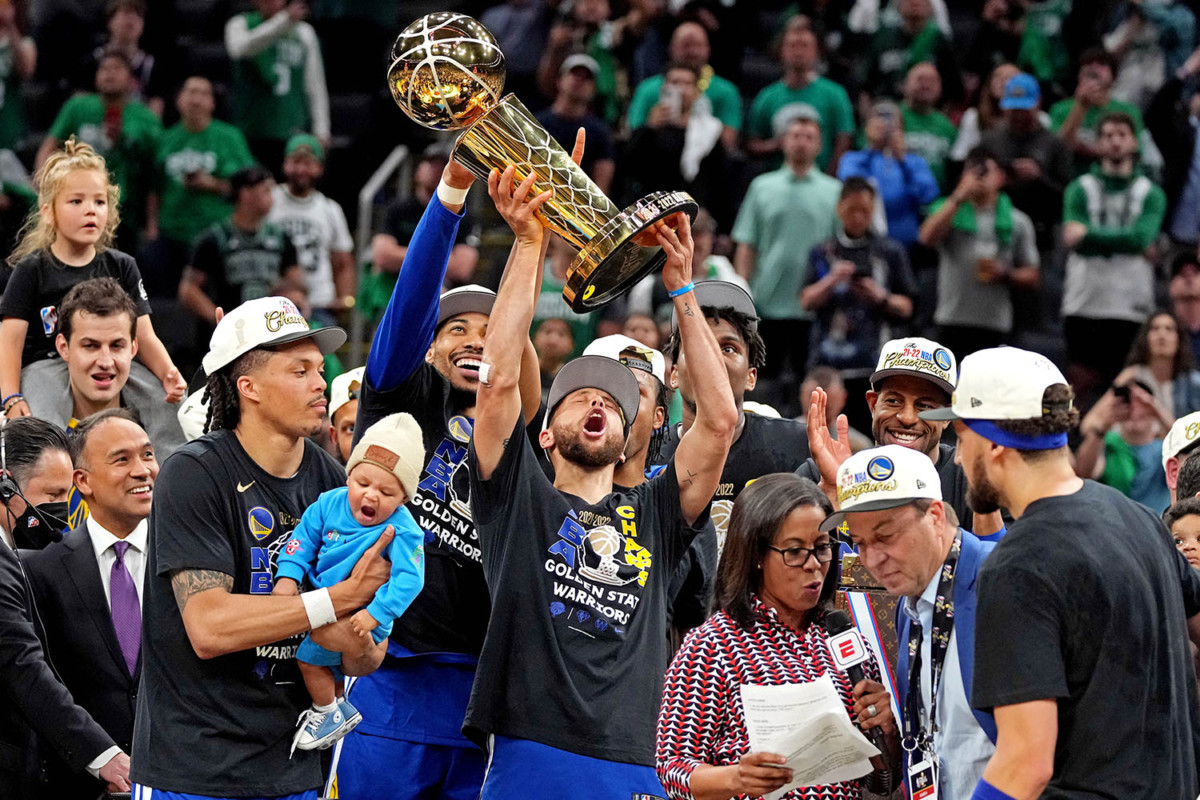 He might not have won the regular-season MVP, but Steph Curry turned out to be the NBA's Man of the Year.
Curry's legendary performances in Games 4 and 6 of these NBA Finals were the driving force in restoring the Warriors' dynasty after a few rocky years of injuries and a mini-reboot after the departure of superstar Kevin Durant — and made him a lock for Finals MVP.
But the Chef's historic exploits on and off the court were game-changers — for both him and the NBA.
In addition to his first Finals MVP, he won Western Conference Finals MVP, All-Star MVP, and broke the league record for most 3PM (3,117).
He finished fifth on Forbes' Highest-Paid Athlete list in 2022, earning $45.8M on the court and $47M off it for a total of $92.8M.
He became the NBA's most marketable player on social and digital platforms, eclipsing 1.4B video plays from the beginning of the season.
Curry graduated from Davidson University with a bachelor's in sociology.
Of course, Steph had some help in pulling off one of the biggest years of his storied career — support that goes beyond Klay Thompson and Draymond Green.
GM Bob Myers spent a league-high $179 million on restoring a team that only two years ago had the NBA's worst record, adding first-time All-Star Andrew Wiggins and breakout phenom Jordan Poole.
Now, Curry's Warriors have won their fourth title in eight seasons, and with four years and $215 million left on his contract, the 34-year-old should remain the headliner for years — and rings — to come.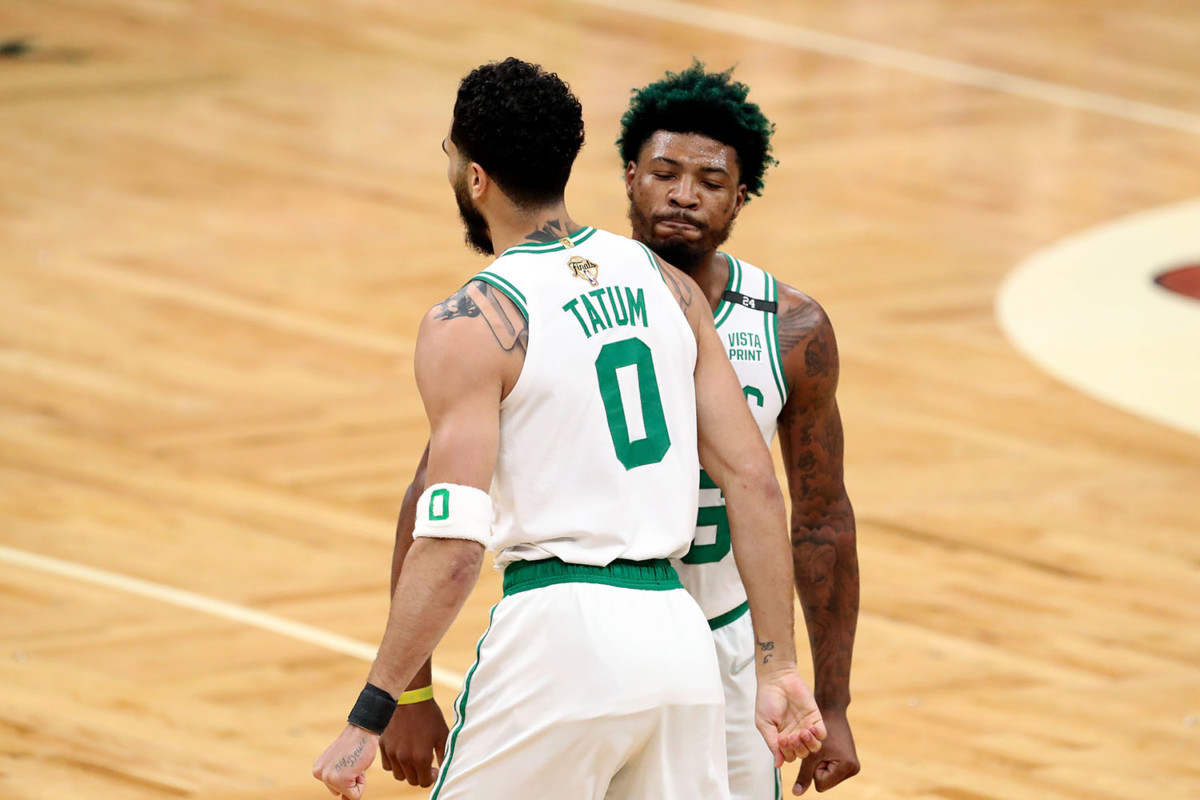 The Warriors might've given them a bitter pill to swallow, but the young Celtics should take heart from an inspiring, overachieving season that might just have kickstarted their own future dynasty.
Boston exceeded expectations in even making the Finals. They went from being the 11th seed in January to play their first title series since 2008 — and taking out Giannis Antetokounmpo's defending champion Bucks along the way.
It starts with the success of former coach and new GM Brad Stevens, whose calculated risks kept together the star tandem of Jayson Tatum and Jaylen Brown while reestablishing a defensive identity with a young team (25.8 YRS) on the NBA's 10th-highest payroll ($138M).
Tatum finished first in postseason points (615) and assists (148), and won Eastern Conference Finals MVP.
Brown averaged a playoff career-high 23.1 PPG (37.3% 3PT).
Stevens reacquired Al Horford, re-signed Defensive Player of the Year Marcus Smart, and hired first-year coach Ime Udoka, all of whom contributed to the league's best defense (106.2 RTG).
And Boston's core might stay in town for the foreseeable future.
Brown ($26.8M) can become a free agent in 2024, but Tatum ($28.1M), Smart ($14.3M), and Robert Williams ($3.6M) will remain intact through 2026 if Tatum signs his $37 million player option that year.
Before the season, the Celtics had the 13th-best odds to win it all (+4000). Entering 2022-23, they're tied (+600) with the Nets, Clippers, and Warriors for the best odds to lift the Larry O'Brien Trophy.
SPONSORED BY LEX
Invest in Commercial Real Estate Shares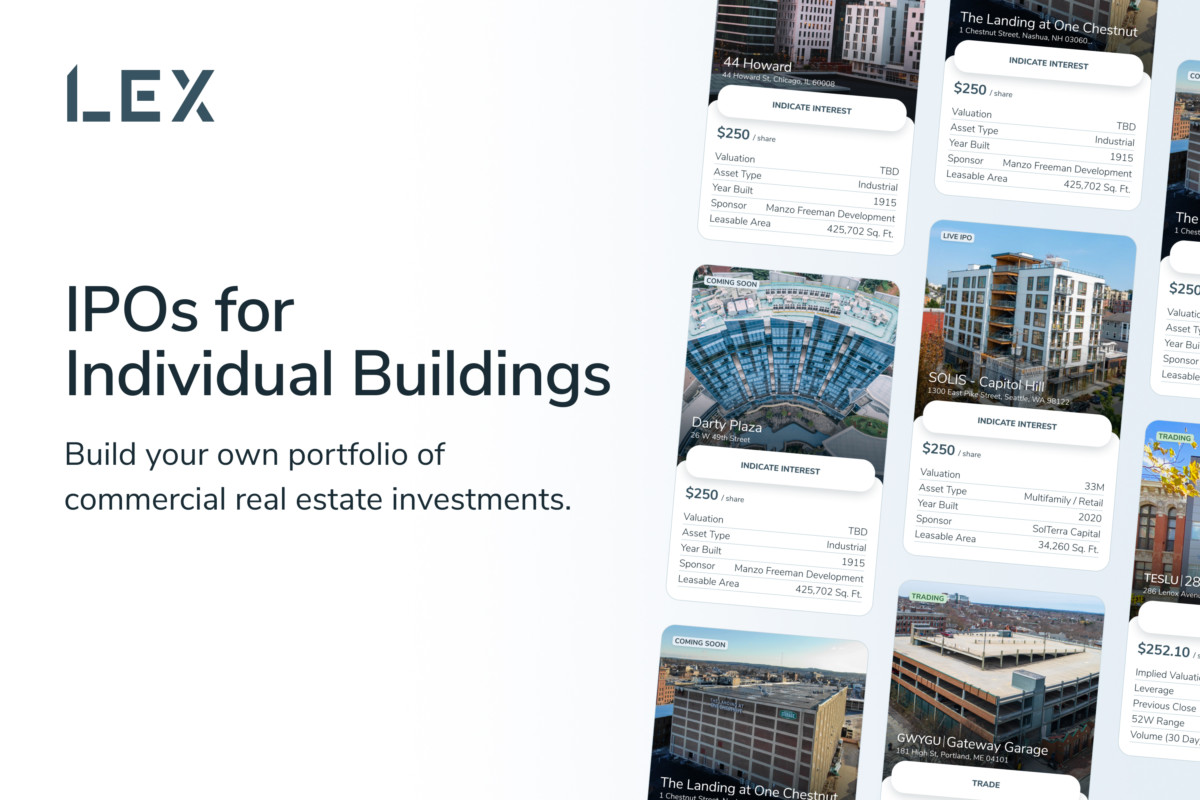 Interested in investing in commercial real estate but not sure where to start? LEX has created a new way for you to invest in real estate. 
LEX turns individual buildings into public stocks via IPO so you can invest, trade, and manage your own portfolio of high-quality commercial real estate.
Any US investor can open a LEX account, browse opportunities in various asset classes such as multifamily and office buildings, and buy shares of individual buildings. LEX opens up direct and tax advantage ownership in an asset class that has previously been inaccessible to most investors.
Access to commercial real estate is finally here!
Get started today and get a $50 bonus when you deposit at least $500.*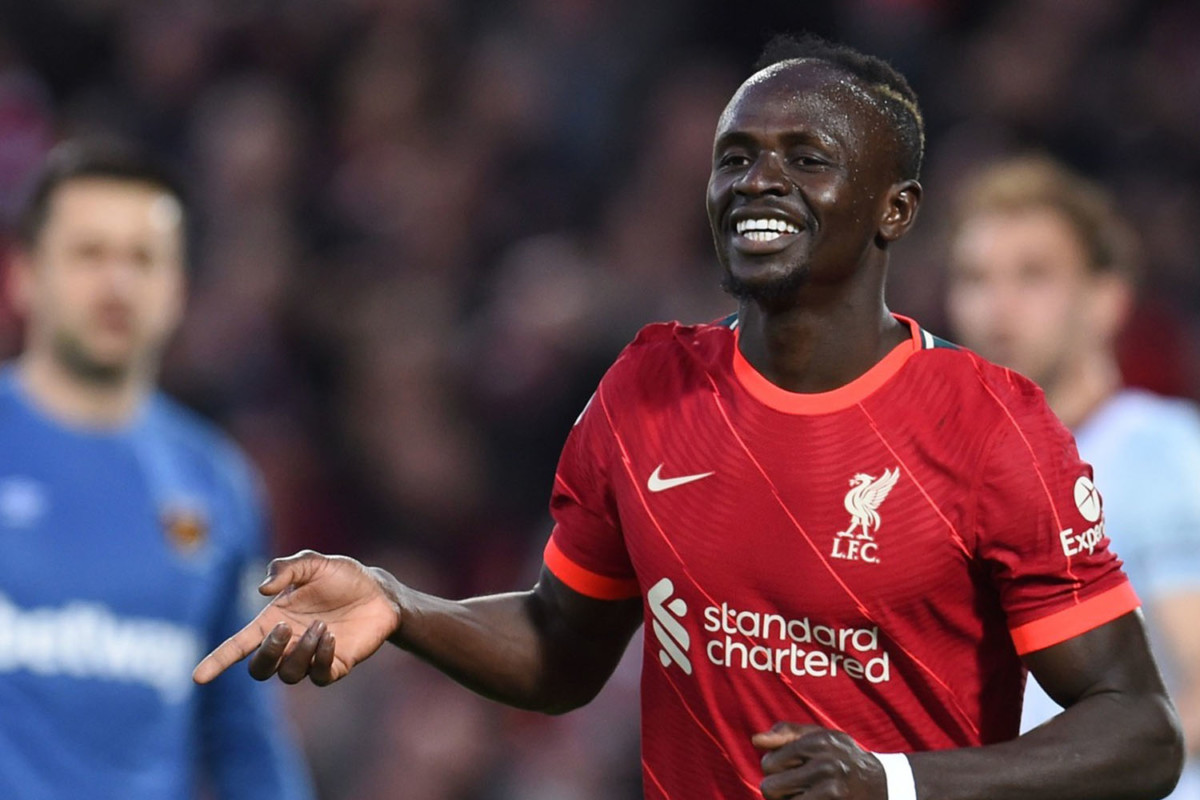 Bayern Munich have taken a big step to cover the potential departure of star striker Robert Lewandowski — but it will take several reinforcements to fill his shooting boots.
On Friday, Liverpool star forward Sadio Mané reportedly agreed personal terms on a three-year deal to join Bayern, according to Fabrizio Romano. The transfer fee will be less than $41.9 million including bonuses, per Florian Plettenberg.
Bayern has been in the market for a scoring threat amid the growing inevitability that Lewandowski will leave the club this offseason, as Romano reports that Barcelona is preparing a formal offer, with Chelsea and PSG also still in the mix.
Mané can certainly contribute offensively, but as a forward/winger hybrid, he's simply not a pure scorer like the Polish international.
Lewandowski scored 35 goals to lead the Bundesliga and claim the European Golden Boot for the second consecutive season.
Mané scored 16 goals in the 2021-22 Premier League season — good for fifth in the league but trailing teammate Mohamed Salah, who tied for the league lead (23).
Mané scored five goals in Champions League play, but Lewandowski had 13 — two behind leader Karim Benzema, who won the trophy with Real Madrid.
If Mané is unable to be that true scoring presence in Munich, Bayern will have to look elsewhere.
Forwards Serge Gnabry (14 goals), Leroy Sane (7), and Kingsley Coman (6) are threats, but are also predominantly wingers.
Liverpool, meanwhile, should have little trouble replacing Mané: They signed forward Darwin Núñez from Benfica for a club-record transfer fee worth up to $104.8 million.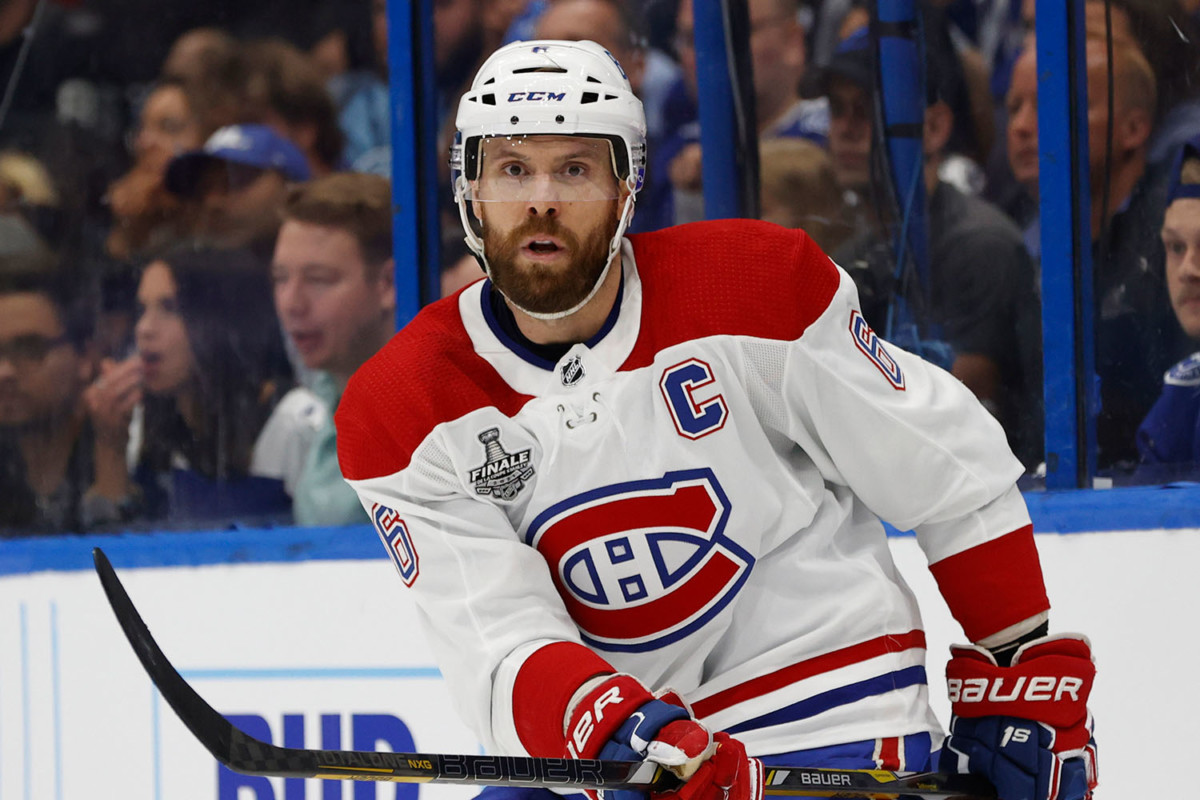 NHL: The Canadiens traded defenseman Shea Weber to the Golden Knights for forward Evgenii Dadonov; Weber, who has been on LTIR since before last season, is unlikely to play again due to injury and is owed $6M over the final four years of his contract. Also: John Tortorella was officially introduced as the next head coach of the Flyers.
Tennis: Rafael Nadal confirmed he will play at Wimbledon, which begins June 27; the 36-year-old won his record 14th French Open earlier this month while battling an injured foot.
NFL: Commanders coach Ron Rivera was fined $100,000 and will lose two days of OTAs for "excessive contact" during offseason workouts; Texans coach Lovie Smith was fined $50,000 due to prohibited 1-on-1 OL-vs.-DL drills.
DISCLAIMER
*Some properties are shown for illustrative purposes only. Potential investors are encouraged to consult with professional tax, legal, and financial advisors before making any investment into a securities offering. This investment may not be suitable for all investors. Distributions and liquidity not guaranteed. Property performance and performance of property tenants not guaranteed. Diversification does not eliminate the risk of experiencing investment loss. All investment services are offered by LEX Markets LLC, Member FINRA/SIPC