One of the most powerful people in college sports is vacating his post. Where do the Pac-12 Conference and its TV networks go from here?
Pac-12 Media Rights Take Center Stage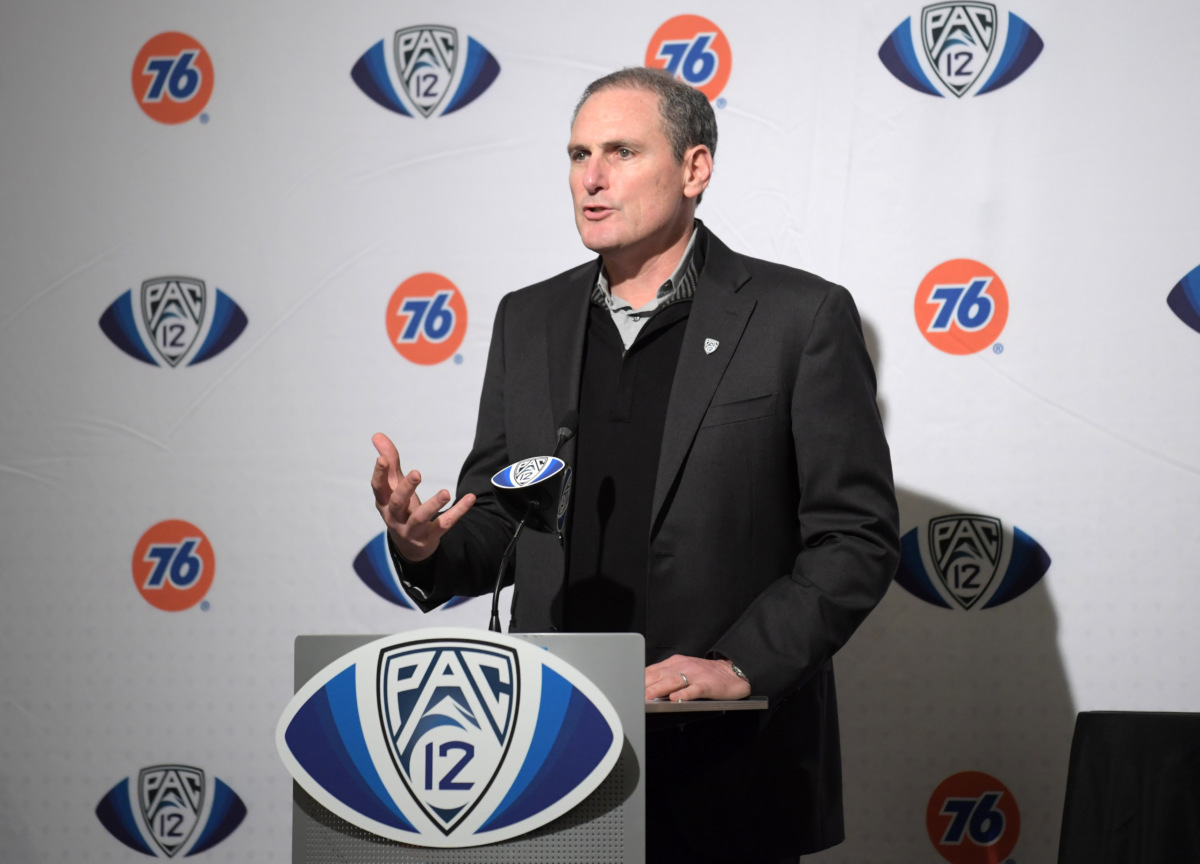 The Pac-12 will need a new commissioner to renegotiate its expiring media rights contracts.
Yesterday, the conference announced Commissioner Larry Scott will step down in June — a year before his contract was set to expire. The media deals expire in 2024.
"Now is a good time to bring in a new leader who will help us develop our go-forward strategy," Pac-12 Executive Committee Chair Michael Schill said in a statement. "At one point, our television agreement was the most lucrative in the nation."
Pac-12 schools each received around $29 million in conference distributions in 2018, recent tax filings show. That's about the same as what most ACC schools received.
But the Pac-12 trails three of its Power 5 peers in conference distributions, which largely consist of media rights revenue.
Most Big 12 schools received $33-36 million, most SEC schools got $42-$45 million, and most Big Ten schools notched more than $53 million.
The SEC recently signed a blockbuster deal with ESPN, reported to top $300 million a year, which could increase yearly payouts by $20 million per school.
Deals with the Big Ten and Big 12 will expire in 2023 and 2025, respectively.
In his 11-year tenure, Scott — who has made more than $40 million in salary — led the Pac-12 through expansion, the launch of the Pac-12 Networks and a reported $3 billion media rights deal with ESPN and FOX.
FanDuel Gets A Head Start
Confusion in the air caused premature excitement for Virginia bettors and sportsbooks awaiting the launch of legal sports betting in the state.
FanDuel Sportsbook tweeted Wednesday that it would go live in the state in "less than 24 hours," but the company's message was the first word of any launch date.
FanDuel users in Virginia also received activation emails with language indicating a Jan. 21 launch.
After the tweet was posted, the sportsbook amended the launch timeline to "soon."
The Virginia Lottery released a statement clarifying that FanDuel was approved for the state's first sports betting permit through its partnership with the Washington Football Team.
The agency said that decisions on additional permits are "imminent" and that it expects that more than one sportsbook will be able to accept legal wagers in time for Super Bowl LV. Twenty-five sports betting operators applied in October to launch in Virginia.
The potential launch comes after a failed first attempt to legalize sports betting in the state in 2019.
The practice was eventually passed last year with backing from pro sports teams and neighboring states.
However, Virginia bettors cannot wager on Virginia college teams or the Olympics.
SPONSORED
Esports Made Easy

Easily create your own branded esports offering with turnkey software and services.
Mainline's esports tournament platform allows users to manage, monetize, and market esports programs and events with ease.
Mainline even makes sponsorships a breeze with quick and easy branding tools for any event. Schedule a call with Mainline today and see why more and more organizations are partnering with them to achieve their esports goals.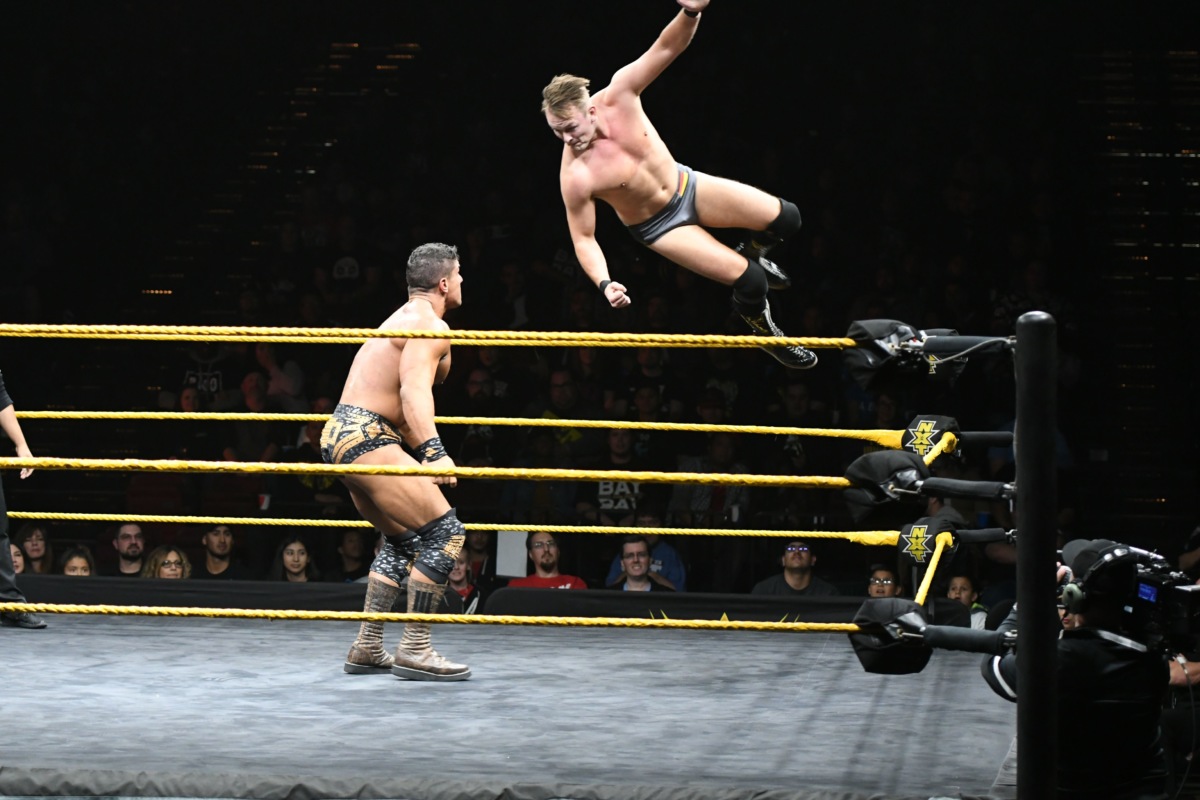 Former WWE co-presidents Michelle Wilson and George Barrios are jumping into the SPAC space.
The duo filed plans to launch Isos Acquisition, a blank-check company targeting digital media and entertainment acquisitions. Isos aims to raise $200 million through an IPO, and could add an additional $75 million through a forward purchase agreement with Apollo Global Management.
If all goes according to plan, Isos will hold a market value of $250 million.
Isos' filing specifically highlights growth projections for video games, amusement parks, sports betting and esports. The sports betting industry is projected to grow 65.4% from 2019-23 to $19 billion, the filing said; esports are projected to grow 58.5% to $7 billion in that period.
The number of early filings suggests SPACs will continue to pile into the market throughout 2021. 
Last year, there were more than 250 SPAC shell companies listed in the U.S., and they raised nearly $79 billion combined.
The Isos SPAC comes after Wilson and Barrios formed Isos Capital Management earlier this month, eyeing investment opportunities in global media, entertainment, and sports.
A federal judge in North Carolina ruled that New Orleans Pelicans forward Zion Williamson is not beholden to a Florida marketing firm's representation agreement. The firm, Prime Sports Marketing, is suing Williamson for $100 million claiming breach of contract.

Olympic gold medalist alpine skier Lindsey Vonn will debut as an NBC Sports analyst this weekend for the women's World Cup speed races. Vonn, who retired in 2019, previously served as a correspondent for TODAY and NBC Sports during the 2014 Sochi Olympics.

The NBA postponed the Memphis Grizzlies' next three games in accordance with the league's Health and Safety Protocols.

The Kansas City T-Bones of the independent American Association baseball league are being renamed the Kansas City Monarchs after the team that played in the Negro Leagues. The Negro Leagues Baseball Museum signed a licensing agreement with MaxFun Entertainment, owner of the minor league team.
SPONSORED
"Ultimate Buy" on this Streaming Stock

Research firm PwC anticipates revenue from media and entertainment will reach an estimated $2.6 trillion by 2023.
With Netflix reaching $20 billion in revenue in 2019, that still leaves a possible $2.58 trillion left over. The stock experts at The Motley Fool feel that they may have found the stock that may make up part of that difference. 
The Motley Fool's Stock Advisor Service has issued an extremely rare "Ultimate Buy" alert for one stock that's playing a massive role behind the scenes in the streaming world. 
Learn More and sign up for Stock Advisor
Markets continued their record-setting bullishness on Thursday. Here's a look at how sports stocks performed:
Up:
Camping World Holdings (NYSE: CWH) was up 7.04%
ViacomCBS (NASDAQ: VIAC) was up 4.04%
MSG Network (NYSE: MSGN) was up 3.63%
Down:
Hibbett Sports (NASDAQ: HIBB) was down 3.45%
Rush Street Interactive (NYSE: RSI) was down 3.26%
Allied Esports Entertainment (NASDAQ: AESE) was down 2.86%
(Note: All as of market close on 1/21/21)
The Milwaukee Bucks (9-5) host the Los Angeles Lakers (11-4) tonight. The Lakers will look to redeem themselves after losing to the Golden State Warriors in dramatic fashion on Monday. It's the first of a seven-game road trip for the Lakers, and the first matchup between LeBron James and Giannis Antetokounmpo this season.
How to Watch:
7:30 p.m. ET on TNT
Betting Odds:
Bucks -1.5 || ML -117 || O/U 228.5