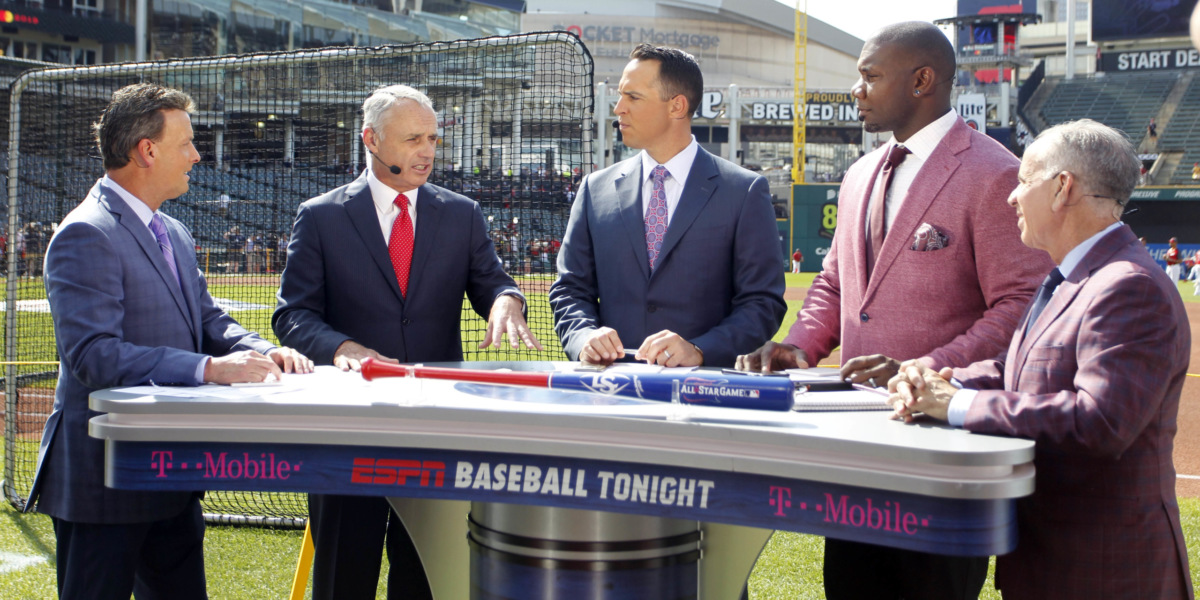 Despite growth in its last two media rights deals with Fox Sports and Turner, it appears MLB might be in danger of losing ground with ESPN.
How it started: An 8-year, $5.6 billion deal signed in 2012
How it's going: A 7-year, $3.85 billion deal is being discussed
The approximately $150 million per year drop stems from ESPN looking to cut the number of exclusive games it broadcasts by more than half. Signs point to the network keeping Sunday Night Baseball and the Home Run Derby.
It's not just national TV: The Miami Marlins and Milwaukee Brewers are without regional contracts less than three months out from the season.
Before this development with ESPN, MLB signed deals with Fox in 2018 and Turner in 2020 that renewed their contracts for higher amounts.
Fox: A 7-year $5.1 billion deal increased annual payments from $525 million to $728.6 million
Turner: The 7-year $3.75 billion deal increased annual payments from $325 million to $535 billion
Fox and Turner both get wider playoff rights, and Fox carries the World Series and All-Star Game, which helps explain the costs.
Another factor: ESPN has lost more than 17 million cable subscribers in the past decade — a multi-billion dollar loss. The network is also expected to vie for NHL and NFL rights.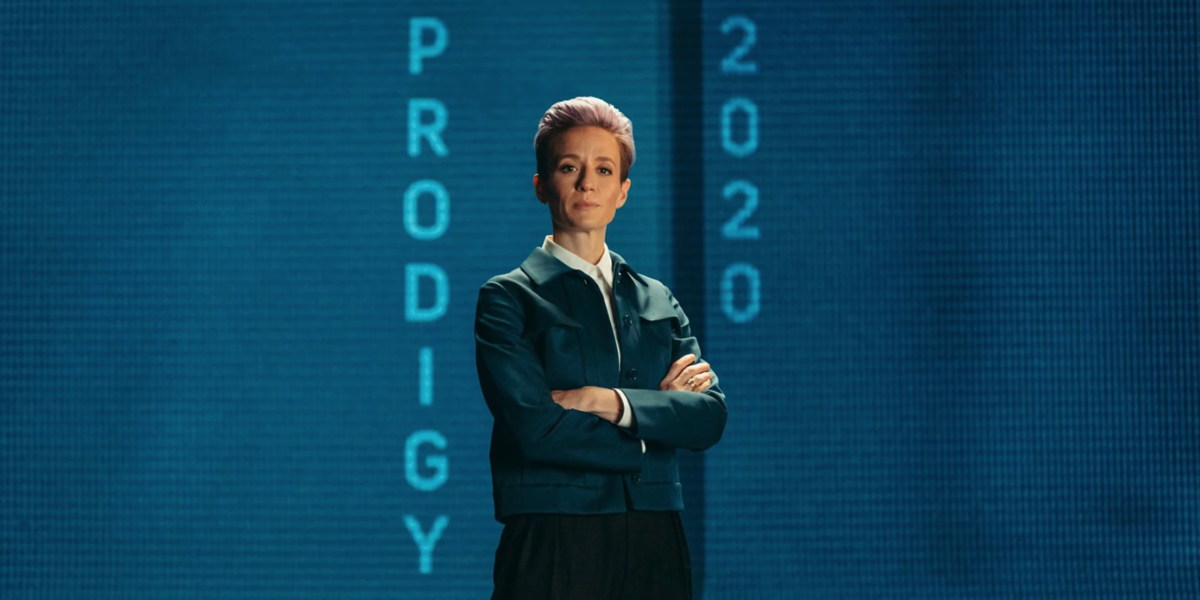 The Quibi saga appears to be over.
Roku, maker of the most popular streaming device in the U.S., is acquiring the rights to all content from the defunct short-form streaming service.
Jeffrey Katzenberg and Meg Whitman raised $1.75 billion to develop mobile-first shows before launching Quibi last April. For a variety of reasons, including an ill-fated on-the-go approach during the pandemic, the $4.99 per month service never gained traction.
The company announced in October that it was shutting down.
Terms of The Deal:
Roku paid less than $100 million to acquire Quibi's content, The Wall Street Journal reported.
All of Quibi's 75-plus shows are exclusive to the free-to-watch Roku Channel through 2021, with Roku retaining rights to air the content through 2027.
Roku must air Quibi's shows in their original bite-sized format; it cannot string together multiple episodes for longer segments.
In addition to shows featuring big stars like Will Smith and Chrissy Teigen, Quibi offered a lineup of sports content, including the LeBron James-produced "I Promise," Steph Curry-produced "Benedict Men" and Megan Rapinoe-hosted "Prodigy."
SPONSORED
Slam Dunk Stock Picks

On behalf of our friends and stock experts at The Motley Fool, congrats on making it to Friday. As you take in this weekend's games, consider signing up for their Stock Advisor service.
With Stock Advisor, you can build a portfolio that reflects your interests, budget, and investing philosophy.
Right now, you can get five stock picks from the experts currently listed under $49, absolutely free. All you need to do is enter your email.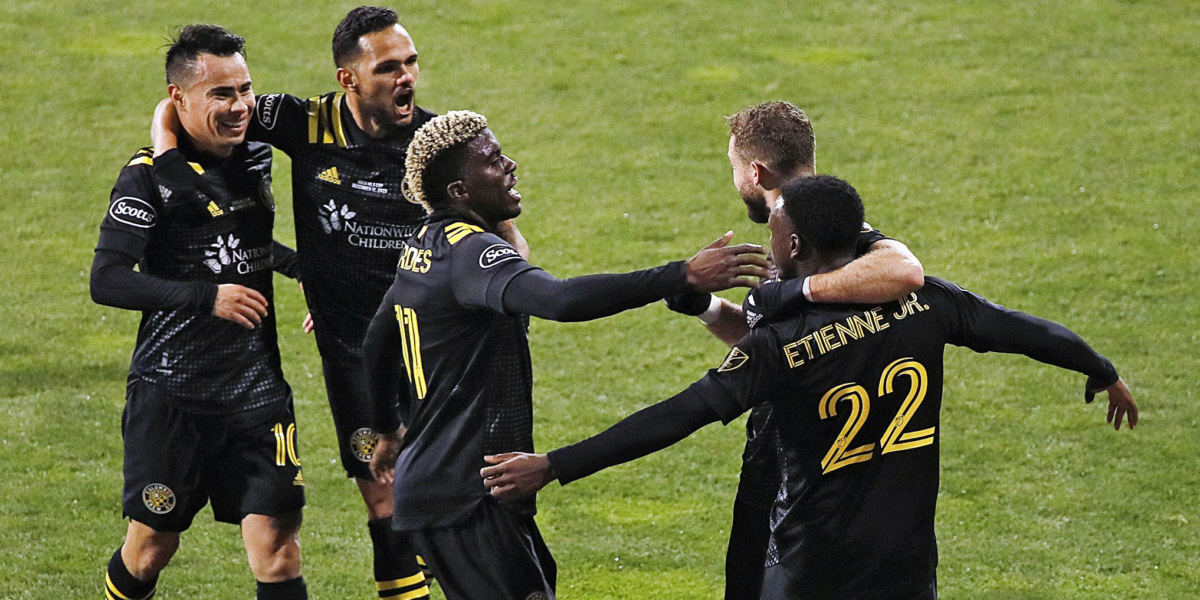 MLS is turning to the left sleeve of player uniforms to make up for financial shortcomings.
Teams will reportedly be allowed to sell an ad on the sleeve for the 2021 season. The effort is intended to help recoup $1 billion in net losses from around the league due to COVID-19. 
MLS teams were previously allowed to sell the left sleeve for a handful of 2020 games, beginning with the MLS is Back Tournament. In that bubble, some were also allowed to place a sponsor on the back left side of players' shorts.
Teams were already allowed to sell ad space on the right sleeve as part of a pilot program that began last year and will run through 2025.
MLS' move follows similar efforts from the NBA and NHL.
The NBA has allowed jersey patch sponsors since 2017, generating $150 million for all teams with the program. The NHL recently announced helmet ads for the 2021 season, hoping to raise $15 million across its teams.
Iowa surpassed $100 million in betting wagers for the first time in December. It's the eighth state to reach that milestone.

Michigan and football coach Jim Harbaugh are reportedly close to finalizing a five-year deal. The expected base salary is $4 million, but Harbaugh could earn up to $8 million with incentives.

The Boston Celtics will be without Robert Williams, Tristan Thompson and Grant Williams for at least a week due to a minimum seven-day COVID-19 quarantine.

The Jacksonville Jaguars and former Ohio State coach Urban Meyer are reportedly meeting today to discuss Jacksonville's head coaching vacancy.
SPONSORED
Finance Strategy For 2021

2021 is finally here, so start it off right with a great personal finance decision by signing up for Acorns!
Acorns makes it incredibly easy to grow your money in under 5 minutes:
Save More: Automatically invest spare change in a diversified portfolio, set aside money from each paycheck, and get money tips from financial experts.
Spend Smarter: Get the only heavy-metal debit card that saves and invests for you, with no hidden fees, real time Round-Ups, and Smart Deposit.
Earn Money: Earn bonus investments from more than 350 brands while you shop (i.e. Walmart, Nike, Apple, Walgreens)
Sign up for Acorns today and set yourself up for a financially stable future.
Stocks finished a whirlwind week still climbing higher, with the S&P 500 and Nasdaq hitting records during trading. Here's a look at how sports stocks performed:
Up
Penn National Gaming (NASDAQ: PENN) was up 7.14%
DraftKings was up (NASDAQ: DKNG) was up 4.48%
Peloton (NASDAQ: PTON) was up 3.17%
Down
Sirius XM (NASDAQ: SIRI) was down 7.94%
Vista Outdoor (NYSE: VSTO) was down 6.32%
Camping World Holding (NYSE: CWH) was down 4.58%
(Note: All as of market close on 1/8/21)
Former New York Mets general manager Brodie Van Wagenen is being courted by some of the largest sports agencies, sources told Front Office Sports. Van Wagenen was one of the top player agents in the business and was co-head of CAA Baseball before he took over as Mets GM after the 2018 season.
The New York Mets made their first blockbuster trade since billionaire hedge fund manager Steve Cohen purchased the team in October 2020, acquiring four-time All-Star Francisco Lindor from the Cleveland Indians. Cohen has said he'll spend top dollar to make the organization a World Series contender.
Amazon's Dec. 30 acquisition of podcast network Wondery signals that the podcast industry is taking its 2020 momentum right into the new year. Amazon's troves of customer data could help it find success with targeted podcast advertising.
Los Angeles Clippers vs. Golden State Warriors: After a tight 108-101 matchup Wednesday night that saw Steph Curry score a season-low 13 points, the Clippers (6-3) and Warriors (4-4) will go at it again. Curry is probable to start after rolling his ankle in the loss. Los Angeles will try to repeat its defensive performance from the last game, when it held Golden State to 26.7% from 3-point range. 
How to watch:
10 p.m. ET on ESPN
Betting odds:
Clippers -4 || ML -230 || O/U 232.5