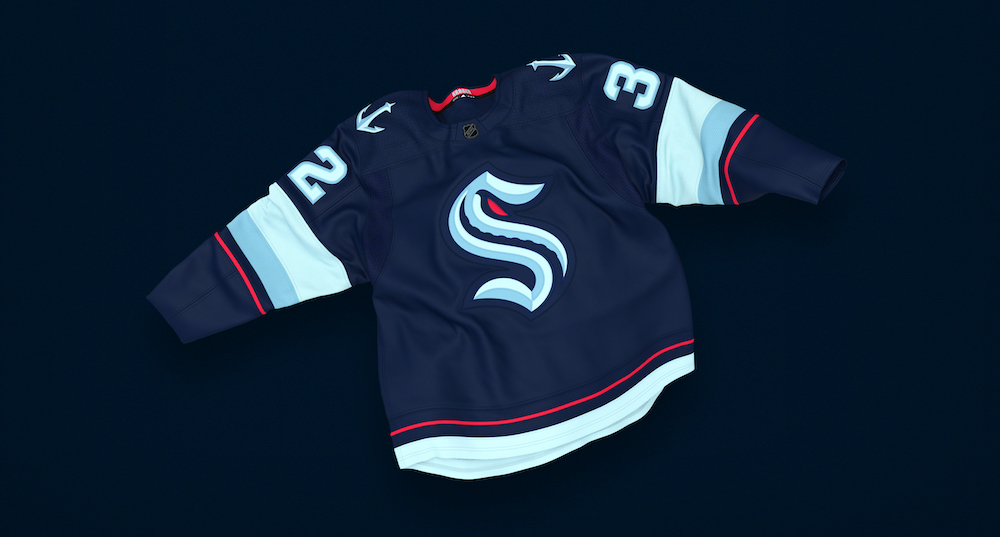 Seattle's expansion NHL team now has a name: Kraken. Its logo was also unveiled yesterday, which features the team's primary colors of 'deep sea blue' and 'ice blue.'
The Kraken will take the ice in the 2021-2022 NHL season as the league's 32nd team. It is owned by a group led by financier David Bonderman and movie director Jerry Bruckheimer, who paid an NHL-record $650 million for the expansion spot.
Its future home, a more than $900 million redevelopment of the former KeyArena, is expected to open ahead of its launch and will be shared with the WNBA's Seattle Storm. Last month, Amazon purchased the naming rights, choosing to call it Climate Pledge Arena – a call to action around climate change efforts. More than 40,000 Seattle fans have already placed deposits for tickets, with the hockey capacity expected to be 17,400.
Other Sports Name News: 
— Washington, D.C.'s NFL Team announced it will be called the Washington Football Team until a new name and brand is settled on. Reports suggest the organization still wants a new name and brand prior to the start of this season.
— The MLS expansion team in Charlotte, N.C., announced its name and brand this week: Charlotte FC. The team, owned by Carolina Panthers owner David Tepper, begins play in 2022.
— UBS secured the naming rights to the New York Islanders' new $1.5 billion arena in a 20-year deal.
After the pandemic is over, 59% of Americans won't be renewing their gym memberships, according to a recent survey by TD Ameritrade. While many gyms have been closed the past four months, 56% of respondents have found "more affordable" ways to get their workouts in.
Companies within the industry are preparing for a dramatic drop off in revenue as a result, as 53% said they don't expect sales returning to pre-COVID numbers until the second quarter of 2021, according to a Sports & Fitness Industry Association survey. Fifty-nine percent of those companies also expect consolidation to become a trend in the industry.
Both Gold's Gym and 24 Hour Fitness have already filed for bankruptcy, while the parent company of New York Sports Clubs and Lucille Roberts warned of potential bankruptcy.
With gym-goers staying home, digital fitness companies have seen a boost.
Peloton saw revenue grow 66% year-over-year in its latest quarterly report as its connected fitness subscribers grew by 94% in that same period.
Lululemon paid $500 million to acquire interactive home gym company Mirror, which expects to do more than $100 million in revenue this year.
SPONSORED
Find The Next Big Thing In Business
From the people that brought you The Hustle, Trends is a community of founders, entrepreneurs, and executives from a variety of industries working together to find the future of business.
A Trends subscription gets you access to all that Trends has to offer including their weekly newsletter, exclusive invites to live lectures from leading professionals and experts, a database of 700+ small businesses, an invite to their private community, and more.
Right now, you can get two weeks of Trends for just $1. Start your weekend off right and see how you can grow your network while also growing your wallet.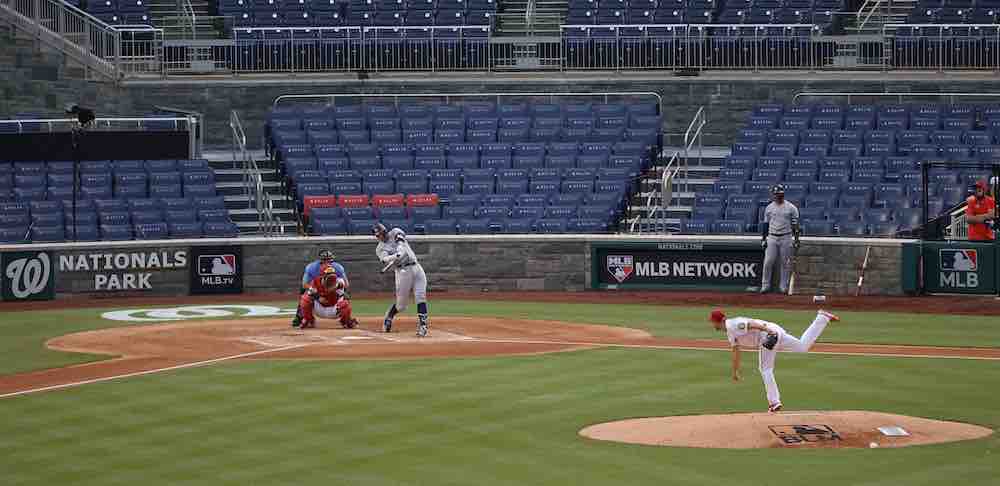 Fox will look to virtual fans to fill out stands to make its MLB broadcasts look as natural as possible. MLB has also distributed roughly 75 different sound effects pulled from Sony's MLB: The Show video game for use, with reactions available ranging from cheering, roaring, disappointment, and regular crowd noise.
The network will be able to alter the crowd as well, which could include thinning it out during late-game blowouts or changing the mix of home and away team fans in inter-city rivalry games. There is also speculation the network could experiment with advertising on virtual signs held up by the fans. Fox sold 90% of its MLB advertising inventory before the season started yesterday.
Teams are trying to find creative ways to fill their own empty stands. That includes tarps over empty seats with sponsor logos to cardboard cutouts of pictures of fans
Expanded Postseason
MLB and the MLBPA also agreed to expand the playoffs from 10 teams to 16 teams in 2020. The new format will feature a best-of-three series in the first round instead of the sudden-death wild-card game.
The expanded postseason will help:
Maintain the estimated $1.7 billion in national TV media rights revenue MLB receives annually.
Offset losses from fans not being in attendance. Forty percent of the league's $10.7 billion in annual revenue typically comes from game-day revenue, including tickets, concessions, parking, and merchandise.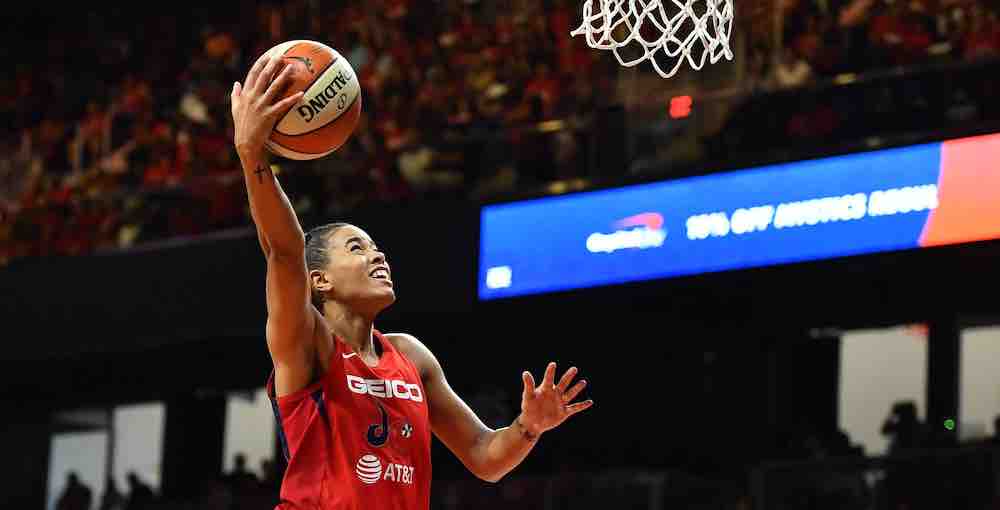 The WNBA will tip off Saturday in its bubble at the IMG Academy in Florida. It will look to continue the momentum it has built under Commissioner Cathy Engelbert, who was named to the role in May 2019.
A new collective bargaining agreement signed in the offseason means that the average WNBA player will now be able to earn six figures for the first time, helping lessen the need for the players to play overseas in the offseason.
The shortened season will also lead to a new level of television exposure for the league. Almost 50% of games will be featured on national broadcasts across ABC, ESPN, ESPN 2, and CBS Sports Network, even as other leagues return to action. Highly touted rookie Sabrina Ionescu and the New York Liberty will appear in 15 of those nationally televised games.
That should help build on the growing interest in women's basketball. The 2019 women's NCAA Tournament had its highest attendance in 15 years and interest in the WNBA grew significantly from 2016 to 2019, as search traffic grew 50%.
SPONSORED
PLL Boosts Social Media Presence During Return To Play With Slate
Starting tomorrow, the Premier Lacrosse League's seven teams will each play four games to determine seeding for a single-elimination tournament next week. In order to bring fans at home closer to the experience on social media in real-time, the PLL has partnered with Slate.
"Slate has enabled us to save time during our social efforts. The platform produces graphics more quickly, so we're pumping out more content in less time, all while keeping a consistent brand look," the league's Director of Marketing Tyler Steinhardt told Front Office Sports.
Read on to learn more about how the PLL's partnership with Slate gives them the tools they need to meet this unique moment in sports history and deliver for their fans and sponsors.
Univision will also use virtual fans on its Liga MX broadcasts, as well as adding other virtual advertising features as the league returns to play today.
The Athletic is leveraging its first cross-marketing deal to bring in new subscribers and increase its brand recognition.
The NBA received high marks for its diversity and inclusion efforts in the latest University of Central Florida's Racial and Gender Report Card.
Male grooming company Manscaped is sticking to its humorous approach to marketing even as it enters its first partnership with a team in a major professional league.