Welcome to FOS College, where we examine the earning power in women's sports, and why FCS football teams will likely lose money playing this spring.
In this week's edition:
Viral UCLA gymnastics videos show team could earn $1.25 million for NIL rights

DI women's basketball tournament will be televised nationally for the first time

FCS programs won't recoup significant revenue with pandemic football season
– Amanda Christovich
Potential NIL Power of UCLA Gymnastics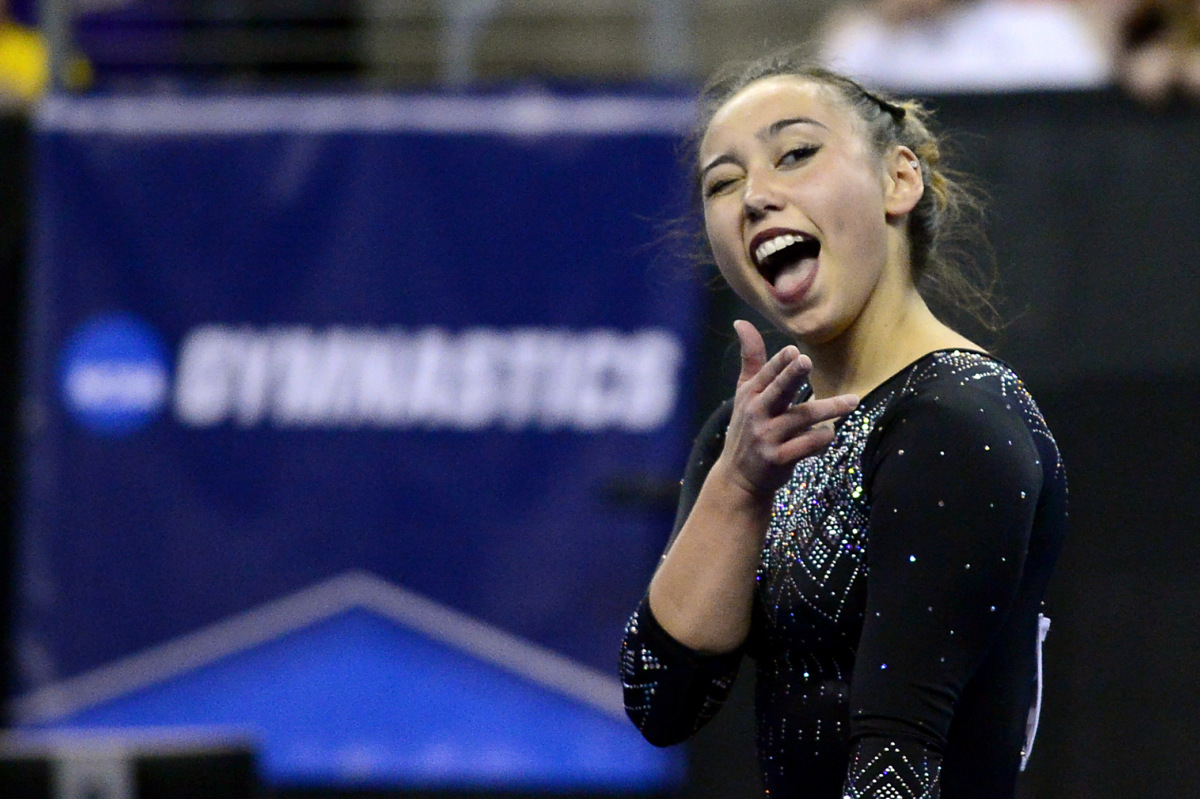 UCLA gymnastics' viral floor routines have become an "annual" tradition — the most recent being Margzetta Frazier's Janet Jackson tribute last week.
But the Bruins' videos could amass more than just thousands of likes. They're laying the groundwork to earn more than $1 million when name, image, and likeness rules take effect, and setting up individual gymnasts to rival the potential profits of prominent men's athletes.
Staggering Numbers
In all, the 2019-20 UCLA gymnastics team could have been worth $1.25 million per year in endorsements, according to a 2020 study by AthleticDirectorU, a platform for college sports professionals, and Navigate.
The account's social media posts, for example, would be worth almost $10,000 each, the study found. And former gymnasts Madison Kocian and Kyla Ross could have earned $466,000 and $323,000 as seniors, respectively, ranking in the top 25 of all Division I athletes' earning potential.
In 2021, "the numbers have definitely gone up," Jason Belzer, sports lawyer and publisher of AthleticDirectorU, told FOS in an email. For example, UCLA gymnast Nia Dennis, a senior, could earn $204,000 on her own, according to Belzer's most recent estimates.
Belzer attributes UCLA's projected NIL success to a few factors: high-quality marketing, recruitment of top athletes, and "prestige" of a program that "has led to incredible fan interest."
UCLA athletes themselves know how much money they could make. Katelyn Ohashi said she was frustrated that she couldn't sign endorsement deals at the height of her fame in a 2019 New York Times video, and that she supported California's law allowing college athletes to profit off NIL.
The Implications
UCLA gymnastics' NIL success likely will have far-reaching effects — the projections illustrate that NIL profits for women athletes nationwide could be staggering, with many earning thousands.
"I would bet that on average, they will earn more than their male counterparts who are participating in more prominent sports," Belzer said.
After all, the study found that UCLA gymnasts alone would have already rivaled the earning potential of both former Michigan State guard Cassius Winston and former Ohio State quarterback Justin Fields.
WBB Tournament To Be Aired On National TV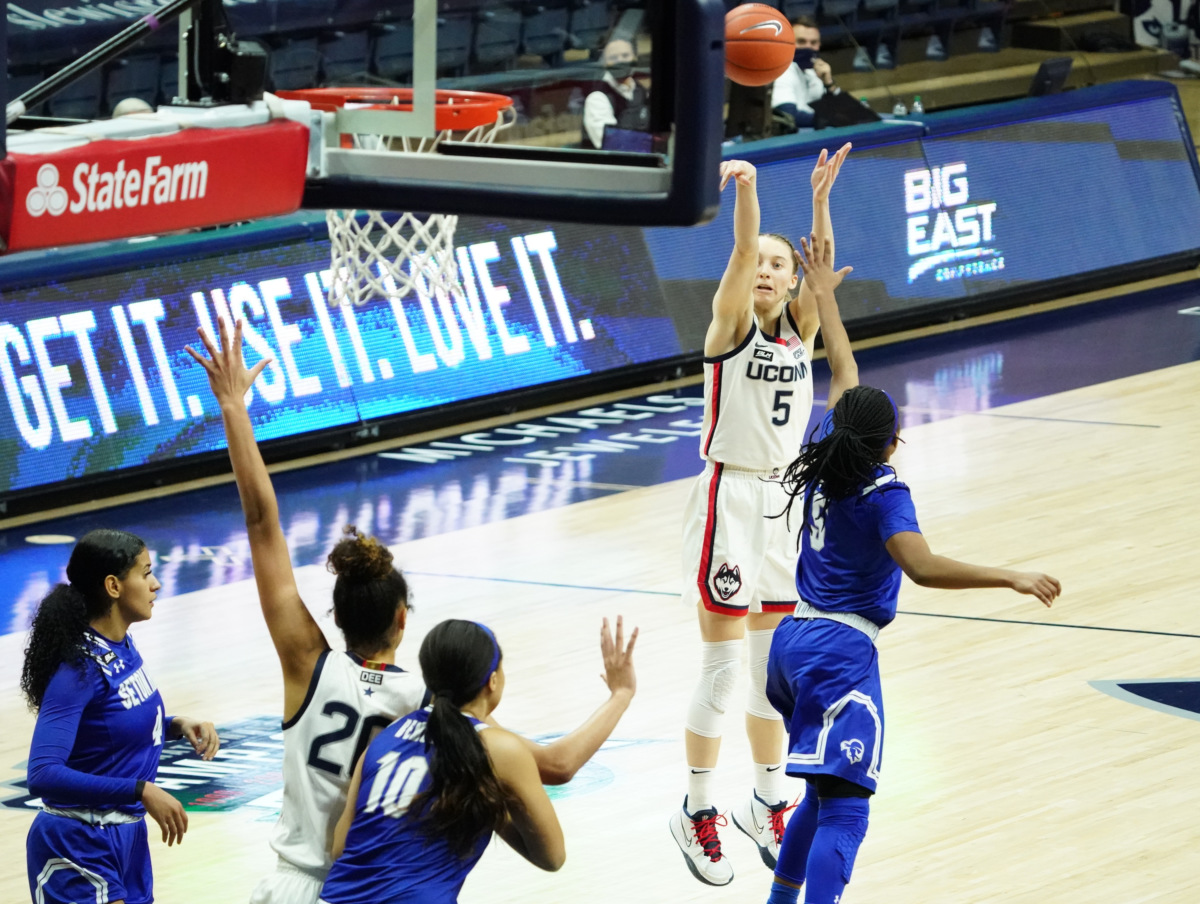 On Feb. 15, the NCAA DI Women's Basketball Committee revealed its first 16 selections for the 2021 tournament, which tips off March 21 from San Antonio. The four No. 1 seeds are UConn, South Carolina, Stanford, and Louisville.
For the first time ever, every game of this year's tournament will be aired on a nationally televised ESPN broadcast.
ESPN, which owns exclusive rights to the women's tournament, will build on the recent increased ratings for marquee women's basketball games.
The Tournament that Wasn't
Last year's tournament, which was canceled, would have been the first covered in full on national television.
The original 2020 decision was "a direct result of the ever-growing popularity of women's college basketball," Carol Stiff, ESPN vice president of women's sports programming and acquisitions, said in a statement at the time.
The 2019 Women's Final Four, for example, saw an 8% jump in ratings from the previous season.
UConn's Broadcast Records
Women's games, when televised widely, have proven they can attract impressive audience numbers. Last month's game between UConn and DePaul was the first women's college basketball game ever televised on Fox.
In early February, a prime-time matchup between No. 2 UConn and No. 1 South Carolina, which featured an overtime win starring freshman phenom Paige Bueckers, set a record as the most watched women's college basketball game ever on FS1.
The matchup between fourth-ranked Ohio State and Maryland men's basketball, programmed right after the UConn vs. South Carolina game, garnered fewer viewers than the women's showdown.
More broadly, ratings for men's games, from the College Football Playoff National Championship to Duke-UNC men's basketball, have plummeted compared to previous years.
SPONSORED
Bring the Campus Experience To Students' Fingertips
Sportsdigita's Digideck is a cloud-based presentation platform that is empowering colleges, universities, and teams to effortlessly show off their unique offerings when recruiting:
✅  Top Talent Student Athletes
✅  Prospective Students
✅  Executive Leadership
Whether it is immersive multimedia, 360-degree tours, or simply importing application info, Digideck is here to power your recruiting efforts in the digital age.
FCS Teams Lose Money With Spring Football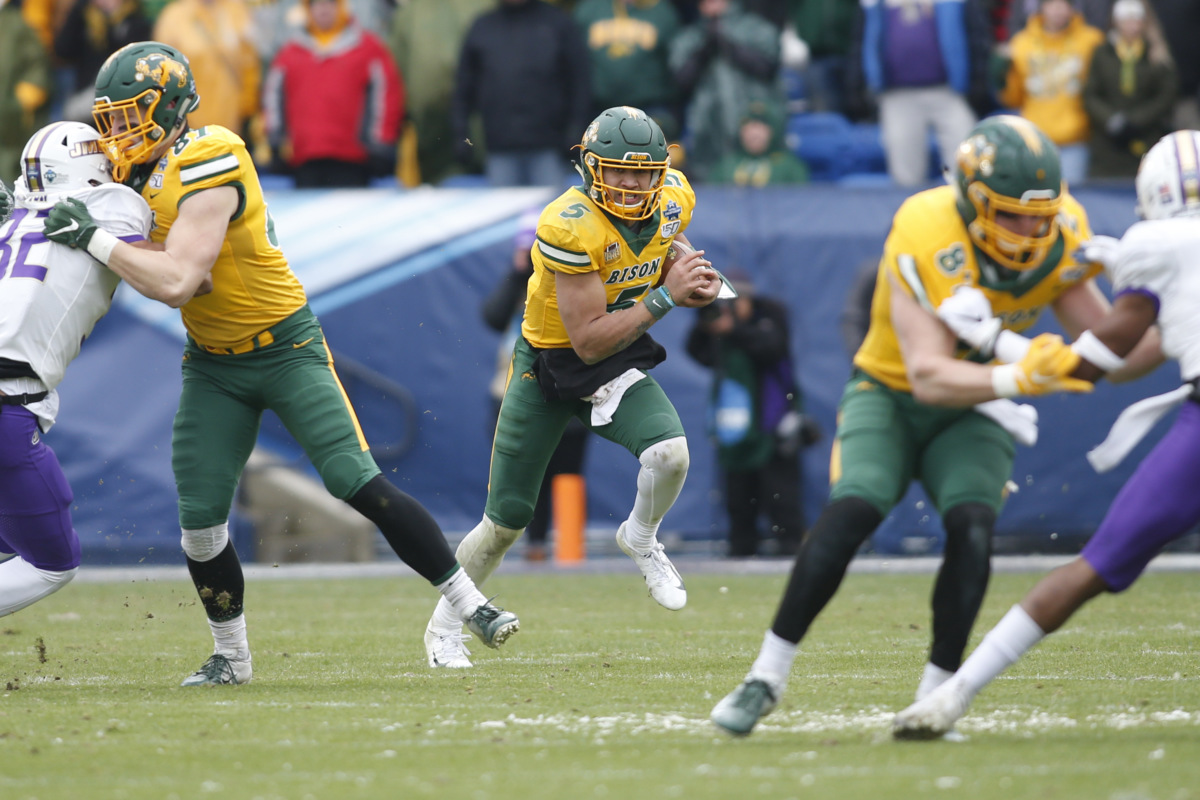 Following postponement of the regular season last fall, FCS football teams spent the last semester practicing and training for an unorthodox spring schedule.
This week, they will finally commence a season that extends until May.
Unlike FBS schools who needed revenue from the fall football season, most FCS programs will likely lose money from playing this season.
FCS vs. FBS Finances
FBS and FCS schools divide their budgets in similar ways. But they differ in the revenues they receive, according to the Knight Commission's College Athletics Financial Information database: Most FCS schools make the lion's share of revenue from institutional support and student fees. In 2018, for example, these two streams comprised 69% of total FCS revenue.
Ticket sales, donor contributions, NCAA distributions, and sponsorships made up just 22% of all FCS revenue. FBS schools earned 75% of total revenue from those avenues.
FCS programs also make revenue from competition guarantees, when FBS programs pay to play them to bolster their records for bowl season. About 5% of all revenues came from competition guarantees in 2018.
Only a few FCS programs generate revenue at rates that rival some of the smaller FBS teams.
FCS powerhouse North Dakota State — the alma mater of multiple NFL players including Carson Wentz — generated 61% of its 2018 revenue from ticket sales, sponsorships, donations, competition guarantees, and NCAA distributions, and just 31% from institutional support and student fees.
Impact of Pandemic Football
FBS programs recouped millions in media rights revenue by plodding on with the normal football schedule.
But FCS programs may not earn even the modest revenue from ticket sales, competition guarantees, and donations that they normally receive, Defiance College assistant sports management professor, Dr. Scott Hirko, told FOS. 
In addition, the cost of testing or extra safety precautions could provide an added burden on the smaller programs.
So why will they play a belated season at all? They have to pay their normal expenses, like coaching salaries or facilities fees, whether they play or not, Hirko said.
"Maybe they can just swallow their pride for a year."
Iowa athletics announced the reinstatement of women's swimming and diving after athletes filed a Title IX lawsuit against the school. In August, Iowa announced it would cut the team after the 2020-21 season.

The Ivy League will allow athletes to use an extra year of eligibility as graduate students. Previously, the conference didn't allow grad students to play varsity sports, so they had to transfer to use their extra year of eligibility.

The NCAA will allow conferences to send a regular-season champion to the men's and women's basketball tournaments rather than the champion of a conference tournament, a contingency for the pandemic.
It's no secret that the bulk of revenue lies with FBS football and men's basketball. 
But as college sports finances get more and more complex, an athletic department's motivations — or a particular sport's worth — may contradict some of these old narratives.
As NIL legislation approaches, women's basketball increases in popularity, and FCS football suggests that a season might not be all about the money, the historic financial trends in college sports may not tell the whole story anymore.
Tips? Feedback? Reach out to me at amanda@frontofficesports.com or on Twitter.