Welcome to FOS College, where we're reporting on the Big 12's blitzkrieg to stay intact and keep its Power 5 status — as the vultures hover above.
– Amanda Christovich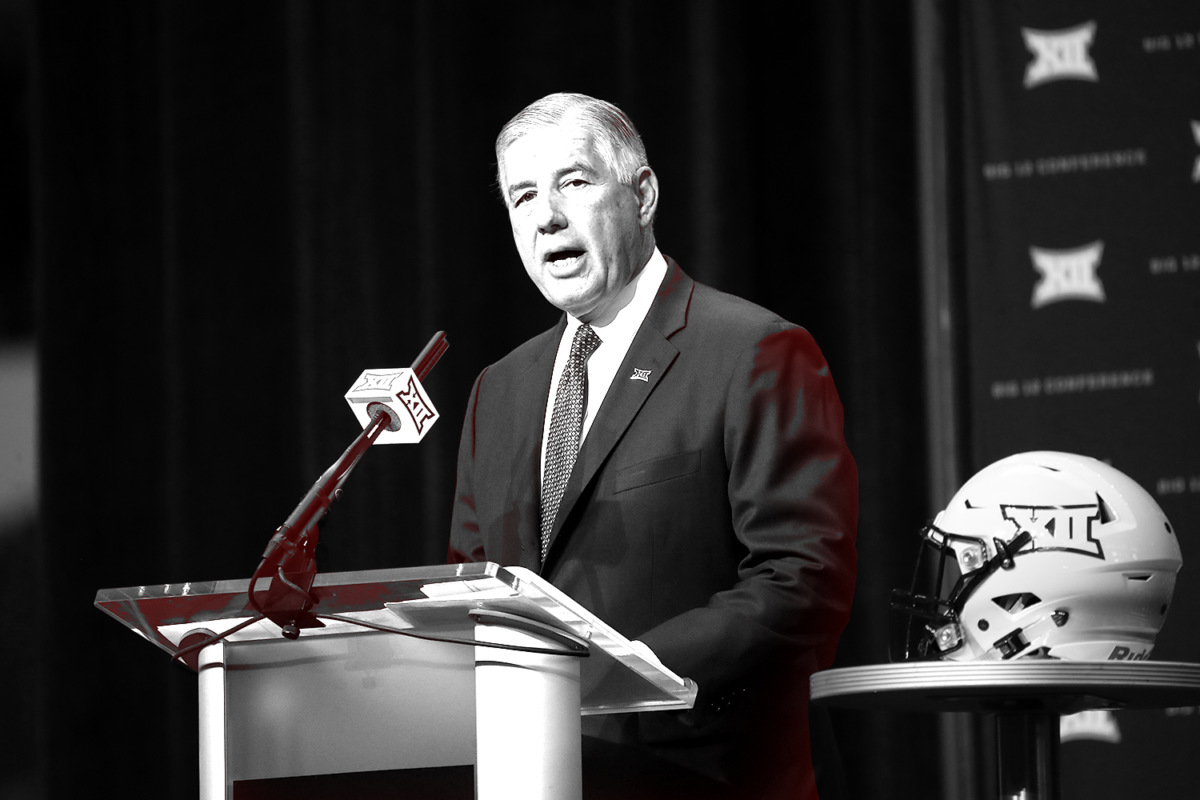 When the University of Texas, Austin and the University of Oklahoma notified the Big 12 Conference that they wouldn't be returning in 2025 — and applied to join the Southeastern Conference — reports suggested the defection could sink the Big 12 altogether.
In response, Big 12 Commissioner Bob Bowlsby launched an offensive using legal, political, and journalistic means.
He's fighting to keep his job — and the Big 12 — intact.
Trouble In Paradise
On Wednesday, Bowlsby tried to stop alleged back-channel dealings between schools, ESPN, and other conferences that could unravel the Big 12.
In a cease-and-desist letter leaked to Yahoo Sports, Bowlsby accused media partner ESPN of trying to encourage the conference's breakup by urging other members to defect to other conferences.
He then went on a media tour.
Bowlsby told USA Today that ESPN is conspiring to break up the Big 12 — because if it ceases to exist, Texas and Oklahoma could join the SEC more quickly. Then he told CBS that the AAC had tried to absorb the conference's remaining members.
An ESPN spokesman denied the allegations, saying: "The claims in the letter have no merit." During a Texas State Senate hearing, Texas President Jay Hartzell also denied that the school spoke with ESPN.
"There's like, three or four levels of unprecedented surprise," sports attorney and New York Law School professor Dan Lust told FOS.
What's next? During the Texas Senate's five-and-half-hour long hearing on "the future of college sports," Bowlsby said he and ESPN had agreed to take their grievances behind closed doors. But he also claimed that Oklahoma and Texas have violated the conference's bylaws in another way — by failing to notify the Big 12 of their conversations with the SEC quickly enough. 
But Lust pointed out that Bowlsby has the "real likelihood of looking very hypocritical." To save the Big 12, Bowlsby may have to engage in some back-channeling of his own to recruit other members or combine with another conference.
Bowlsby said the conference has already considered other options, though they have not formally reached out to any other schools yet. But lo and behold, Bowlsby met with Pac-12 Commissioner George Kliavkoff on Tuesday to discuss working together, according to The Athletic.
Political Posturing
On Monday, Bowlsby employed more than just media and legal threats to save his conference: He got patriotic.
Bowlsby appeared to ask the state legislature if allowing an SEC "super-conference" was worth losing our Olympic bragging rights.
"The greatest threat to the United States Olympic Movement is this sort of money grab," he said.

Arizona State history professor Victoria Jackson recently explained this phenomenon: The revenue from football and men's basketball funds collegiate olympic sports, and thus our olympic pipeline. So if one conference gobbles up all the football money, Bowlsby implied, those teams will be cut. The U.S. can kiss our medal haul goodbye.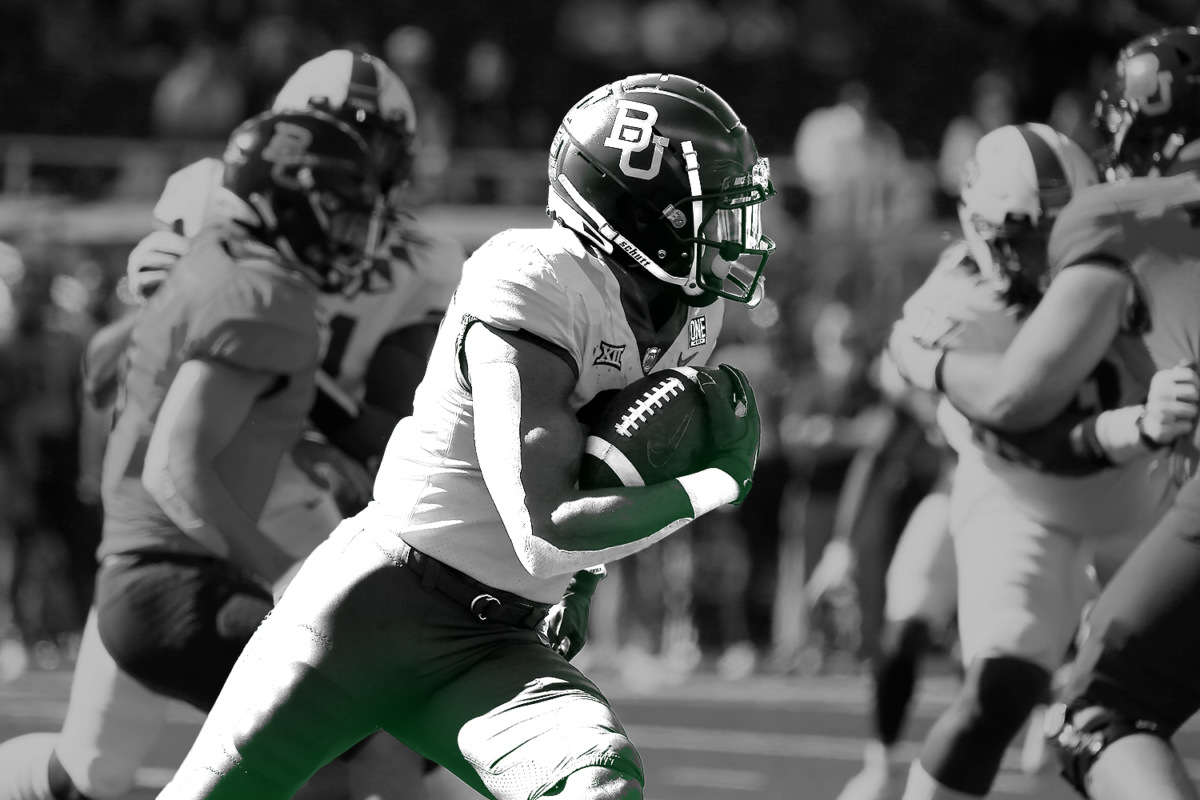 University presidents and athletic directors from the three remaining Texas Big 12 schools — Baylor, Texas Christian University, and Texas Tech — all participated at the Texas State Senate Monday.
They spent hours airing grievances and asking for help to preserve the Big 12, their Power 5 status, and above all, their cash flow.
'Everything's Better In Power 5'
Representatives from all three universities expressed fears about what would happen if the Big 12 broke up.
"The state of Texas is better when there is a Big 12 Championship," Baylor athletic director Mack Rhoades said. He also said there was a "general sense" that the eight remaining Big 12 schools would stick together, echoing Bowlsby's comments.
But in reality, it appeared the schools' fears were less about a breakup of the Big 12 specifically, and more about losing Power 5 status. While Texas and Oklahoma's departure won't directly cause a demotion of the Big 12, a breakup could force schools to non-Power 5 conferences.
Presidents and athletic directors provided a laundry list of concerns. They agreed athletic departments would lose significant revenue from television, ticketing, and sponsorship and apparel contracts if they lost Power 5 status. Not to mention the recruiting advantage.
And the damage would not be limited to sports. Enrollment of non-athletes could drop, which could negatively affect a school's bond rating, Baylor President Linda Livingstone said. Even faculty recruitment could become more difficult.
Officials also discussed the potential negative economic impact on local communities. "The prosperity of many Texans is at stake," Livingstone said.
"Everything is better when you're in the Power 5," TCU Chancellor Victor Boschini said, "except parking."
Missing the Longhorns
TCU, Baylor, and Texas Tech complained that they won't be in a conference with the University of Texas anymore.
When their schools play the Longhorns in football, their stadiums fill up, officials said.
And they all get a cut of the media rights revenue that Texas makes. Bowlsby claimed that Texas and Oklahoma together raked in about 50% of the conference's media dollars.
SPONSORED BY OPENDORSE
The NIL App For Athletes & Institutions
Keep student-athletes safe with the app they already use and love. With Opendorse Monitor™, compliance leaders can easily review and flag NIL activities to ensure safety for athletes and their institution.
Big 12 school officials claimed the breakup could negatively impact athletes in addition to their own bank accounts.
They used this argument in asking Texas state senators to step in to protect their valuable Power 5 status — whether it's true or not.
Hopes and Fears
In addition to losing Power 5 resources, officials implied their football players would lose the spotlight provided by playing schools like Texas.
Boschini also claimed "non-revenue" sports like tennis or equestrian would be in jeopardy without Power 5 funds — though that's a common threat whenever schools are concerned they'll lose money.
For this reason, Boschini said losing Power 5 status would hurt "women, minorities, and first-generation students." However, most of the "non-revenue" sports athletes are white, according to one study. And Title IX theoretically protects women's sports no matter how much money programs lose.
Players' Voice
Despite what officials say is best for athletes, there's still no clarity about how the players feel.
Former Minnesota professor Jason Stahl launched the College Football Players Association last week, just in time for FBS conferences to shift. While anonymous players have already joined the organization, Stahl emphasized to FOS that he doesn't yet have enough research to say how players really feel about a potential Big 12 breakup or SEC "super-conference."
Still, Stahl imagines current Big 12 players asking, "What does that mean? What does that mean for my future prospects? What does that mean for how people are going to think about the other member schools?" he said. "There's all these open questions."
SPONSORED BY SQWAD
Drive More Sponsorship $$$ With SQWAD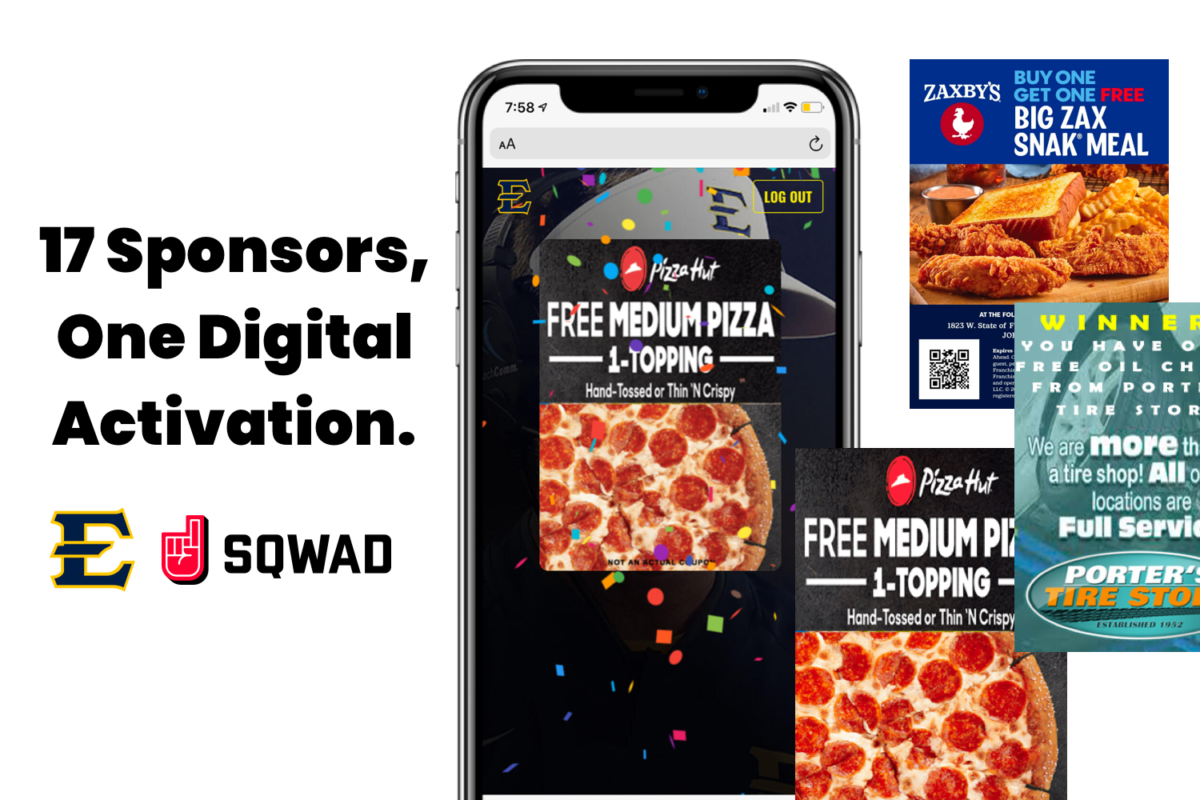 No matter your school size, your sponsors are looking for ways to reach your fans, send them offers, and earn leads to retarget. 
For East Tennessee State University, this was the need for 17 of their sponsors. They were all looking for an easy way to reach fans and send offers through an engaging & unique experience.
With SQWAD's digital scratch & win activation they were able to capture fan's attention digitally each game day, watch the delight as they won sponsor offers, and see ROI as they redeemed them in store.
Have sponsors with similar needs? See how SQWAD can help.
The NCAA Gender Equity Review was released to the public on Tuesday. It was commissioned in April in response to inequities between the two Division I basketball tournaments. Read FOS' story

here

.

INFLCR

released

trends from the first month of NIL deals reported through its platform. The average deal was $923, and more than 50% of deals were for athletes outside football and basketball.

Ohio State became the third Power 5 department to have a group licensing program for athletes.
In the battle for the Big 12's survival, each stakeholder is fighting for their own interests.
Bowlsby wants to save his job. Big 12 schools want to save their Power 5 economies. Other non-SEC schools — like those in the Pac-12 — want to position themselves to survive this new era of college sports.
The players have no say, of course, though conference shifts will undoubtedly affect them too. 
From the SEC to the Big 12, everyone's jockeying to make sure they get a cut of the ever-ballooning revenue in Power 5 football. The question is whether this round of realignment finally puts the charade that "it's not about the money" to rest.
Tips? Feedback? Reach out to me at amanda@frontofficesports.com or on Twitter.