OTD in 1996, the Bulls finished off their 72-win regular season en route to their fourth NBA championship. The 2021-22 Bulls likely won't have the same glory at +5000 to win the Finals, though DeMar DeRozan's 41-point night evened up their series with the defending champs.
Outspent By $37M, Celtics Are Outplaying Nets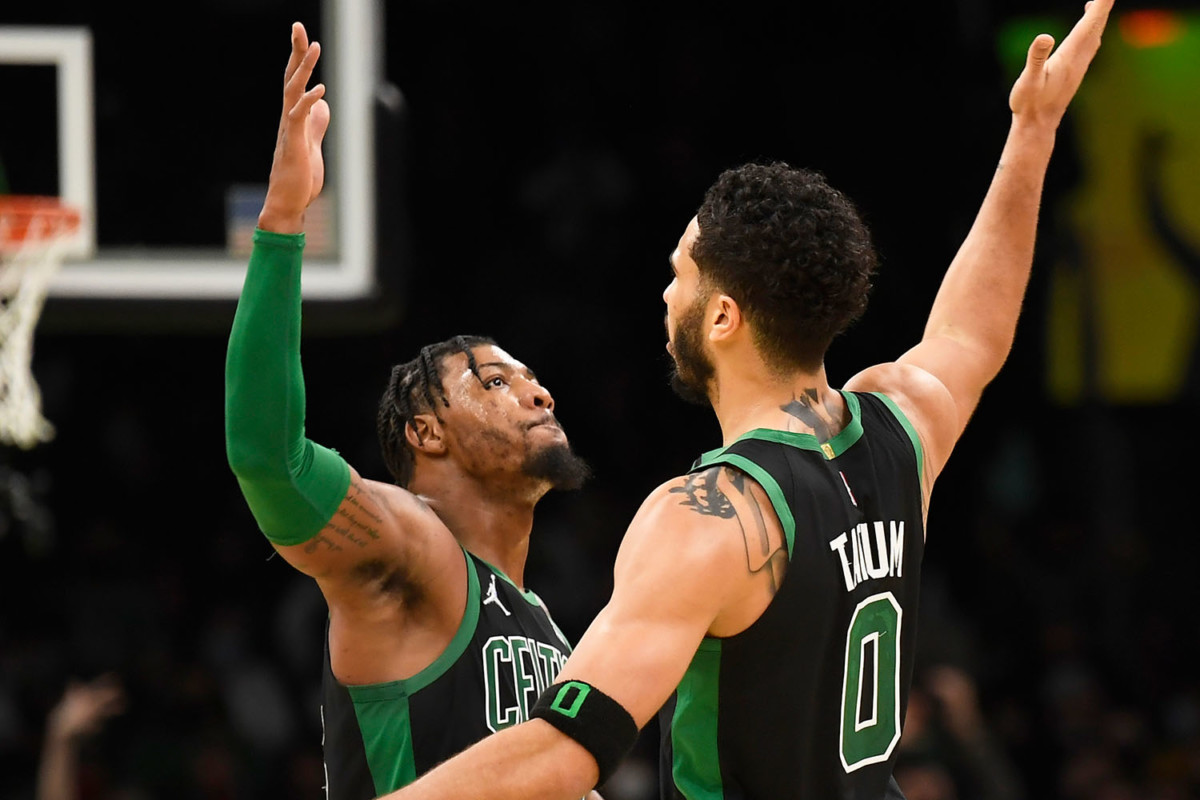 The Celtics aren't a star-studded superteam on a record-breaking budget, but they've constructed the perfect defensive-minded squad for a Finals trip.
On Wednesday, Boston overcame a 17-point deficit to take a 2-0 series lead against the Nets — stifling Kevin Durant and holding Brooklyn to 15 fourth-quarter points.
Unlike the Nets ($174.8M payroll), the Celtics distributed their money properly, prioritizing defense under Ime Udoka while trusting in continuity and homegrown talent — namely Defensive Player of the Year Marcus Smart.
The Celtics ($138.1M) have $36.7 million less on the books than the Nets.
Udoka's salary isn't public, but he definitely makes less than Steve Nash ($8.7M), the third-highest-paid coach in the NBA.
Durant ($42M) went 0-10 in the second half of Game 2 — his most FGA in a half without a single make.
Kyrie Irving ($35.2M) shot 4-of-13 — the first time both he and KD shot below 33% in a game together.
In his new executive role, former coach Brad Stevens was smart to hire Udoka. Perhaps Stevens even anticipated this playoff scenario — as a former Nets assistant, Udoka says he knows what makes Brooklyn's players "tick."
Boston hasn't lost four in a six-game span since early January. Now, Brooklyn's season is on the line at the hands of a Celtics team with the third-best odds to win the Finals (+700) — a spot they stole from the Nets.
Shohei Ohtani's Extension Leverage Would Soar with 2nd MVP
On Wednesday, Shohei Ohtani showcased his two-way prowess by retiring the first 16 Astros batters, matching his career-high 12 strikeouts, and going 2-for-4 with two RBI in the AL West-leading Angels' seventh win in nine games.
After a slow start to the season at the plate and on the mound, Ohtani looks back on track in his bid for a second consecutive AL MVP — and a massive contract extension.
As he continues to rack up historic accomplishments and paradigm-shifting performances like these, his leverage soars for his next deal — which could ultimately rival the biggest in MLB history.
The 27-year-old is in the second year of a two-year, $8.5M deal signed in 2021 to avoid arbitration.
He's eligible for Arbitration 3 after the season and would be a UFA in 2024.
If he wins MVP, he'll be the 33rd MLB player to win multiple awards — and the 13th to go back-to-back.
In January, Ohtani said he and the Angels have held "no talks yet" about an extension, but it should land near Mookie Betts' record 2020 deal with the Dodgers (12 YRs, $365M) — or the second-largest, inked in 2019 by Ohtani's teammate, Mike Trout (10 YRs, $360M).
Last season, Ohtani's MVP performance was one of the few bright spots on an underachieving team, but leading the Angels to their first postseason since 2014 could lock up his second MVP (current favorite, +350).
SPONSORED BY ODDSJAM
Bet Like a Pro — Join the Movement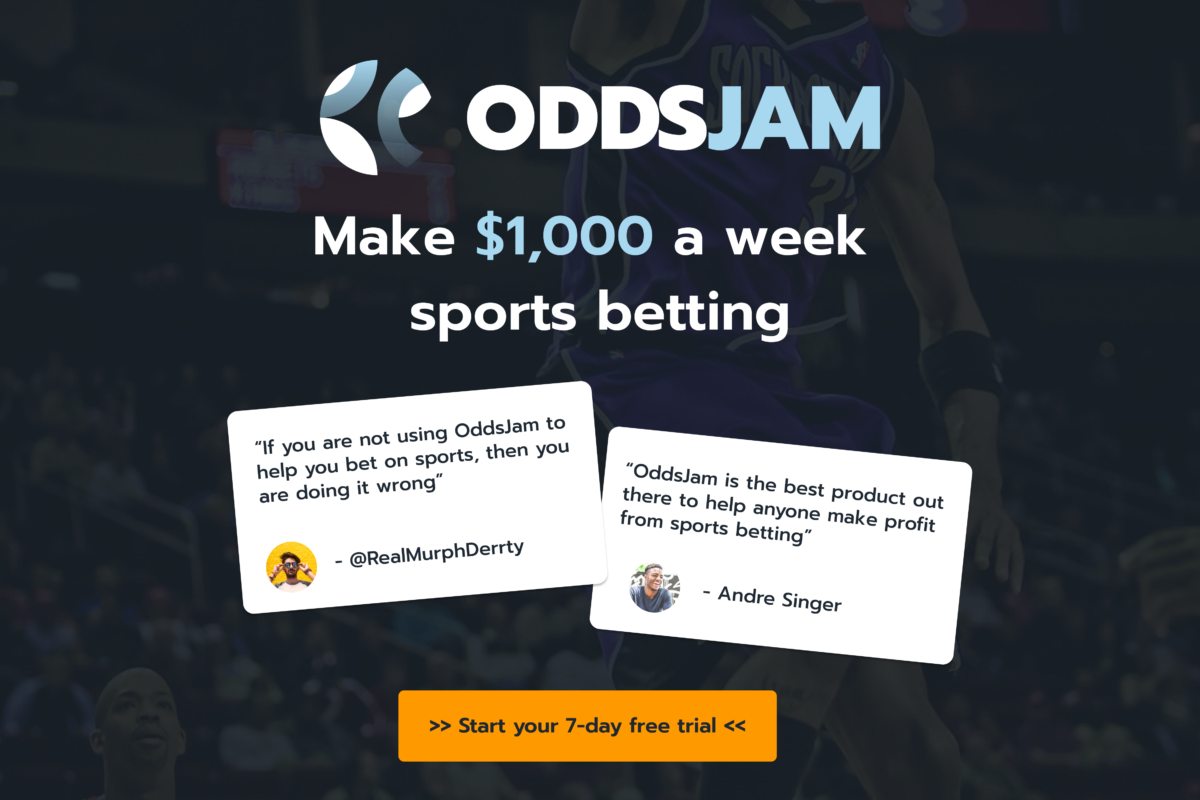 It's no secret that sports betting is a difficult art to master… at least it used to be. 
Now, OddsJams industry-leading software is changing the sports betting game – and they want YOU to be a part of it! 
The days of the fabled "sharp" bettors in Vegas raking in the cash, changing the betting lines, and leaving none for anyone else are fading. The future is sports betting for EVERYBODY and it starts with OddsJam! 
Join the thousands of subscribers already blazing the trail for those behind them. Start making $1,000 a week investing in sports betting!
Kick off the NBA playoffs the right way – try OddsJam free now.
Jay Wright, 5th-Highest-Paid Coach, Ends Legendary Career
Another legendary college basketball coach has called it a career, following in the footsteps of Roy Williams and Mike Krzyzewski.
On Wednesday, Jay Wright announced he is retiring after 21 seasons at the helm of Villanova.
The 60-year-old coached Hofstra from 1994 to 2001 before coming over to the Wildcats. Villanova's remarkable 2005-06 season earned Wright his first of two Naismith Coach of the Year honors — but most of his accomplishments came late in his career.
Wright led Villanova to two national championships, four Final Fours, eight Big East regular-season titles, and five Big East tournament titles.
The Wildcats have been an NCAA men's tournament staple, going 20-4 since 2016 — the most wins of any team in the country over that span.
He coached nine current NBA players, including Mikal Bridges, Jalen Brunson, and Kyle Lowry.
Wright was inducted into the Hall of Fame in 2021.
With his $6.2 million salary, Wright was the nation's fifth-highest-paid coach in his final season. His pay with the Wildcats increased several years ago after UCLA reportedly offered to double his wages, which were less than $4 million per season.
With Wright stepping away, Fordham head coach Kyle Neptune has been named Villanova's next head coach.
Neptune was an assistant on Wright's staff from 2013 to 2021 — which means he understands better than most the legacy he's charged with maintaining.
NHL: At 36, Alex Ovechkin became the oldest player in league history to score 50 goals in a season; the Capitals captain also joined Wayne Gretzky and Mike Bossy as the only players to record nine 50-goal seasons.
Tennis: Novak Djokavic pushed back on Wimbledon's decision to ban Russian and Belarusian players from the men's and women's draws, describing the decision as "crazy."
NBA: Suns star Devin Booker will miss 2-3 weeks with a hamstring strain. Also: Bucks forward Khris Middleton sprained his MCL and will get an MRI on Thursday, potentially missing up to four weeks.
NCAAM: Duke's Paolo Banchero and Kentucky's Shaedon Sharpe declared for the NBA Draft; both are expected to be lottery picks.