Good morning and happy Sunday!
Before we analyze the Saudi Arabian sovereign wealth fund's sports investment strategy — a quick PSA: We debuted Front Office Sports Insights last month and would love for you to check it out.
As always, drop me a line at @liamkillingstad on Twitter or liam@fos.company. Now, time to examine how the Saudis expect to grow their fund from $430 billion to more than $1 trillion and how Newcastle plays into that equation.
A Closer Look at Newcastle's $409M Sale to Saudi Arabia's PIF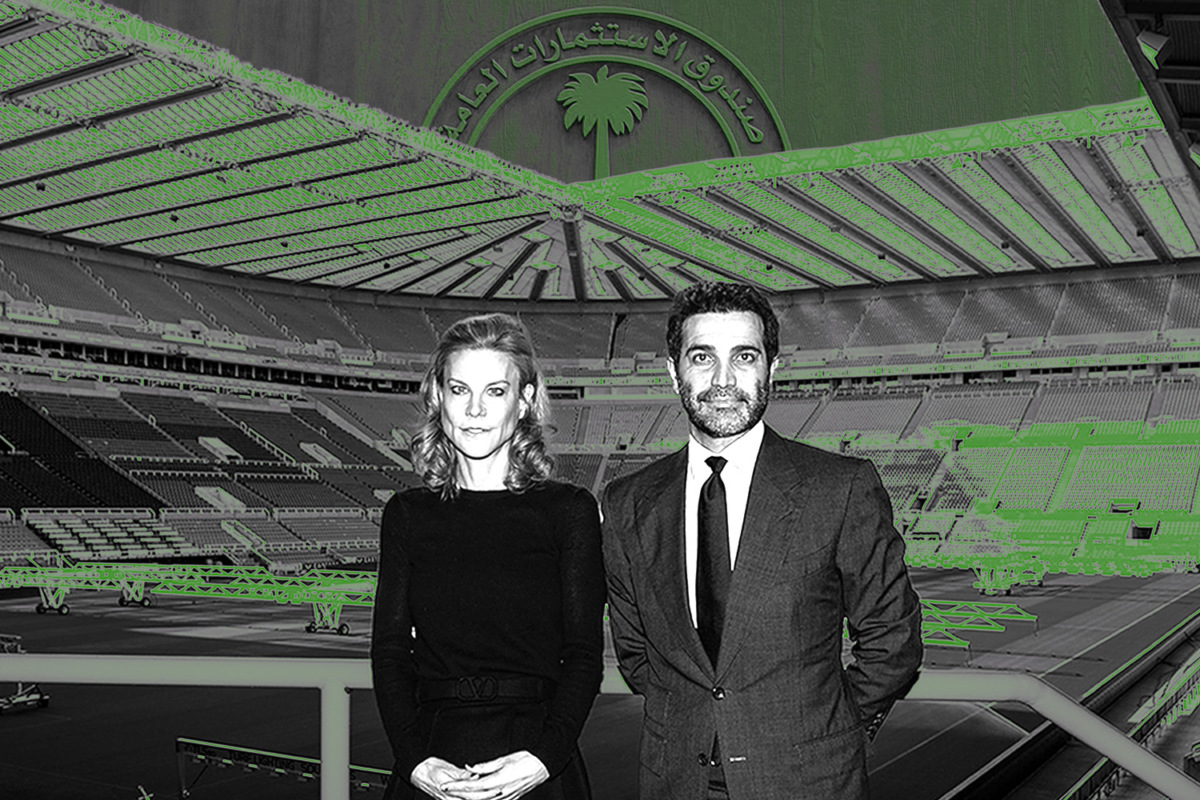 Newcastle United fans had reason to celebrate last week. It was announced that after 18 months of negotiations, a consortium led by the Saudi Arabian Public Investment Fund ("PIF") purchased the club for $409 million.
The purchase represents the end of an era for Newcastle supporters, one that many will be happy to put behind them. The new leadership group — headed up by the PIF with participation from PCP Capital Partners and property developers Simon and David Reuben — will replace the club's owner of 14 years, Mike Ashley.
Ashley, who purchased the team for $190 million in 2007, has long been known for treating his Premier League asset with frugality. Newcastle United, the eighth-most valuable team in the Premier League by total value, is notorious for its lack of reinvestment into the club's infrastructure and unwillingness to spend on players.
New ownership should change this. The PIF is currently the ninth-largest sovereign wealth fund in the world, managing over $430 billion. What's even more interesting: The fund is planning to be the largest in the world by 2030, surpassing Norway's current $1.4 trillion fund. 
All this to say — frugality will likely be a thing of the past. The new ownership group led by crown prince Mohammed bin Salman will likely be willing to unload their coffers in an effort to regain premiership glory.
But why did the transaction take 18 months to come together?  
The Initial Blockade
The PIF and Mohammed bin Salman first approached Newcastle in April 2020. When the bid for ownership was initially placed with the league, it was met with immediate protests from an unexpected source.
beIN Media Group — the Qatar-based media company, television broadcaster, and owner of the Premier League's media rights in the Middle East — had been blocked from broadcasting in the Saudi kingdom since 2017. 
Not only did the Saudis block beIN from broadcasting within their borders, they also set up a "shadow network" that pirated billions of dollars away from the Qatari company and subsequently the Premier League.
Due to the conflict, the PIF ultimately had to step away from the deal. The group had engaged in conduct deemed detrimental to one of the premiership's strategic partners and thus removed themselves from consideration.
This all changed Oct. 6. The PIF agreed in principle to a reversal on the ban of beIN in the state. The reversal has two pertinent monetary consequences: the culmination of a nearly $1 billion lawsuit filed with the World Trade Organization, and the $409 million purchase of Newcastle. 
Current Ownership Structure
With the premiership greenlighting the sale, the new ownership structure for the club sees a three-way split between the new consortium, with the following allocations:
80% ownership to the Saudi PIF
10% ownership to PCP Capital Partners
10% ownership to real estate developers David and Simon Reuben
PCP Capital Partners is a private investment firm founded by Amanda Staveley, a British businesswoman with ties to the Saudi kingdom. Staveley is famed for her prominent role in the 2008 investment of $10.9 billion into Barclays Bank (stadium sponsor to the Brooklyn Nets) by the royal family in Abu Dhabi.
The Reuben brothers — named the second-richest family in the United Kingdom in 2020 — will also receive a board seat as their involvement in the deal puts them pari-passu (equal rights) with PCP. 
The PIF's Current Investments
The Newcastle transaction comes as part of a recent trend by the Kingdom to invest in sports and sports properties.
The Saudis have been planning for years to expand their economic model away from oil revenues with sports and entertainment being one of the new key areas of focus. Forays into the sports world include:
Bid for the Anthony Joshua-Tyson Fury fight (~$150 million)
F1 Grand Prix in 2021 (a reported ~$100 million)
Joint bid for the 2030 World Cup (no cost estimate but 2018 World Cup in Russia was estimated to cost $14 billion)
The fund has publicly stated that not only is it looking to diversify away from oil, but that it also aims to be the largest fund of its kind in the world by 2030.
Most sovereign wealth funds in the Gulf look to diversify their large oil-derived holdings by investing in riskier projects to generate uncorrelated returns. The PIF is no different. Having invested in the likes of Uber, Tesla, Activision Blizzard, Endeavor (exit), SoftBank, Blackstone, Carnival Cruises, and McLaren, to name a few.
While the investments are eye-popping, what's even more shocking is the stated plan for capital allocation by bin Salman. The prince has stated that the government looks to invest $7.2 trillion in domestic projects over the next decade with close to $1 trillion coming from the PIF — while also making direct investments overseas. 
With an investment strategy that some might describe as aggressive, and a propensity to invest in sports and sports-adjacent properties, be on the lookout for the PIF to further dip its toes into this segment of the market.   
Performance from Sovereign-Backed Clubs
What should Newcastle fans expect?
Well, one thing is for sure, they can expect more spending from ownership. According to an analysis done by Swiss Rambles, Newcastle, under Mike Ashley, was the only Premier League club not to have any net finance put into the club by its owner.
Net finance — when an owner lends capital to the team in exchange for more shares in the club — is a sign of ownership investment in the club. While Newcastle has sat at the bottom of the rankings with $0 net financing since 2010, Manchester City, another Middle Eastern-backed club has received $1.6 billion in net financing during the same period. A potential sign of things to come for Newcastle.
From a player spend standpoint, Newcastle has been equally unimpressive.
According to FIFA's 10-year transfer report, Newcastle ranked 30th out of 30 European clubs when it came to overall transfer fees. The top spot? You guessed it — Manchester City. Also in the top five: Paris St.-Germain, owned by the Qatar Investment Authority, another $300 billion-plus investment fund.
The Big Picture
With the backing of a $430 billion sovereign wealth fund, it may seem like United has infinite funding. This is not the case.
But according to the league's financial fair play rules, Newcastle will be able to spend north of $250 million thanks to the fact that they have operated profitably over the past several years. The rules state that clubs are only able to incur losses totaling $145 million over a trailing three-year period. Ashley's lack of spending has given the new ownership group a solid runway to spend.
Go ahead, Newcastle United fans — be optimistic about your future. I wouldn't be telling the truth if I said I hadn't checked out an Allan Saint-Maximin jersey myself.
SPONSORED BY COMETEER
Your Coffee Future Is Frozen
Brewing barista-quality coffee shouldn't turn your kitchen into a science fair.
Cometeer provides a delicious brew in 30 seconds without equipment—just melt their frozen capsule into a cup of water for coffee or milk for a latte, hot or iced, and boom: fuss-free java.
So how's it work? They start by sourcing the best, seasonal beans from world-class roasters, then use a custom-built, highly technical, precision-brewing system to carefully calibrate a perfectly balanced cup with unprecedented aroma and complexity.
The brew is then frozen in a blanket of liquid nitrogen at -321 F to lock-in peak flavor, packed into recyclable capsules, and shipped straight to you.
Cometeer has netted $50M+ from notable VCs, unicorn founders, and coffee vets to build out a 70k facility to manufacture and deliver the first-ever frozen coffee.
Get $20 off your first order of Cometeer—that's 10 free cups!