Dual-sport elimination tonight: The Penguins can clinch their first-round series against the Rangers, while the Warriors look to punch their ticket to the Western Conference Finals with a win over the Grizzlies. On to another NBA team on the brink of elimination…
Big-Money Sixers Lack Support For Banged-Up Joel Embiid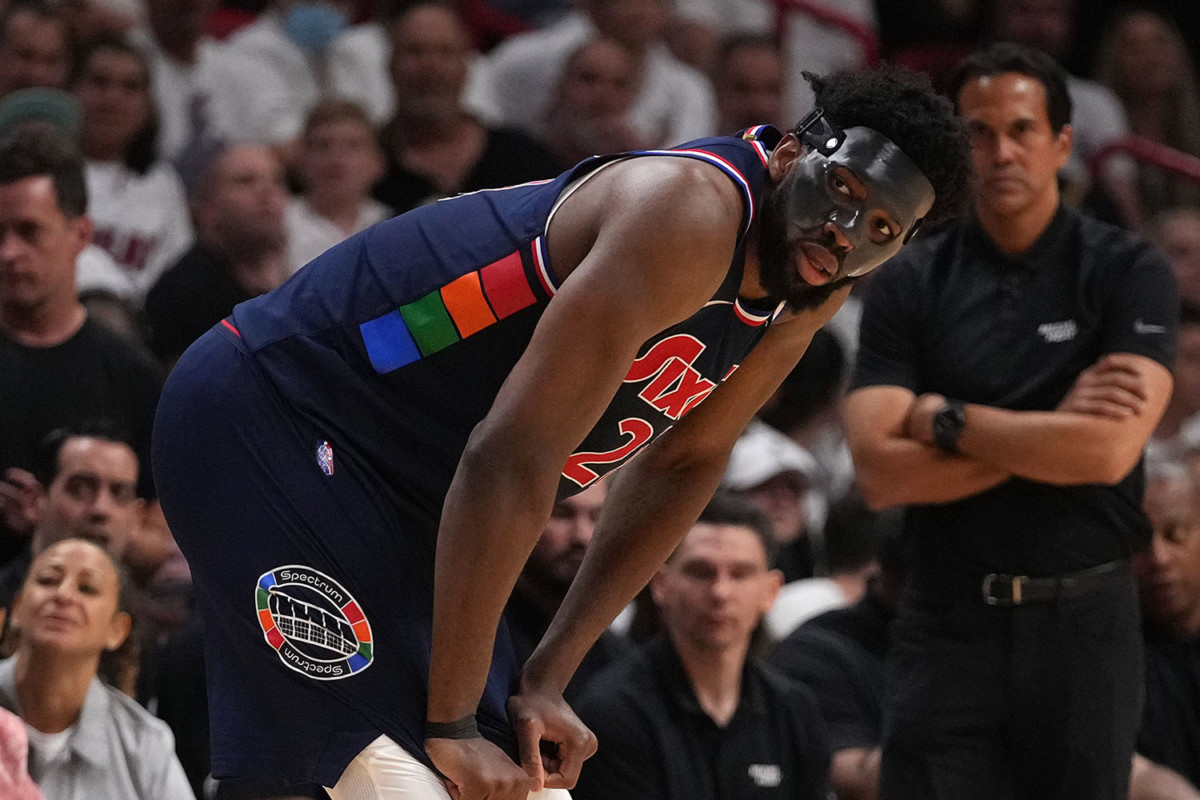 Joel Embiid has done everything he could to lead the 76ers this season, but the battered big man isn't getting any support when he needs it most.
On Tuesday, Miami routed Philly by 35 points to take a 3-2 series lead, and the Sixers extended a dubious streak — all three losses have been by double-digits. Embiid, who missed the first two games of the series with an orbital fracture, scored just 17 points — and received next to no help from his teammates, including James Harden.
For a team whose $149 million payroll is the seventh-highest in the NBA and has minimal financial flexibility going forward, it's looking like another wasted season amid Embiid's prime.
Embiid was a finalist for MVP and won the NBA scoring title (30.6 PPG) — the Sixers were 31-16 when he was the only star this season, before the Harden trade.
Harden — who's slated for a $270 million extension — scored 14 points on 5-13 shooting in Game 5.
Tobias Harris (17.2 PPG in the playoffs) hasn't lived up to expectations despite being the team's second-highest-paid player ($36M) — but is still owed $76.9 million over the next two seasons.
There's only so much Embiid can do alone, and beyond Tyrese Maxey — a second-year guard chipping in 20.8 PPG on 49.4% shooting — his teammates aren't stepping up.
Meanwhile, Miami's Jimmy Butler — the second star on a 2018-19 Sixers team that made the Eastern Conference semifinals — is fourth in scoring this postseason (28.3 PPG).
The well-rounded Heat have exposed serious cracks in the Sixers' foundation — Philly (+300) is a heavy underdog to win the series.
The Angels Rookie Who Threw MLB's 1st Solo No-Hitter in 2022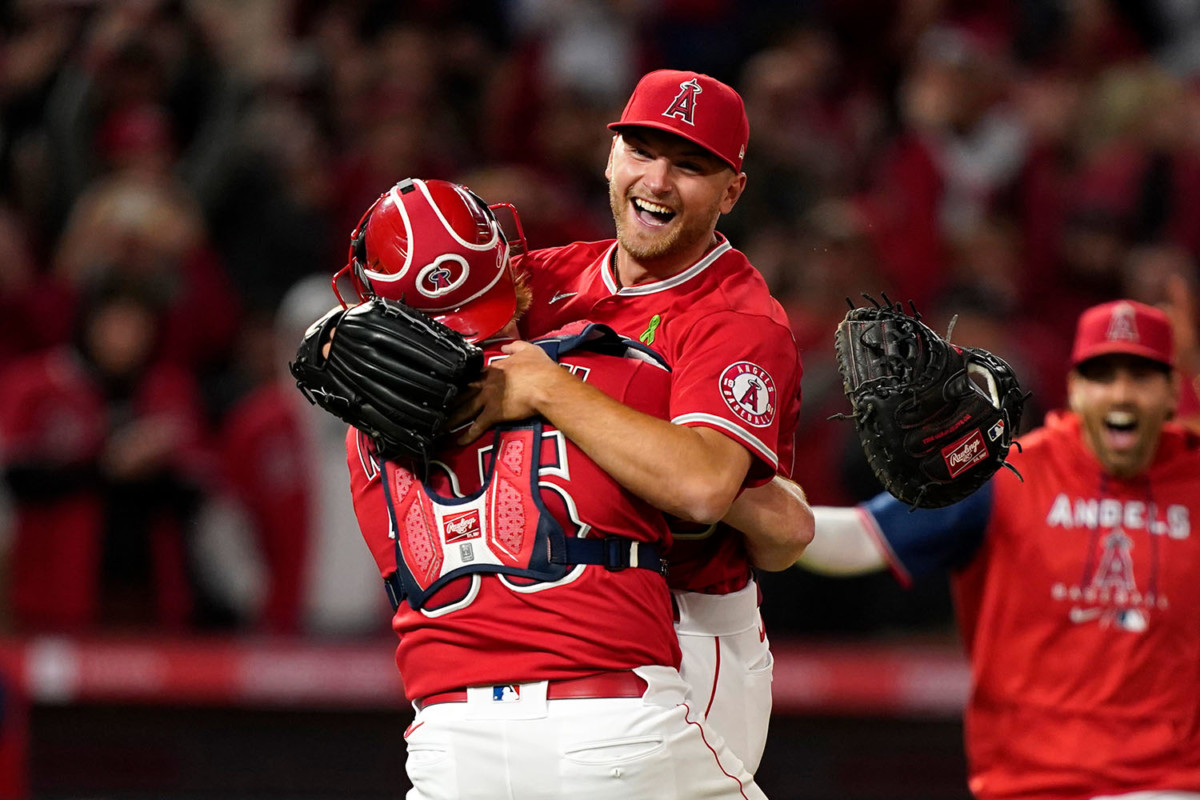 If the first 10 starts of Reid Detmers' MLB career were unremarkable, the 11th was historic.
On Tuesday, the rookie lefthander tossed the 12th no-hitter in Angels history and first solo no-hitter in the league this season for a Los Angeles team that is leading the AL West.
Detmers is no household name and is only making $710,000 this season, but he was selected 10th overall in 2020 — and got a $4.67 million signing bonus for a reason.
He is the 25th rookie in MLB history to toss a no-hitter.
He had never gone longer than six innings in his big-league career.
At 22 years and 306 days old, he's the youngest pitcher to throw a no-hitter since Anibal Sanchez in 2006 (22, 191 days).
Detmers entered the game with a 6.33 career ERA, third-highest at the time of throwing a no-hitter since earned runs became official in 1913 (Wilson Alvarez's infinity in 1991, Bobo Holloman's 8.44 in '53), according to the Elias Sports Bureau.
A productive bargain like Detmers has provided vital support for ace Shohei Ohtani on a pitching staff that ranks fifth in the AL in ERA (3.39) and second in WHIP (1.10) and opponents batting average (.213).
Coupled with an offense that leads MLB in home runs (55), slugging (.432), and OPS (.760), the Angels (21-11) have snagged the 11th-best odds (+2200) to win a first World Series since 2002.
SPONSORED BY ATTEST
A Closer Look at the Streaming War
In their recent report to shareholders, Netflix announced that it lost subscribers for the first time in a decade, resulting in a net loss of 200,000 subscribers globally. However, data from Attest indicates that actual usage in the U.S. is holding up.
Hulu and Peacock also show modest gains, while Amazon Prime takes a big hit with a 5.2% reduction in weekly viewers in the U.S. Amazon is not alone in losing viewers, as HBO Max and Disney+ fall by 3.1% and 2.2% respectively.
Meanwhile, the amount of people watching paid streaming services as a whole declined by 1%. Viewing time creeps up though, with a 2.2% increase in people watching for more than 4 hours a day.
Learn more in Attest's new media consumption report.
Hat-Trick Hero Tarasenko Leading Stealth Blues Offense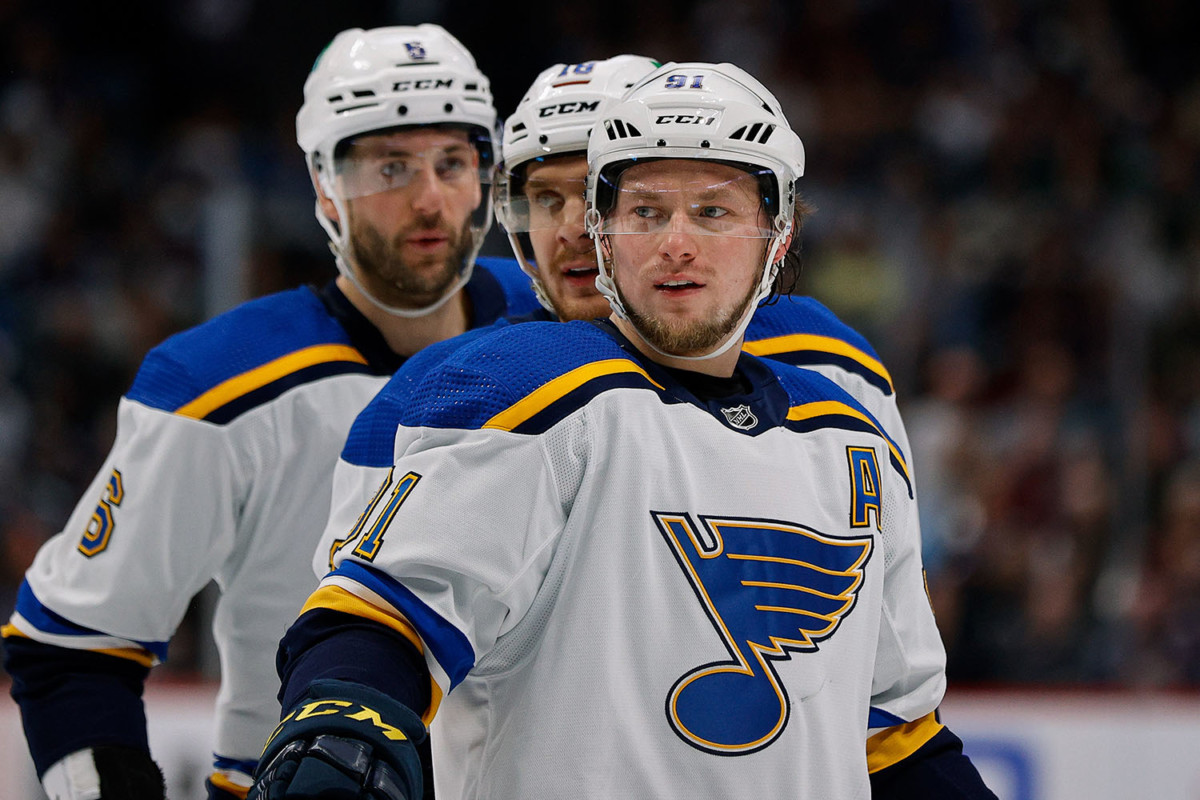 On a night where Kirill Kaprizov — one of the NHL's buzziest players — set a Wild franchise record with his seventh goal in a playoff series, a Russian winger on the other team stole the show.
Vladimir Tarasenko recorded a natural hat-trick in the third period to lift St. Louis over Minnesota 5-2, setting a Blues' playoff record by scoring the first and second goals just 68 seconds apart.
The resurgent 30-year-old is leading a quietly potent offense that has put St. Louis just one win from the Western Conference Semifinals.
Tarasenko is now the 10th active NHLer with multiple career playoff hat-tricks.
He recorded a career-high 82 points and 48 assists in the regular season.
St. Louis was third in the league in goals per game (3.8) and second in power-play percentage (27.0%) in 2021-22.
Tarasenko is tied with captain Ryan O'Reilly for the highest cap hit on the team at $7.5 million per season — which ranks only 54th in the NHL.
But both will be unrestricted free agents in 2023 — and the team will need to find some cap space to keep them after signing three defensemen to $6.5 million AAV each (Justin Faulk, Torey Krug, Colton Parayko).
Despite the momentum, the Blues still only have the seventh-best odds (+1800) to win it all — and would have to face the favorite Colorado Avalanche (+210) in the next round.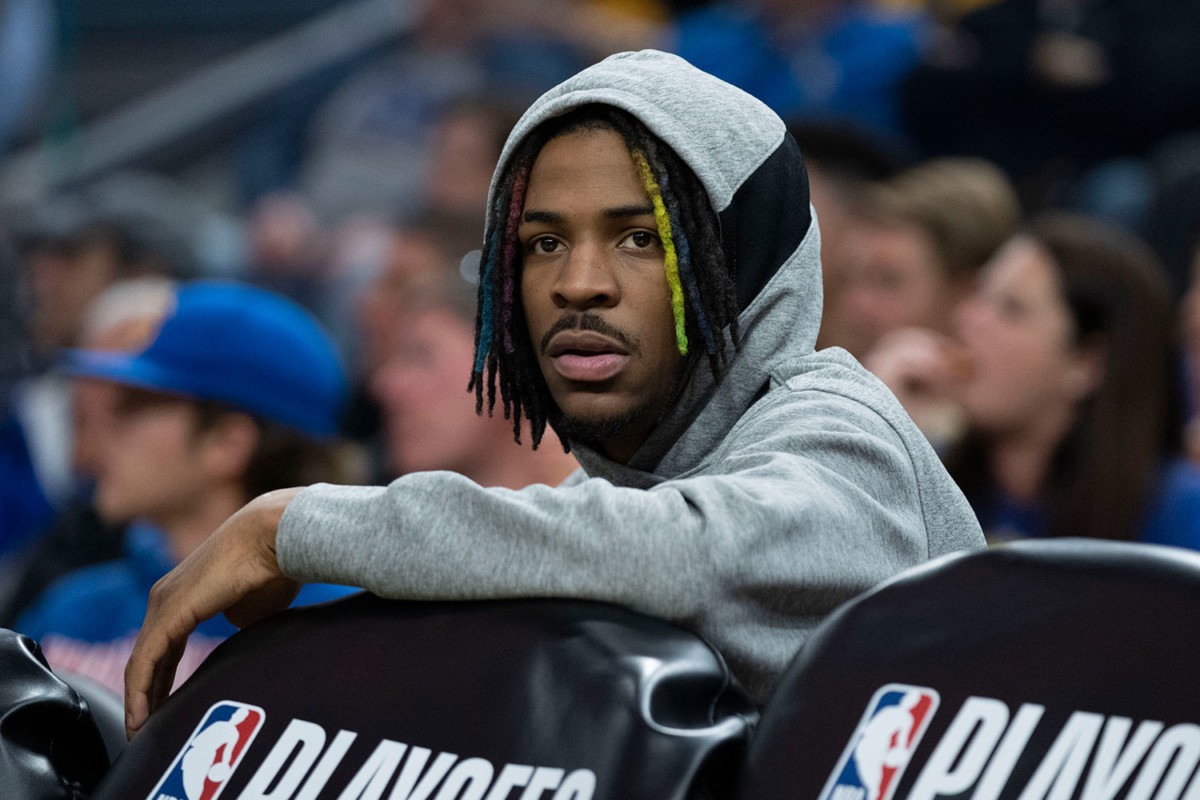 NBA: Ja Morant has a bone bruise in his knee and is "expected" to miss the rest of the postseason; the Grizzlies are one loss away from elimination. Also: In Brooklyn's end-of-season press conference, executive Sean Marks called out the Nets' culture and said he wants "selfless" players.
NHL: Defenseman Darnell Nurse will have a hearing with the Department of Player Safety after he headbutted Phillip Danault during the Oilers' 5-4 overtime loss to the Kings; L.A. leads the series 3-2. Also: Toronto's Michael Bunting, Detroit's Moritz Seider, and Anaheim's Trevor Zegras were announced as Calder Trophy finalists.
PLL: Maryland attackman Logan Wisnauskas went first overall to Chrome LC in Tuesday's College Draft; UNC's Chris Gray — college lacrosse's all-time points leader — was selected second overall by Atlas LC.